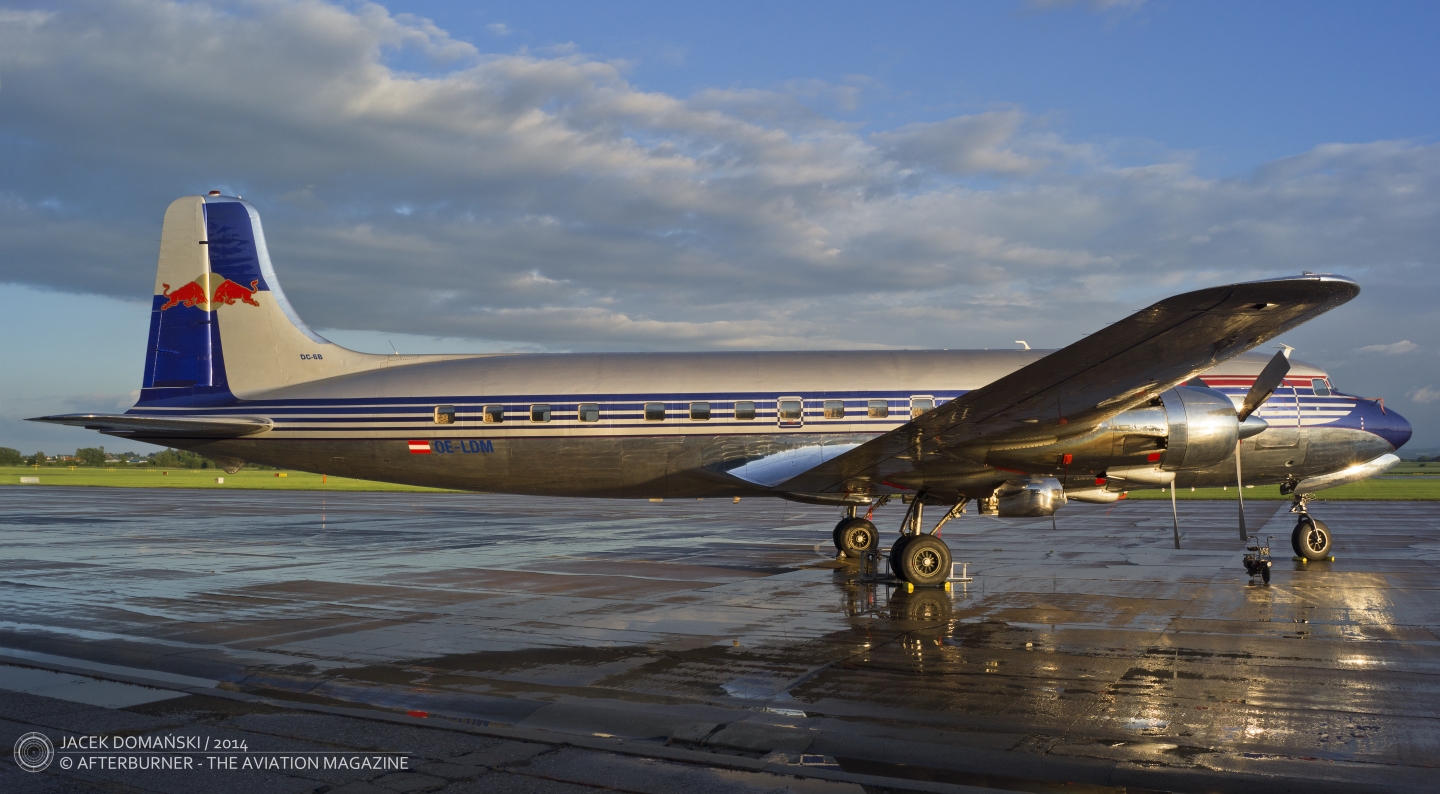 Douglas DC-6B, OE-LDM, from the Flying Bulls collection of Hangar 7 in Salzburg, just after its arrival to Pardubice, Czech Republic, for 2014 edition of Aviatická pouť (Aviation Fair) air show.
DC-6 is the biggest, and perhaps also the most recognizable, aircraft from the Flying Bulls collection. This classic, piston-powered airliner, with a beautiful, smooth design, was manufactured in 1958, as one of the last produced DC-6.
The story of DC-6 began in 1944, when USAAF was looking for the replacement of C-54 Skymaster (a military variant of DC-4), with pressurized cabin and more powerful engines. When the war was over, USAAF lost its interest in this development and the project was converted by Douglas into the passenger airliner, that performed its maiden flight on 29th June 1946.
More than 704 of DC-6 were built between 1946 and 1958, operated by both airlines and armed forces all over the world. According to Wikipedia, 147 DC-6s survived with 47 being airworthy in 2014.
The pictured aircraft, OE-LDM, was initially delivered to Yugoslavian national airline JAT, but it never got to flying on regular routes with JAT passengers. Converted into the luxury airliner, this DC-6B was used by Josip Broz Tito, the Yugoslavian head of state, until 1975.
Then the airliner was sold to Zambia, where it was used by Kenneth Kaunda, the President of Zambia, as his personal VIP aircraft. With the advent of a jet-airliner era, Kaunda lost his interest in DC-6 and the aeroplane was stored at Lusaka airport.
It would be, most probably, stayed there and rust through until today, if there wasn´t Chris Schutte, operator of small airline business in Windhoek, Namibia. Schutte was an owner of DC-4 and at some point, he was desperately looking for spare parts to his aircraft. Instead of this, he found that there were two DC-6 available, not used by their operators – and what´s more, those two aeroplanes were the last two produced DC-6, rolling off the assembly line one by one.
Schutte bought the former Tito´s airliner and her sister aircraft and operated them until 1999, mostly for sight-seeing flights over West Africa and advertising purposes. When the Angolan crisis increased in 1999, affecting the tourist business in the area, Schutte was forced to sell one of his DC-6s – and that´s how the OE-LDM was acquired by the Flying Bulls.
On 7th July 2000 the DC-6 took-off for the 28 hours flight to Salzburg. Then, in 2001, the restoration process began, which lasted three years and ten thousands of hours. The former VIP airliner received  a completely new interior, as close to the overall historical concept as possible,  four  new  engines, and modern flight electronics.
In July 2013 the DC-6B received its Austrian registration OE-LDM and now is a frequent participant of air shows in Europe, always catching attention by its classic design and the sound of four Pratt & Whitney R 2800 CB-3 engines.
(information from an official Flying Bulls press release were used)