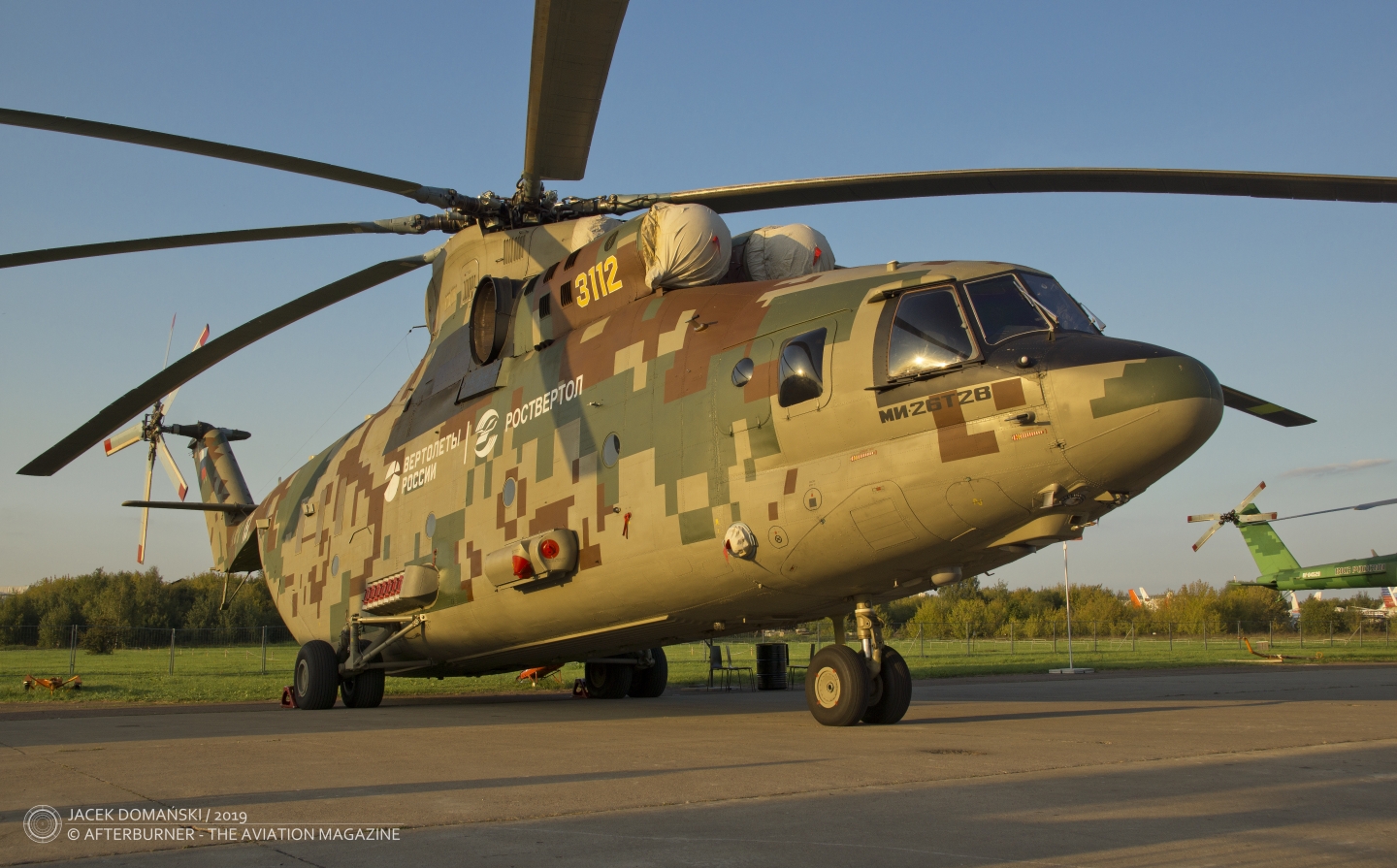 A prototype of the heavy helicopter Mi-26T2V, presented at ´Russian Helicopters´ stand during the XIV International Aviation and Space Salon MAKS-2019, Zhukovsky (Moscow area).
Since the late 1950s, the emerging need for a heavy transport helicopter was successfully fulfilled by a fleet of Mi-6 rotorcraft, supported by its derivative, a Mi-10 flying crane. Both helicopters were designed by Mil construction bureau, which also worked on the prototype of super-heavy V-12 rotorcraft.
The V-12, being the largest helicopter ever built, performed its maiden flight in 1968 and finally managed to set several world records. However, the idea of super-heavy rotorcraft quickly turned out to be a dead-end of development. A few super-heavy aircraft could not meet the requirements of both the armed forces and civil aviation – the complexity and scale of tasks required a fleet of mass-produced helicopters, although with significantly better capabilities and characteristics than Mi-6.
Once again, the works on creating a new heavy transport helicopter were assigned to Mil construction bureau, now led by M.N.Tishchenko, after the death of Mikhail Mil in 1970. The project was directed by two designers, G.P. Smirnov and A.G. Samusenko, and approved by the Ministry of Aviation Industry in December 1971.
Interesting to note is, that Smirnov and Samusenko initially intended to use as many components as only possible from the designs that already have been proven successful – Mi-8 and Mi-6. However the heavy rotorcraft created from the existing serial parts would achieve an unacceptable take-off weight value of 70 tonnes. Mi-26 (or ´product 90´) as the project was named, had to be designed from the start.
On 14th December 1977 a prototype of new heavy transport helicopter took-off for its maiden flight. After a series of static and dynamic tests, Mi-26 was approved for the serial production on 4th October 1977. Even before it became fully operational, Mi-26 set several world records – some of them are still current.
There were more than 300 Mi-26 helicopters built until today, and they are still operated by the Russian armed forces, state agencies and civil operators. Several rotorcraft are used in the CIS states, but also in Algeria, Mexico, Congo, China, Peru and other states.
Although the general idea of Mi-26 design turned out to be successful and timeless to a large extent, with the beginning of the new century the need for a generation change became obvious. The first significant modification came in 2011, with Mi-26T equipped with glass-cockpit and night-fly capability. Then, in 2018 Russian Helicopter company (a holding company that includes Mil Helicopter Plant) manufactured a prototype of Mi-26T2V, a significantly modernized military variant of this heavy transport rotorcraft.
Mi-26T2V can carry up to 20 tons of cargo and is equipped with NPK90-2V avionics, allowing to use the helicopter during any time of a day and in the night. Its cockpit is ready to use the night-vision goggles. The navigation and satellite systems allows the helicopter to fly the pre-set route in an automatic mode, arrive to a certain point and perform there an approach and landing, with return to the home (or alternate) airfield. Mi-26T2V is also equipped with ´Vitebsk´ onboard defence system.
The manufacturer aims for making the new Mi-26 able to perform tasks in any region, including those with complex and severe climatic conditions. The number of crew members remained the same and consist of five men.
Mi-26T2V performed / underwent? the preliminary tests in 2019 and currently is going through the joint state test programme, that is expected to last until the end of 2020.