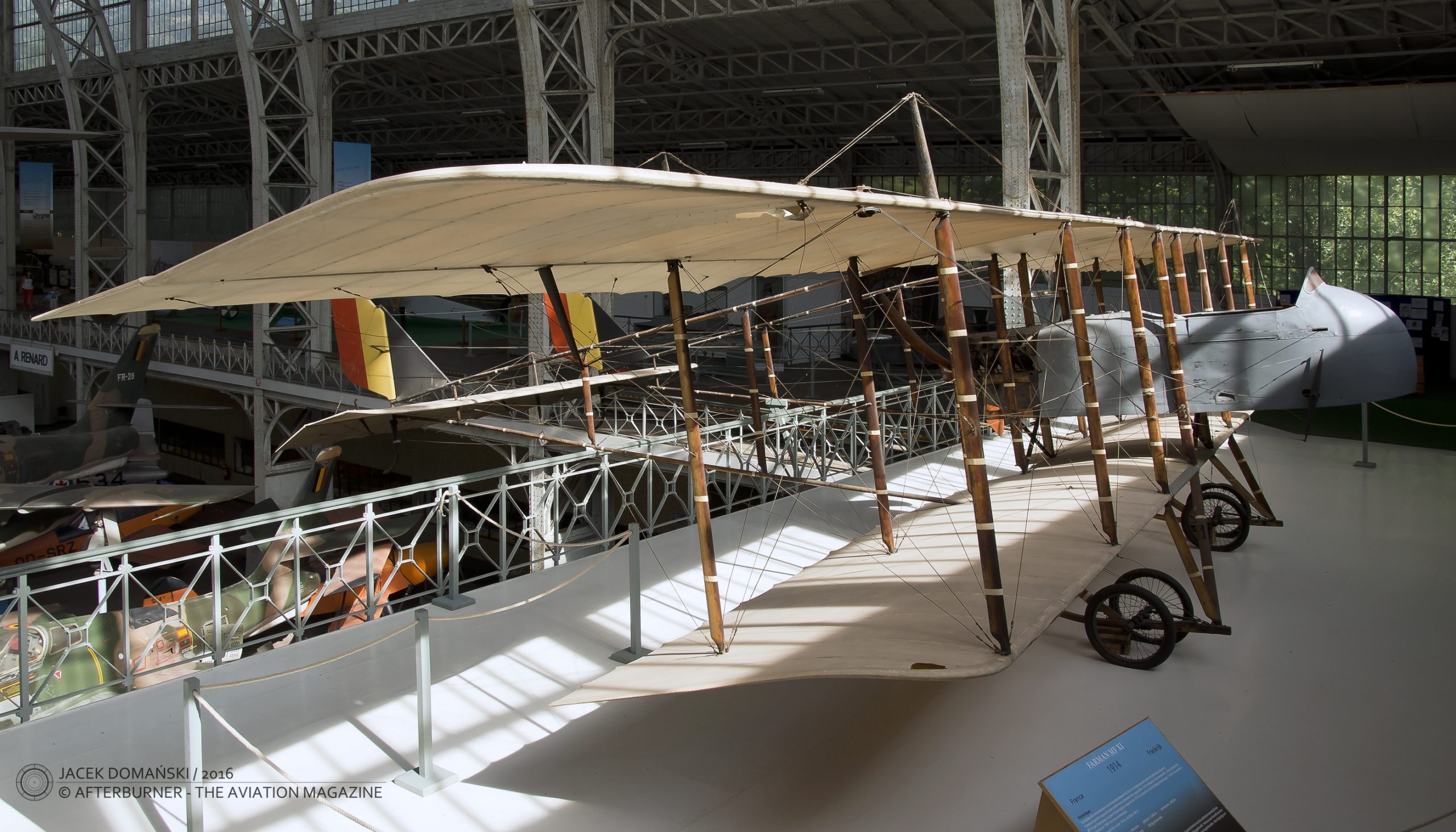 Maurice Farman MF.11A-2, exhibited at the Royal Museum of the Armed Forces and Military History in Brussels, Belgium (September 2016)
The Farman brothers – Maurice, Richard and Henri – played an important role in the early aviation years. Impressed by the new inventions and technologies of the 1890s, they took advantage of the opportunity which presented itself.
Richard set up the largest automobile agency in Paris and later built the first electric trams in Rio de Janeiro. Henri and Maurice gained fame as cycling and motor racing champions. Shortly thereafter, the Farman brothers fell in love with the hottest novelty and became aviation designers and manufacturers.
Maurice Alain Farman bought his first aeroplane in 1908 and during the next year he set several flight endurance and speed records. Maurice soon began manufacturing his own aeroplanes and, together with Richard and Henri, established the Farman Aviation Works. In addition, in March of 1910, Henri opened the aviation school at Mondésir.
Starting from 1910, Maurice was working on a new biplane in a pusher configuration. That aeroplane was initially intended for training purposes, but later set a few records and won the Coupe Michelin prize. Using the experience he gained, Maurice entered the French military aircraft competition organized in November 1911.
The competition and Farman´s further development resulted in two similar aircraft, that were designated as MF.7 and MF.11. The main difference between them was a more powerful engine and omission of forward-mounted elevator in MF.11 – the latter was a reason why it was nicknamed by British as ´Shorthorn´, in opposite to ´Longhorn´ MF.7.
MF.7 and MF.11 were pusher biplanes, with nacelle for crew mounted in the gap between wings. With the observer in the front seat, Farman offered the unobstructed forward line of fire and the great view during reconnaissance missions, at the same time being vulnerable to attack from the rear.
Farman´s biplanes turned out to be a basic French reconnaissance and light bomber aircraft in the early months of the Great War. They were also being used by several military operators, including Australian Flying Corps, Imperial Russian Air Force, Imperial Japanese Army Air Service, Corpo Aeronautico Militare, Royal Flying Corps, Royal Naval Air Service, Belgian Air Force and many others.
MF.11 was the aircraft of the first ever air-sea battle (Japanese MF.11 attacking SMS Kaiserin Elisabeth in September 1914) and the first air raid of the Great War (RNAS attacking German artillery at Ostend, on 21st December 1914).
MF. 7 and MF.11 were withdrawn from the first-line service over the Western Front in 1915, but were still in use in Macedonia, Middle East and Africa until late 1916.