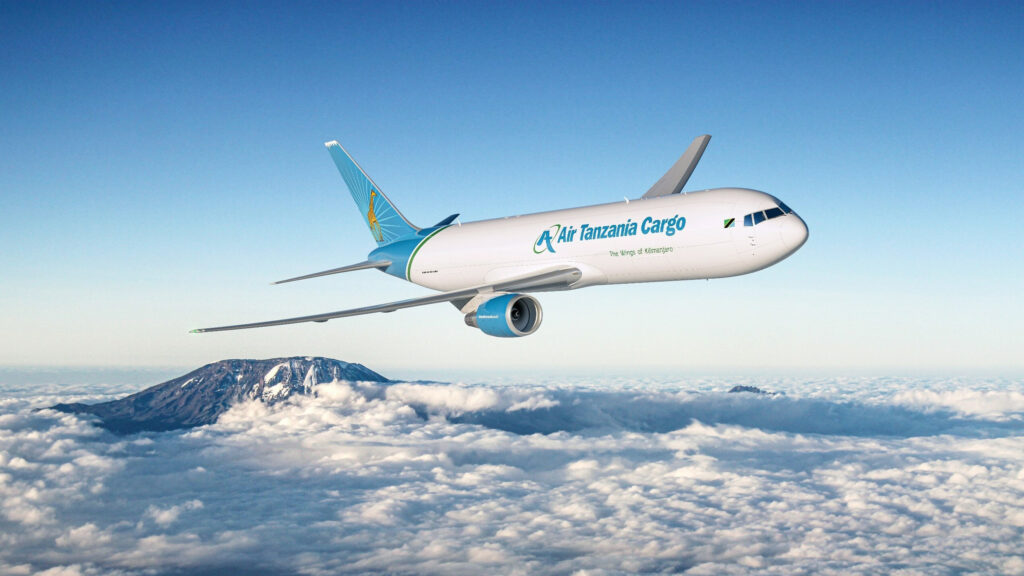 On 3rd June 2023, the first Boeing 767-300 Freighter was delivered to Air Tanzania, the flag carrier airline of Tanzania. The aircraft was handed over during a solemn ceremony held at Dar es Salaam, the main hub of the company. Acquirement of the 767 Freighter by that airline marked also the first direct delivery of that type of aeroplane to an African carrier.
The Boeing 767-300 Freighter is marketed by the company as the aeroplane with excellent fuel efficiency, operational flexibility and low noise level. The Freighter can fly 6,028 kilometres (3,255 nautical miles) with a revenue payload of more than 52 tonnes. That makes it an ideal aeroplane for growing e-commerce and express cargo markets.
The new aeroplane will enable Air Tanzania to support time-critical cargo schedules across Africa and beyond. The 767-300 Freighter is the first dedicated cargo aircraft of the airline, as the country looks to expand imports and exports of perishable goods, pharmaceuticals and other products that require timely delivery.
´We are thrilled to welcome the 767-300 Boeing Freighter to our fleet. The 767 will cater to the growing cargo demand which was previously carried by passenger aeroplanes,´ said Eng. Ladislaus Matindi, Air Tanzania managing director. ´The 767 will enable Air Tanzania to support a journey towards a more sustainable future and time critical cargo schedules across Africa and beyond. We are looking forward to expanding our imports and exports industry that require timely delivery. The arrival of the aeroplane will open opportunities for global businesses to transport commercial cargo goods to various parts of the world, which will boost national economic growth.´
Currently, Air Tanzania operates the fleet of four Airbus A200-300, two Boeing 787-8 Dreamliners and five Dash 8-400 airliners. Nevertheless, the carrier consistently extends its capability and current orders include two Boeing 737 MAX and one Dreamliner, as well as additional Dash 8-400.
Cover photo: Boeing 767F Air Tanzania. All photos and quotations © Boeing. Information from the Boeing Company press releases were used.