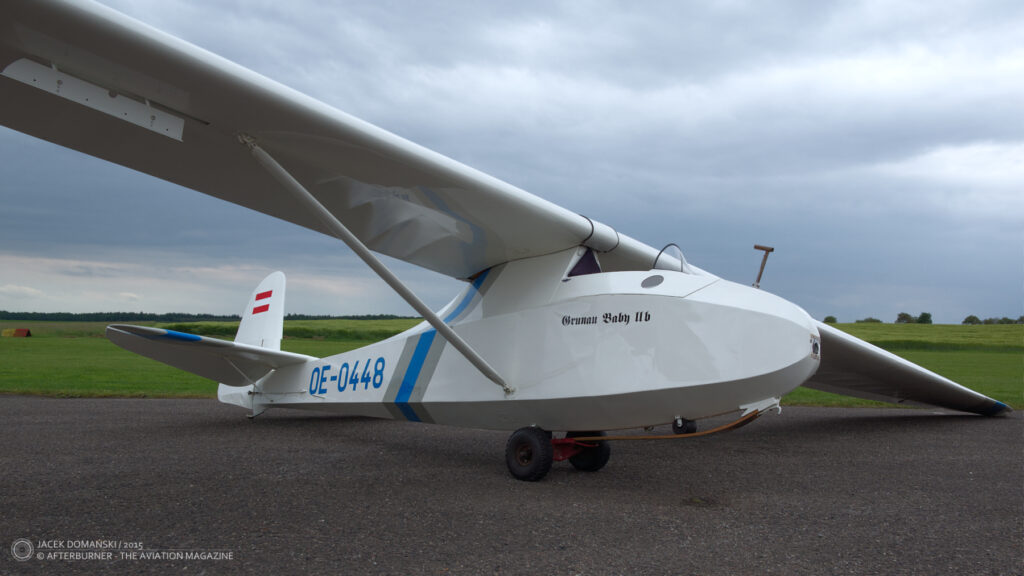 Grunau Baby IIb (c/n 41, OE-0448), single-seat sailplane, static exhibition at open doors event in Aeroklub Jaroměř, May 2015.
Grunau Baby sailplane was created during the winter of 1930/31 by Edmund Schneider, German aircraft designer and owner of a glider factory.
Schneider was born in 1902 in Ravensburg. During the Great War he tried to enlist in aviation unit but was found unfit to fly. Nevertheless, he stayed with the aviation, working as a carpenter at Schleissheim airfield in Munich (nowadays, an aviation branch of Deutsche Museum). There, he had the opportunity to study aircraft designs, while working on fighter aeroplanes of manufacturers such as Pfalz, Albatros, Fokker and Junkers.
After the war, Schneider focused on glider designs. He worked together with Alexander Lippisch and then, in 1923, moved to Grunau village, located near Hirschberg in Silesia (in present day, Jeżów Sudecki near Jelenia Góra, Poland). There, in 1928, Schneider founded its own glider manufacturing company – Segelflugzeugbau Edmund Schneider.
The Grunau Baby is, without any doubts, one of the most successful and most known designs of Edmund Schneider. Nevertheless, at the time the glider was created, Schneider was not yet recognisable, therefore he asked Wolf Hirth – a well-known German gliding pioneer and designer – to assist him with advertising the new aircraft.
Creating his glider, Schneider took under consideration the difficult financial situation in Germany of the early 1930s, especially low budgets of aeroclubs. Therefore, his sailplane was simple in construction and possible to be built from plans later distributed by Schneider. For this reason, it is not possible to tell how many Baby gliders were really made. According to Hirth, number of manufactured examples reached 15,000 but it seems unrealistic. Usually, it is considered that approximately 7,000 sailplanes of that type were built in Germany. Additionally, Grunau Babies were also made in Sweden, Czechoslovakia, United Kingdom, Brazil and France.
With high probability Grunau Baby is the most-built glider in the world, or the second-most, after the SG 38 Schulgleiter. By the way, the SG 38, built in approximately 10,000 examples, was also designed and built by Edmund Schneider in Grunau. Therefore, it doesn´t matter which type it exactly is, as the winner in category ´designer of most-built sailplane ever´ is clear.
The Grunau Baby was intended for both training and cross-country soaring. The glider features an open cockpit, following the conception that sailplane pilot should be able to sense the flight conditions as much as possible.
The Baby II was introduced in 1932 and represented modernized variant of the initial design with longer wings, redesigned fuselage and reinforced tail section. It was shortly followed with another upgrade, designated the Baby IIb.
After the World War II, production of Grunau Baby sailplanes was re-launched in the German Democratic Republic, as well as in Austria, the United Kingdom and Poland. Edmund Schneider continued development of his most successful aircraft and in 1951 introduced another upgrade of the glider, designated the Baby III.
The Grunau Baby IIb featured within our Photo of the Week series comes from the post-war production and was manufactured in 1949.