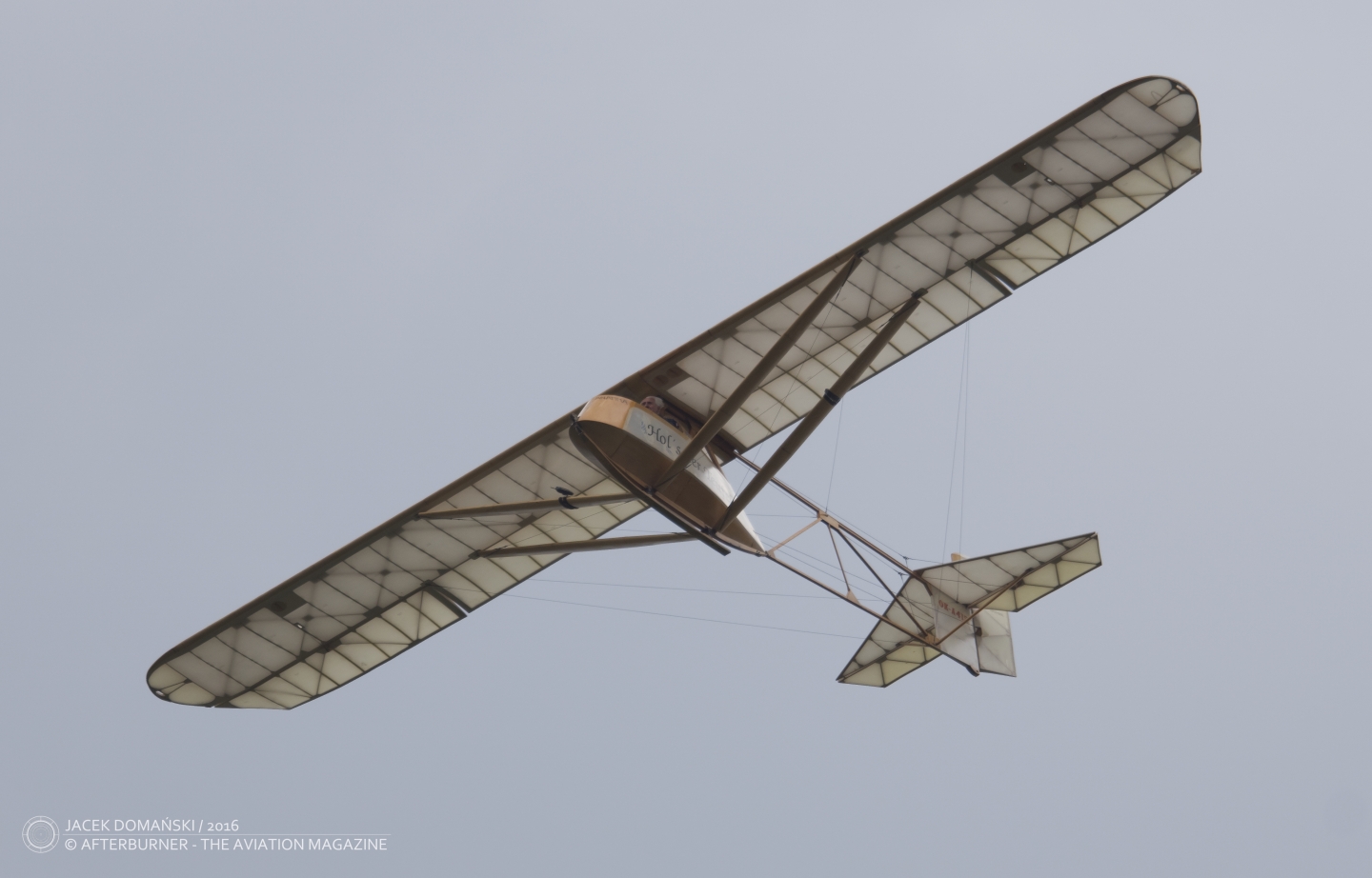 A replica of Jacobs – Lippisch ´Hol´s der Teufel´ glider designed in 1928, performing the flying display at Den ve vzduchu 2016 air show, Plasy (Czech Republic).
In 1928, Alexander Lippisch and Hans Jacobs, two German pioneer aviation designers, built a glider named ´Hol´s der Teufel´. It was the second glider designed by Lippisch and it was named after his first construction from 1923.
´Hol´s der Teufel´ can be translated into English as ´devil take it´ and, being rather a little weird name for an aircraft, was taken from Swedish curse ´djävaler anamma´. It was one of the favourite phrases uses by two Swedish students working in Lippisch´s workshop.
This German design became a very popular glider in late 1920s and 1930s, especially when in 1932 the detailed plans were published by Jacobs in the amateur glider-building book. ´Hol´s der Teufel´ gliders were built in Germany, Hungary, UK and even in Brazil and Australia.
The plans published in 1932 became the inspiration for Gerhard Maleschka and Jiří Leník to build a replica of Jacobs – Lippisch glider. They started in 2002 and after more than four thousand working hours, the replica was ready in 2004. The replica was then registered as an ultra-light glider, becoming the sole airworthy ´Hol´s der Teufel´ in the world.
Over the next few years the unique silhouette of German sailplane enjoyed the spectators at many air shows in Czech Republic and Europe. The Jacobs – Lippisch glider proved to be a really timeless design, still in 2000s allowing its pilot to earn the FAI Silver C Badge.
Regrettably, on 18th July 2016, during the historical glider rally held at Plasy, ´Hol´s der Teufel´ – exceptionally not flown by Jiří Leník – impacted  terrain on approach to the airfield. The aircraft was significantly damaged, fortunately the pilot was just slightly injured. The crash was caused by pilot´s error.