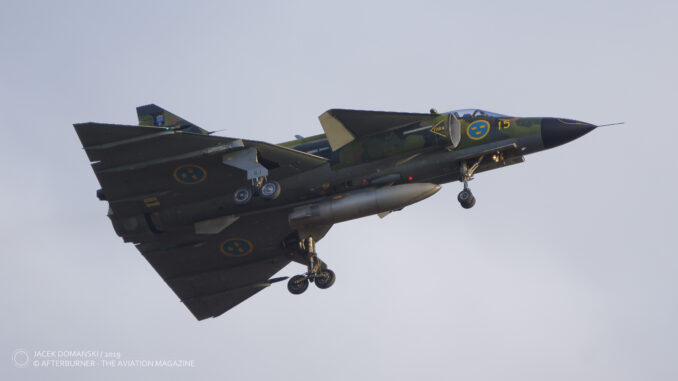 Saab SK 37E Viggen (SE-DXO, c/n 37809), formerly ´F 15-61´ of the Swedish Air Force, performing a flying display at Sanicole Sunset air show, September 2019.
The Saab Viggen multi-role fighter, introduced in 1971, is one of the most-recognizable Swedish jet aircraft and a result of a long and complex evolution. Its development already began in the early 1950s – at the time when the Swedish Air Force was introducing two new jet aircraft, Saab 32 Lansen and Saab 35 Draken.
The decision of launching the development of a future jet parallelly with implementation of two new aircraft was dictated by an idea to create not only a mere fighter for the air force, but the entire weapon system, based on the latest achievements of the Swedish military industry. Therefore, together with approving the serial production of Lansen and Draken, the Swedish authorities have given the green light to start the design of a new combat aircraft.
It should be mentioned about specific requirements that always had to be met by a Swedish military jet, being the summary of neutrality, geopolitical situation and climate conditions of the country. A Swedish combat aircraft must be, inter alia, capable to operate from partially destroyed airfields, road runways, have a possibility of quick re-arm and, in addition, still be easy to repair and service, not requiring sophisticated and long training for the maintenance personnel.
Finally, after examining more than 100 concepts and ideas – as many sources are reporting – a project of single-seat, single-engine combat aircraft with the characteristic canard design was chosen. In December 1961, the Swedish military authorities officially approved the design and allowed further development of ´Aircraft System 37´. It was, at that time, considered by many as the largest and most complex industrial project being realized in Sweden.
One of the most complicated tasks that appeared during the development of Viggen was to meet two different requirements set by the Swedish Air Force: a STOL capability and the possibility to fly a supersonic speed at low altitude and with up to Mach 2 at high altitude. A proper jet engine was an important key to achieve such characteristics, and – after several tests and proposals – a Volvo RM8 turbofan with afterburner and thrust reverse system was chosen, being basically a licence-built Pratt & Whitney JT8D.
Originally used to power commercial airlines, the Volvo RM8 – after being enhanced with the afterburner and thrust reverse – became the second biggest fighter engine in the world (with Tumansky R-15 used in MiG-25 being the biggest one). Together with the canard design, this huge jet powerplant gave the Viggen its easy-to-recognize look.
The new Swedish jet performed its maiden flight on 8th February 1967 and the first serial fighter was delivered in June 1971. There were several variants of Viggen developed, including AJ 37 strike fighter, SF 37 reconnaissance version, SH 37 maritime patrol aircraft and SK 37 trainer variant with two-seat cockpit. In the 1990, some still operational Viggens were upgraded to JA 37 variants (C, D and DI versions, depending on the applied software and avionics upgrade) and finally in 1998, approximately ten SK 37 trainers were converted into SK 37E electronic warfare trainer.
In November 2005, the Saab 37 Viggen was officially retired from the Swedish Air Force – being the sole operator of this aircraft – and succeeded by JAC 39 Gripen. Several decommissioned aircraft were sent to aviation museums in Europe and today Viggens can be seen in the Czech Republic, Poland, UK, the Netherlands, France, Estonia and, certainly, Sweden. Many of those aircraft were flown to its final museum destination.
In addition, there are two Saab 37 aircraft preserved in an airworthy condition, one single-seat fighter and one trainer. Both of them are operated by the Swedish Air Force Historic Flight, although the trainer is owned by the Saab company. Currently, the trainer is displayed in an attractive four-colour Swedish camouflage from the late 1970s, while the single-seat aircraft remains unpainted, therefore representing a look from the early 1970s.