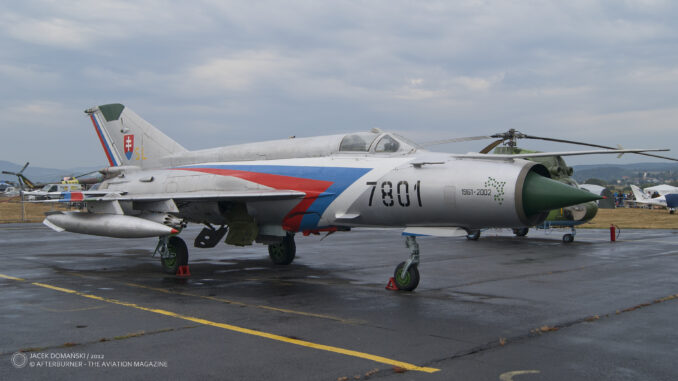 Mikoyan-Gurevich MiG-21MF (c/n 967801, ex-Slovak Air Force ´7801´), NATO reporting name ´Fishbed-J´, static display during Slovak International Air Fest air show, Sliać air base, September 2013.
At the end of 1961, the first four MiG-21 supersonic fighter aircraft appeared in the then Czechoslovakia. Those aircraft, delivered from the Soviet Union as reference examples, were used to launch serial production of MiG-21F-13 in Aero Vodochody aviation plant. In 1963, the first Czechoslovak made MiG-21s – sometimes being referred as Avia S-106 – were manufactured and became the initial version of ´Fishbed´ in the Czechoslovak Air Force. That license production of F-13 variant was ceased in 1972, after manufacturing of 194 examples.
Parallelly with domestic production of MiG-21F-13, the Czechoslovak Air Force were acquiring another variants of that fighter aircraft, directly from the Soviet Union. As early as 1964 the first MiG-21PF aeroplanes were delivered to Czechoslovakia and then subsequently PFM, R, M (MA), MF single-seat fighters and two-seat U, US, and UM variants.
With dissolution of Czechoslovakia that took effect on 1st January 1993, its armed forces were split between two newly established countries of the Czech Republic and Slovakia. This process was launched already in 1992 and was finalized in October 1993. Similarly to other military equipment, there was a 2/1 split used to divide the existing inventory of the MiG-21 fighters.
Although there were dozens of aircraft of that type being divided between those new countries, the number of MiG-21 fighters in active service was then quickly reduced. It was a result of both their age and budget cuts, but also a consequence of the Treaty on Conventional Armed Forces in Europe, signed in 1990.
Eventually, in January 2003, the MiG-21 fighters were officially withdrawn from the Slovak Air Force inventory. Two years later, the Czech Republic followed, retiring its MiG-21 aircraft on 12th July 2005.
The aircraft with tactical number ´7801´ was initially operated by the Czechoslovak Air Force and at dissolution of Czechoslovakia was taken over by newly established Slovak Air Force. Officially retired in 1999, the ´7801´ was transferred to aviation museum in Košice and became a part of open-air exhibition there.
At the beginning of 2010s, that aircraft was leased by Slovak MoD and handed over to maintenance squadron at Sliać air base, where it was renovated. The ´7801´ was then presented to general public in August 2012, when the aircraft was displayed in front of a shopping mall in Banská Bystrica, as an advertising for SIAF air show – and later it was also exhibited at static display during that event. A similar scheme was then repeated in 2013. With the 2015 edition of SIAF, MiG-21 ´7801´ appeared at the main square in Zvolen.
Currently, the ´7801´ is still located at Sliać air base, but regrettably – despite being positioned just a few metres from a public road – the aircraft is hardly visible from the outside, being hidden behind a solid fence.