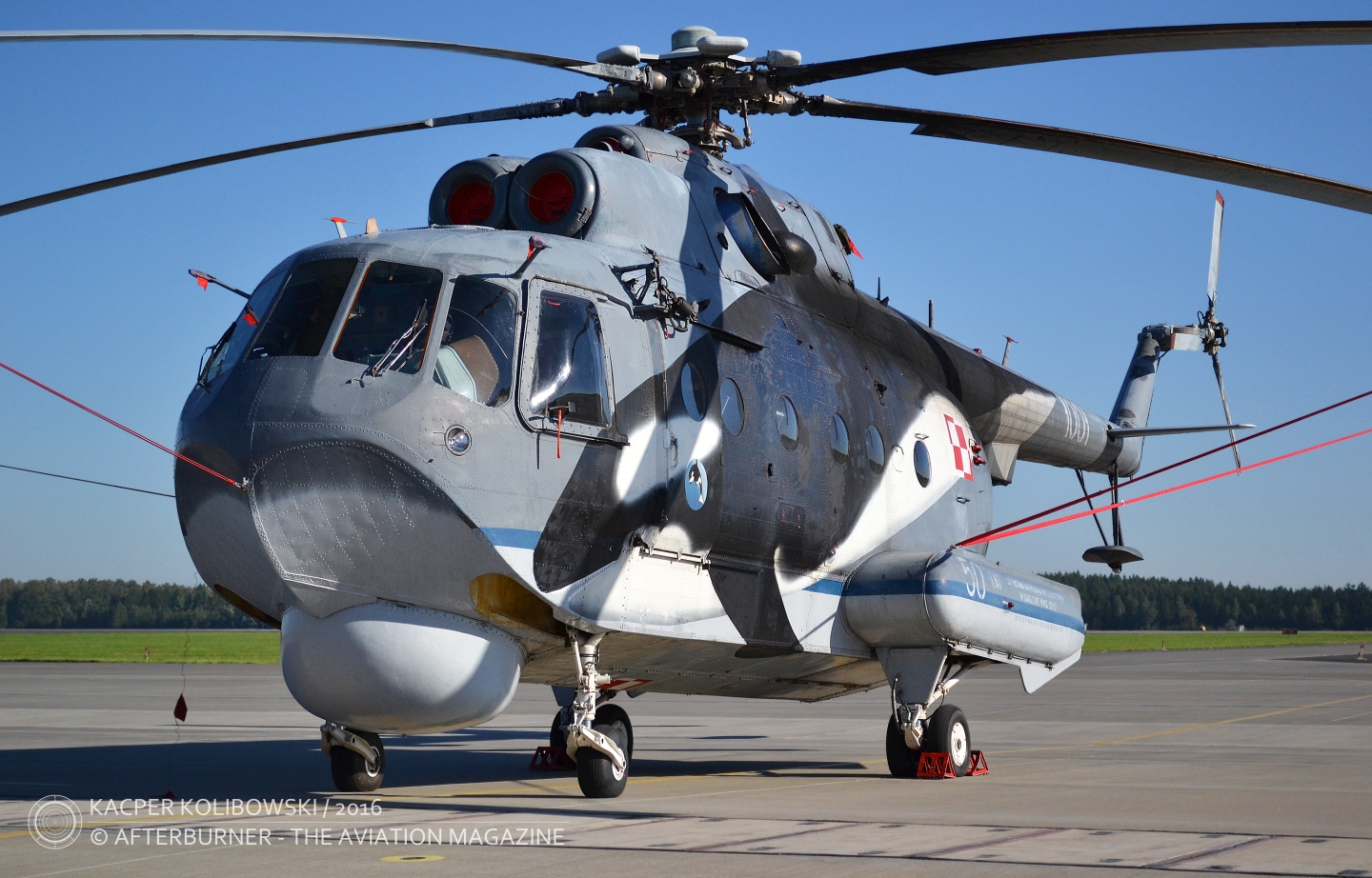 Polish Navy Mil Mi-14PLMK (NATO reporting name: Haze) from 44th Naval Air Station – amphibious anti-submarine helicopter developed from the Mi-8.
Mi-14PL (Russian: противолодочный – anti-submarine), although developed in the late 1960s and bought in 1981, is still the basic helicopter of the Polish Navy, and the biggest helicopter operated by the Polish armed forces. Those helicopters were used by Polish Navy in Mi-14PL (anti-submarine) and Mi-14PS (SAR) variants. During the almost four decades of its operation, some of the aircrafts were re-build to Mi-14PX (anti-submarine variant with limited SAR capability), Mi-14PL/R (anti-submarine variant changed into the SAR helicopter) and Mi-14PLMK (modernization of the Mi-14PL). The change of the anti-submarine variant into the SAR version was made due to the lack of the SAR helicopters, as the previously bought ones reached their limits and had to be withdrawn from the active service.
Currently, the still-operated by Polish Navy Mi-14s are close to their final limits, after the three main overhauls and need almost immediate replacement. This, very probably, will happen in the few years, as recently the order for four AgustaWestland AW-101 Merlin helicopters was signed by the Polish government.
The pictured Mi-14PLMK ´1001´ is one of two Polish Navy helicopters having the occasional ´Orca´ livery (the second one was ´1012´ painted in 2002). This special painting was designed by kmdr ppor. Zdzisław Szawłowski and ´1001´ is commemorating the 50th anniversary of Polish Naval Aviation in Darłowo air base. In 2012, during the Royal International Air Tattoo air show, the ´Orca´ livery was granted the Best Livery Award.
This photograph was taken in August 2016 during the air base fest organized by the 31st Tactical Air Base and 2nd Tactical Wing in Krzesiny AFB (Poznań, Poland).
(AFTERBURNER Photo of the Week – 17/2019)