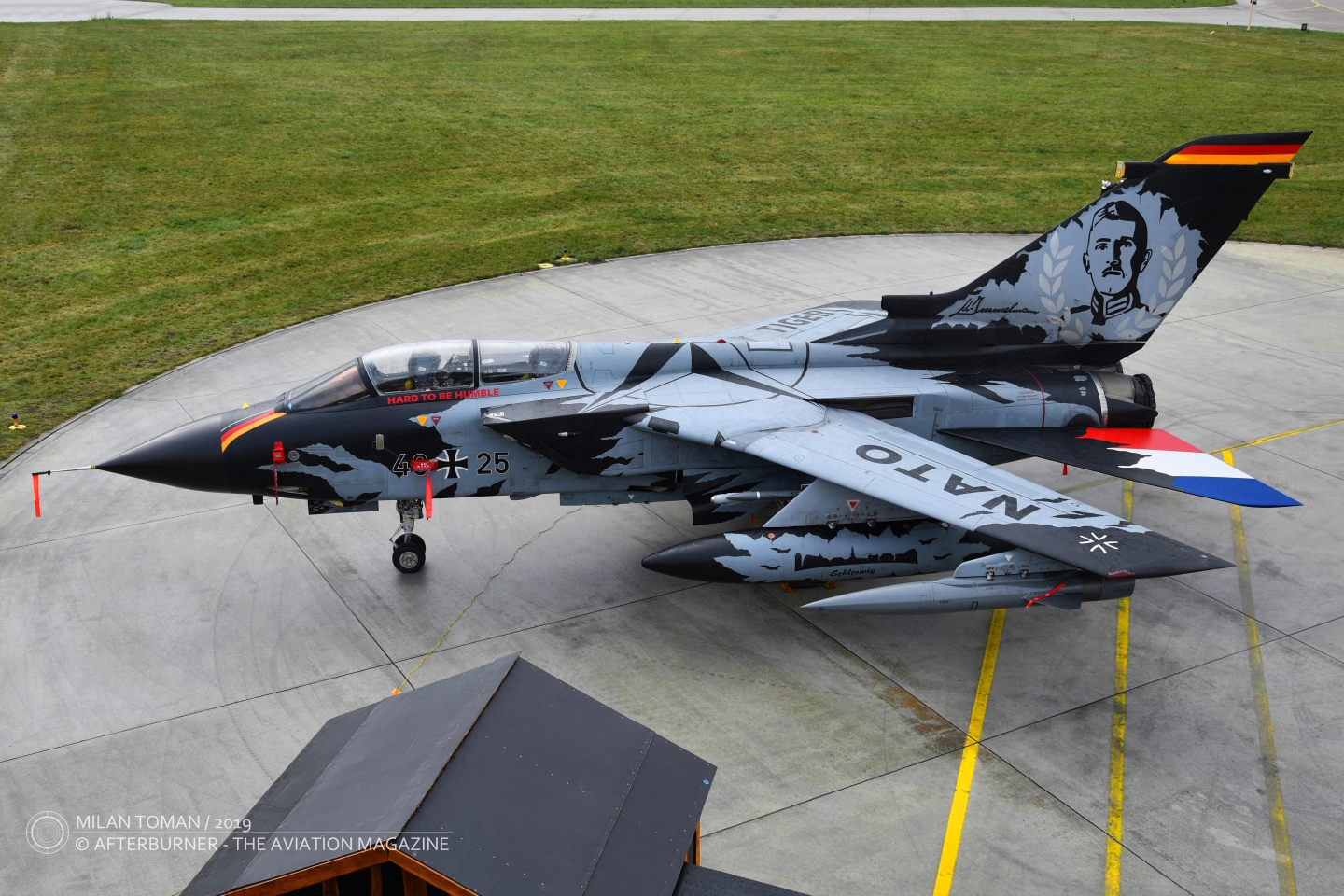 The Panavia Tornado IDS (interdictor/strike) 43+25, from the Taktisches Luftwaffengeschwader 51 ´Immelmann´ with the special ´Tiger livery´ for the 2019 NATO Tiger Meet in Mont-de-Marsan. The photo was taken at the TaktLwG 51 home base at Fliegerhorst Schleswig/Jagel, in June 2019.
Taktisches Luftwaffengeschwader 51, formerly known as Aufklärungsgeschwader 51, is the tactical reconnaissance wing of the Luftwaffe, operating mostly the Tornado ECR variant. The unit was established on basis of the former Aufklärungsgeschwader 51 and 52 (both operating the RF-4E Phantom II and dissolved with the end of the Cold War era), and the Marinefliegergeschwader 1. The name and Max Immelmann legacy was inherited from the AG 51 and the Black Panther coat of arms came from AG 52. The official commissioning of the reborn AG 51 took place in January 1994.
This year, the TaktLwG 51 is celebrating its 25th anniversary and many references to this jubilee could be found in the 2019 NATO Tiger Meet special livery, painted on the 43+25 aircraft (previously operated by the TaktLwG 33). The special NTM ´Panther´ from Schleswig is also carrying the picture of Max Immelmann on its tail. French and German national colours were painted on the horizontal stabilizer. The ´Panther´ nozzle covers were made by the two weapon system officers, as a farewell gift to the unit.
The anniversary painted aircraft was officially presented in May during the NTM 2019 in France, then it was available at both flying and static display during the spotter day in Schleswig/Jagel and finally shown to the general public at the Tag der Bundeswehr open doors event in June.
As the addition to this ´Photo of the Week´, this link will redirect you to the TaktLwG 51 video, showing how the ´Panther´ was painted.