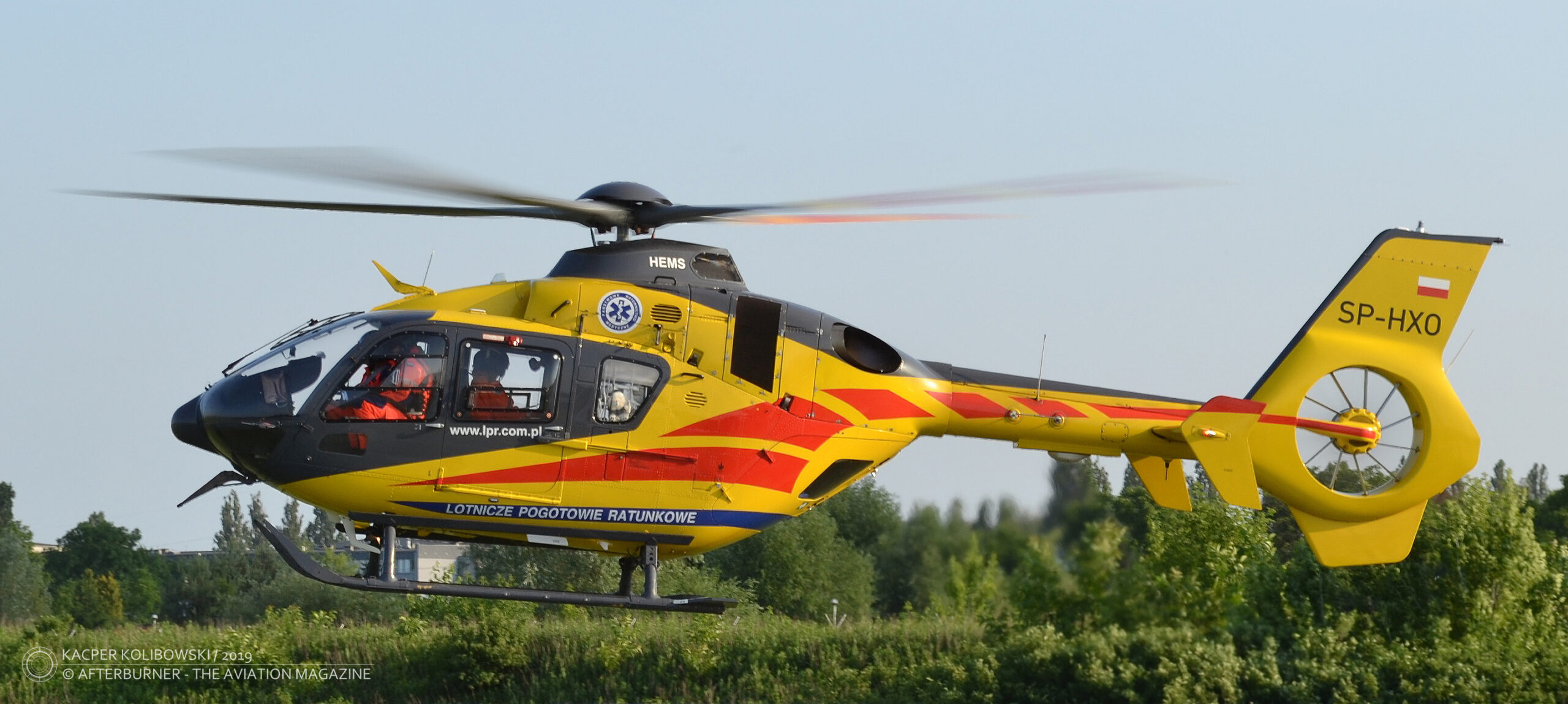 Eurocopter EC135 P2+, SP-HXO – ´Ratownik 12´, Lotnicze Pogotowie Ratunkowe (HEMS service in Poland), Płock 2019.
The Eurocopter EC135 (now being manufactured by Airbus Helicopters as H135) is a twin-engine, light utility helicopter that made its first flight on 15th February 1994. EC135 serial production started next year and it became operational in 1996.
Nevertheless, the roots of this rotorcraft go a few decades back. Works on the first prototype started yet in the 1970s – at that time it was designated as Bo 108 and was developed by Messerschmitt-Bölkow-Blohm company, in cooperation with Aérospatiale (later, in 1992, both companies merged into the Eurocopter consortium). And finally, the prototype of new European helicopter made its first flight on 15th October 1988.
Initially, this design was only supposed to be a kind of technology demonstrator, combining capabilities of the Bo 105 helicopter with a modern, even more aerodynamic look. However, it soon became a full-fledged, new rotorcraft – known as EC135/H135 and today considered as the direct successor of Bo 105. Within all the years of production it underwent many changes, redevelopments and upgrades. Until today, over 1,300 of EC135/H135 helicopters, in thirteen different variants, were manufactured. They are being used by about 300 civil and military operators from 60 countries worldwide. Most of them are serving in emergency medical services.
The history of service of EC135 helicopters in Polish Helicopter Emergency Medical Services dates back to 2008, when the bid for 23 new rotorcraft and one flight simulator for HEMS was announced. As many as sixteen companies have submitted their offers, including the domestic PZL Świdnik company and American Sikorsky Aircraft Corporation. Finally, Eurocopter (with EC-135) and Agusta Westland (with AW-109) were qualified for the final stage, so-called ´competitive dialogue´.
Eventually, the bid was won by the Franco-German consortium and the EC-135 P2+ was chosen as the successor of Mi-2 fleet being at that time operated by the Polish HEMS. An official presentation of the very first delivered Eurocopter took place on 10th September 2009, at Warsaw-Babice airfield. The remaining 22 helicopters were delivered by December 2010.
A few years later, another four EC135s were ordered by the Polish HEMS service and delivered in December 2015. They were already manufactured by Airbus Helicopters and represented the newer variant of the type – H135 P3.
The rotorcraft pictured here – EC135 P2+, SP-HXO, using the call-sign ´Ratownik 12´ – entered the operational service in August 2010. Although photographed at taking-off from the HEMS base located within the airfield of Aeroklub Ziemi Mazowieckiej (Aeroclub of the Mazovian Land) in Płock, it is usually based at Warsaw-Babice. In total, the Helicopter Emergency Service of Poland is operating from 22 bases located across the country.