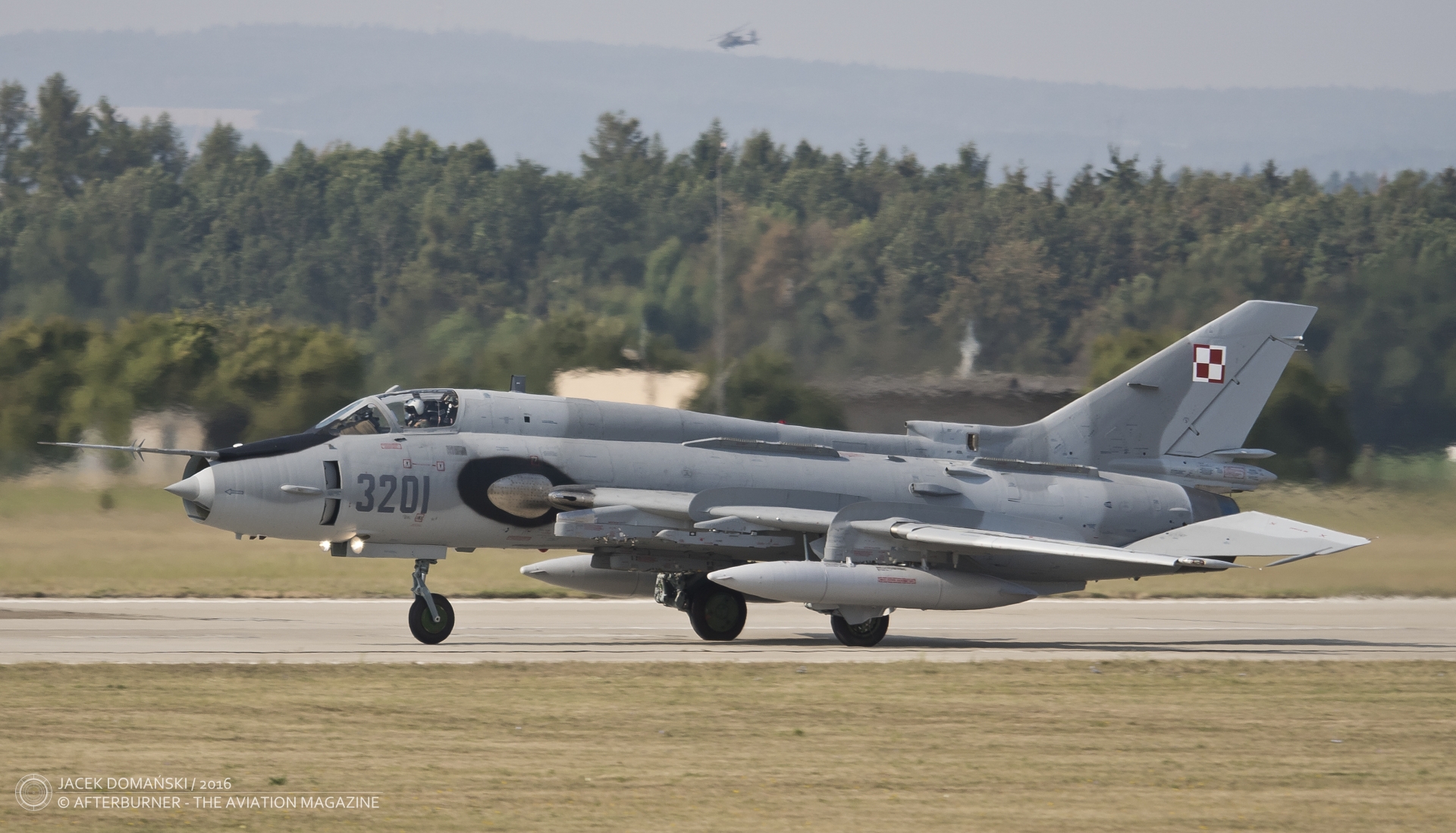 Sukhoi Su-22M4 (NATO reporting name ´Fitter K´), ´3201´ of the Polish Air Force, taking-off for the combat mission within the joint multinational exercise ´Ample Strike 2016´, Náměšť n/O., September 2016.
Su-22 is an export variant of Sukhoi Su-17, a sweep-wing fighter-bomber designed in the Soviet Union and introduced in 1970. The aircraft was developed from Su-7, supersonic fighter-bomber and ground-attack aeroplane from 1950s.
The family of Sukhoi Su-17/20/22 aircraft became fairly popular in the Soviet Union and Eastern Bloc countries, it was also operated by several air forces in Asia and Africa, and even in South America  by Peruvian Air Force. There were more than 2,800 aircraft built between 1969 and 1990.
The aircraft was upgraded and modernized several times and Su-17M4 / Su-22M4 was the final variant of ´Fitter´, manufactured between 1983 and 1990. Poland has received the first Su-20s in 1974 and operated them until 1997, Su-22s arrived in 1984.
Although being still in service, Polish ´Fitters´ were never significantly upgraded as they were successively retiring since the late 1990s and had to be replaced by another, modern aircraft. However, that still did not happen, mostly due to the budget cuts. Despite several replacement programmes regularly being announced by the Polish MoD, approximately 18 aircraft are still operated by the Polish Air Force. Therefore, Poland became the last active operator of Su-17/20/22 family in Europe and one of the last operators in the world, together with such countries as Angola, Vietnam, North Korea and Syria (that still report some Su-20/22s in their inventory, however there is no confirmed evidence how many of them are still operational there).
* * *
´Ample Strike´ is an annual live-fly and live-fire exercise, organized in the military training areas in the south part of the Czech Republic. The host of ´Ample Strike´ is the 22nd Helicopter Base located in Náměšť nad Oslavou. The goal of the exercise is to train the Forward Air Controller (FAC) and Joint Terminal Attack Controller (JTAC) in the joint air-land-integration environment.
The exercise is usually organized in September and for the first time it was held in 2014, therefore directly referring to ´Ramstein Rover´ trainings conducted in Germany between 2010 and 2013. The usual participants of ´Ample Strike´ include the Czech Republic, Slovakia, Germany, the United States, Hungary, Poland and Baltic Countries.
The 2020 edition of the exercise is currently ongoing and will be concluded on 19th September 2020.