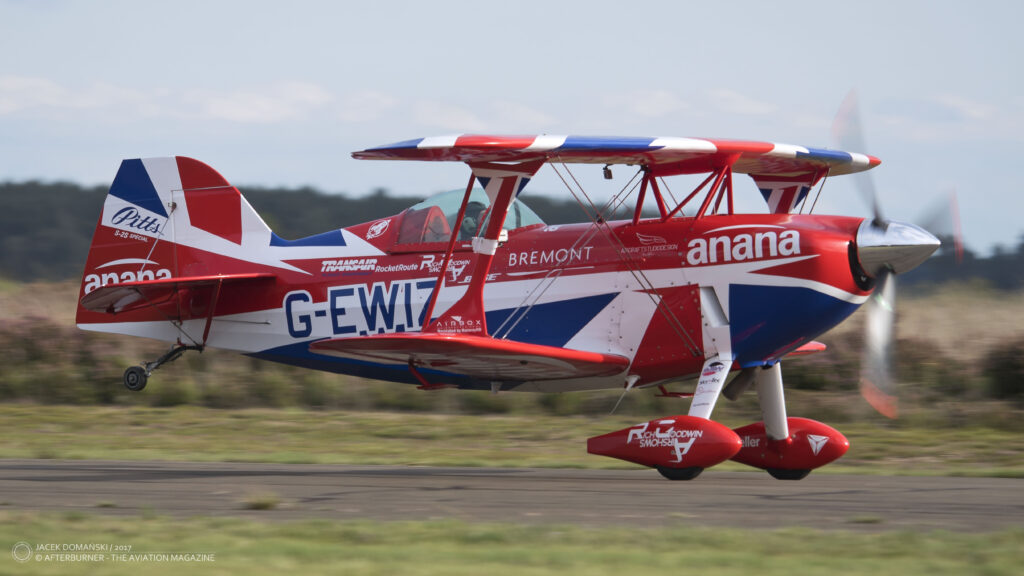 Pitts S-2S Special (c/n S.18, G-EWIZ) aerobatic biplane, flying display at 40th International Sanicole Airshow, September 2017.
Pitts Special is a common name used for light aerobatic biplanes, designed by Curtis Pitts in the 1940s.  In September of 1944, the Pitts´ biplane performed its maiden flight, therefore starting a long and successful story of that elegant aircraft.
Two basic variants of that biplane, single- and two-seater, were officially designated by Pitts´ company as S-1 and S-2, respectively. Nevertheless, due to a picture of a skunk that Curtis Pitts usually painted on aircraft he built, his biplanes were often nicknamed ´Stinkers´. Sometimes, that epithet was also divided into ´Little Stinker´ for the S-1 and ´Big Stinker´ for the S-2.
Pitts´ biplanes have quickly gained popularity, especially because their exceptional aerobatic capabilities. The design was considered as revolutionary – as mentioned in the Los Angeles Times, such term was used by The National Air and Space Museum of the Smithsonian Institution, ´because of its small size, light weight, short wingspan and extreme agility´. It is acknowledged that both the S-1 and the S-2 have dominated the aerobatic competitions in the 1960s and the 1970s, winning several awards and trophies.
In 1962, Curtiss Pitts founded another company, named Pitts Enterprises, that offered complete plans of the S-1C for self-assembly. That even increased popularity of the ´Stinker´ and several hundreds of homemade Pitts biplanes were successfully completed.
Curtiss Pitts died in 2005, at the age of 89. He was active in designing aircraft until his death, the last – regrettably not finished – project by Pitts was another variant of S-1, this time powered by a 400 hp radial engine. He was honoured by dedicated plaques at the Georgia Aviation Hall of Fame and the Air Show Hall of Fame.
Through the years, several variants and modifications of the basic design were created – apart from that basic division, separating the Pitts Special biplanes into the S-1 and the S-2 lines. Particular versions of the ´Stinker´ have different engines and propellers, sometimes more ailerons are added or different fuel tanks are used.
The S-2S variant, pictured above, is a notable example of modification performed on this type of biplane. In particular, it's a conversion of two-seater into a single-seat aerobatic special, done by Aerotek company. The aircraft is powered by a bigger and more effective 260 hp Lycoming AEIO-540-D4A5 engine and has a twin tank system. There were approximately only 30 aircraft of that variant ever built.
During the 2017 edition of Sanicole International Airshow, the Pitts S-2S Special was presented in a breath-taking aerobatic display, flown by Rich Goodwin – a former Tornado pilot of the RAF, who has flown twenty one combat missions during the Desert Storm operation. Nowadays, Rich is flying passenger Boeing aircraft and, in addition, performs aerobatic shows in his tiny biplane.
Currently, the Pitts Special sets for self-assembly are still available, being offered by Steen Aero Lab company in Palm Bay, Florida. There is also a possibility to buy a factory-made, already certified, S-2C variant that is still being produced and available at Aviat Aircraft Inc. in Afton, Wyoming.