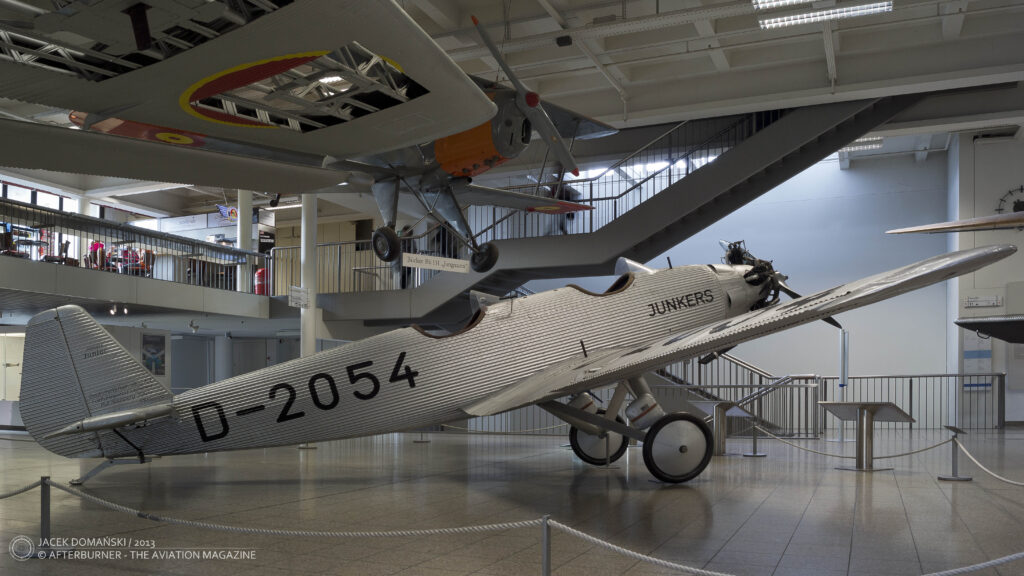 Junkers A50ci ´Junior´, exhibited at Deutsches Museum Munich, October 2013
In the early years of aviation, an aircraft was usually associated with a wooden structure, strengthened with wires and being partially covered by fabric. That was until 1915, when a new aeroplane manufacturer came onto the scene – Junkers Flugzeug- und Motorenwerke AG.
Established in 1895 by Hugo Junkers, the company was initially producing radiators and boilers but around 1914 it was decided to expand its business to include aeroplane manufacturing. Drawing on its experience with metal works, Junkers quickly became a pioneer in design and production of all-metal aircraft.
That story began with Junkers J 1 (nicknamed Blechesel, English: sheet-metal donkey), the first all-metal aeroplane ever made that performed its maiden flight on 12th December 1915. Just year later, the first all-metal fighter aircraft in the world – Junkers J 2 – was introduced by the company. On 25th June 1919, Junkers F 13 performed its first flight and therefore became the world´s first all-metal passenger aeroplane.
Another pioneer design of Junkers company was introduced ten years later. Prototype of a small, two-seat aircraft designated as EF 13, performed its maiden flight on 13th February 1929 and therefore became the first all-metal sports aircraft in the world.
That aircraft, later re-designated as Junkers A 50 (also known as Junkers ´Junior´), was a monoplane covered by corrugated duralumin sheets, so characteristic for passenger aircraft being designed at Junkers company. Shortly after the first flight of the A 50, four other prototypes were built in order to evaluate different engines and landing gear configurations.
The Junkers A 50 was advertised as a multipurpose and versatile aircraft that could be used for training, sport flying, aerobatics and also an aviation tourism. And exactly the latter purpose was the one that Junkers company had put all its hopes into. It was awaited that no less than 5,000 aircraft of that type would be sold. There was even a term Volksflugzeug (literally: people´s aircraft) used in regards of A 50, to emphasize its expected availability and popularity.
Regrettably, those plans were soon revised by the Great Depression when market demand was drastically reduced. Shortly speaking, the sport aeroplane of all-metal construction was well received but it turned out to be too expensive. Finally, only 50 – 80 aircraft of that type were built (depending on the source). In addition, Junkers suffered from financial problems and its group of companies collapsed.
Regardless of the abovementioned issues, the Junkers A 50 turned out to be a reliable aircraft with good characteristics. Although it did not achieve any significant success in the Challenge series, several FAI world records were set on its floatplane variant.
In 1931, Marga von Etzdorf in her Junkers A 50 became the first woman to perform a solo flight from Berlin to Tokyo. Captain Väinö Bremer of the Finninsh Air Force successfully completed three long-range trips in his A 50, nicknamed Junnu – around Europe in 1931, across Africa to Cape Town and back in 1932 and finally a flight around the world in 1933 (although both oceans were crossed onboard a ship).
The Junkers A 50 was manufactured in five main variants, powered by Armstrong Siddeley Genet, Walter Vega and Siemens-Halske Sh 13 engines. Despite the small number of aircraft built, the A 50 was used by air forces and civilian operators all over the word: Argentina, Australia, Brazil, Japan, South Africa, Uruguay, Germany, Switzerland, Portugal, Finland, Sweden and the United Kingdom.
There are at least three examples of Junkers ´Junior´ that survived until today. The first of them is Junnu, once owned by Väinö Bremer and now being exhibited in Helsinki Airport. Another one belongs to a private owner in Australia and the third A 50 can be found in Deutsche Museum Munich.
It should be mentioned that the Junkers A 50 was designed by Hermann Pohlmann, an engineer working for the company since 1923. A few years later he was the one to create one of iconic aircraft of the World War II – Junkers Ju 87 Stuka, an infamous German dive bomber.
In 1940, Pohlmann joined Hamburger Flugzeugbau GmbH (HFB), an aviation branch of Schiffswerft Blohm & Voss. He worked as a chief designer there and was involved in creation of BV 222 and BV 238 flying boats. When the war was over, he moved to Spain and worked several years for CASA company.
With re-opening of German aviation industry in the mid-1955, Pohlmann returned to HFB and participated in development of C-160 Transall and HFB 320 Hansa Jet aircraft.