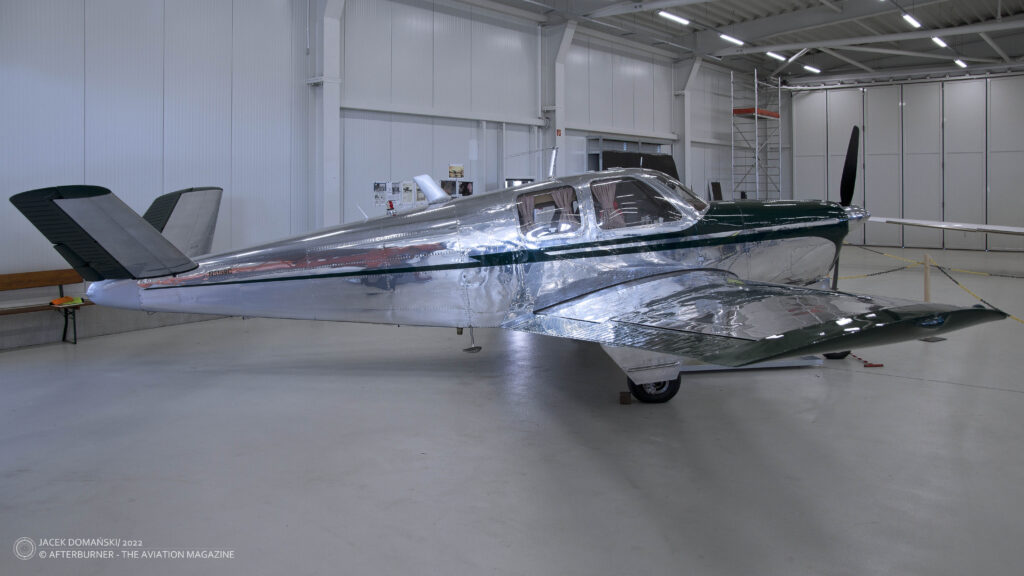 Beech B35 Bonanza (c/n D-2444, N5159C), static display at Airport Točna / Letiště Točna open doors day, March 2022.
In aviation, the term ´milestone´ is typically being used to describe advanced military jets, record-breaking prototypes or high-performance airliners. It rarely goes with a popular, general aviation utility aeroplanes – however if any of popular aircraft could be connected with that term, the Beech Bonanza is undoubtedly the right example.
The aircraft was developed in the United States during the last months of the World War II, when it was clear the conflict would not be lasting much longer. Financial forecasts available at that time expected nothing but a fast economic growth and a boom of general aviation was expected as well. An upcoming sale of military surplus aeroplanes was generally considered sufficient to cover the market demand. Nevertheless, there were two aeroplane manufacturers that took a different approach.
The first of them was Cessna that developed a family of light aircraft designated as 190 and 195 Businessliner. The prototype performed its maiden flight already in 1945 and serial production was launched two years later.
Although the 190/195 series featured several innovations. Most importantly, it was the first all-aluminium Cessna ever and NACA 2412 aerofoil was implemented in the aircraft – the aeroplane was still representing the classic, pre war design. The Cessna 190/195 series was a high-wing aircraft powered by a radial engine, equipped with fixed, tailwheel undercarriage and roll-down side windows. Moreover, it turned out to be high-priced and expensive to maintain, as well as its engines were infamous for their excessive oil consumption. Eventually, there were only 1,180 of these aircraft built and production of Cessna 190/195 was finally ceased in 1954.
At the same time, a completely different aircraft was developed by Beech Aircraft Corporation from Wichita, Kansas. The team of designers led by Ralph Harmon made a modern, nice-looking aeroplane with a low-wing configuration, retractable tricycle undercarriage and horizontally opposed, six-cylinder engine.
That aircraft, officially designated Beech 35 Bonanza, was also made of aluminium and featured a characteristical, V-shaped tail (commonly known as a ´butterfly tail´). Its characteristics, equipment and overall design were a result of conclusion that premium-end customers would rather look for a new, modern and good-looking aeroplane, than buy a surplus military aircraft representing the pre-war technology and style.
And it quickly turned out that management of the Beech company hit the jackpot. The Bonanza quickly became very popular among wealthy amateur pilots, who, usually already having a luxury car, wanted to own an aircraft of a similar quality. Paradoxically, that ´boom for Bonanza´ led to a completely undeserved bad publicity and a nickname of ´doctor killer´.
That nickname has its origin in a high number of crashes, often being lethal, caused by unexperienced but rich pilots, usually doctors or lawyers by profession – wealthy enough to buy an aircraft but not trained enough to fly it in difficult weather conditions, or merely overestimating their flying skills. Regrettably, it resulted in unjustly prejudiced opinion about extremely bad performance of the Beech 35 Bonanza.
A research performed between 1982 and 1989 by the Aircraft Owners and Pilots Association proved that pilot error was a cause of 73% accidents involving the V-tail Bonanza and 83% of the classic tail variants, respectively. Generally speaking, the Beech model 35 accident rate was at the same level as any other light general aeroplanes. A myth of the ´doctor killer´ aircraft was finally busted.
Despite the abovementioned issues, the Beech 35 Bonanza achieved a great commercial success. A total of more than 17,000 examples of that aircraft was made until today, in three main versions: the classic V-tail one (manufactured between 1947 and 1982), conventional-tail variant (produced between 1960 and 1995, marketed also as Model 33 Debonair) and a redeveloped aircraft being in production from 1968 until today (known as Model 36 Bonanza). Nevertheless, a complete list of variants and modifications includes at least forty aircraft, fitted with different engines or equipped with different instruments. There were also a few specialized military variants, including a QU-22B drone for the USAF, used during the Vietnam War.
The aircraft pictured above was manufactured in 1950 and represents the classic, initial series, equipped with the butterfly tail. Then the aeroplane has changed ownership several times, however still preserving the original painting scheme and interior design. Since the late 2021, the Beech B35 Bonanza is a part of classic aviation collection at Točna airfield in Prague, Czech Republic.
And for those who want to learn more about an incredible stunt flown in the Beech Bonanza – namely a flight under the Eiffel Tower in Paris – we would like to recommend one of our articles from Aviation History series: Flying the impossible – an incredible story of daring flights.