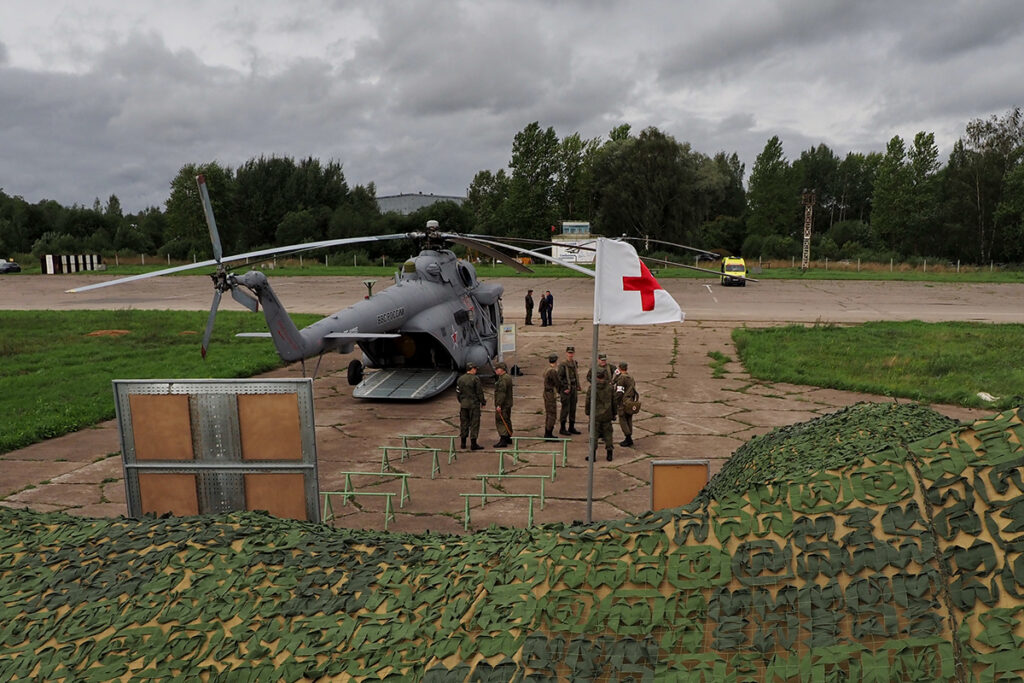 In the last days of August, a joint tactical and specialised exercise of medical personnel and army aviation crews was held at Pushkin airfield, in Leningrad Region. The training, organized by the Western Military District (Западный военный округ), was focused on practising cooperation between a field hospital and army helicopters.
Medical personnel from the 442nd Military Clinical Hospital was deployed to Pushkin, where a field hospital was established. The army aviation and its Mi-8 helicopters were assigned a task of transferring mock injured soldiers from a ´battlefield´ to an emergency hub at the airfield. Once being diagnosed, the wounded soldiers were a subject of medical treatment at the field hospital or moved to the first aid point arranged within the territory of the 442nd Hospital.
The training held at Pushkin airfield created a perfect opportunity to take a closer look at military medical modifications of Mi-8 – one of the most popular Russian-made rotorcraft.
Two examples of Mi-8MTV-5-1 helicopters were involved in the exercise. The first of them was equipped with a MMV special medical module for helicopters (Модуль медицинский вертолетный двухместный – ММВ). That module can carry up to two injured persons and is designed to be mounted on starboard of cargo compartment of Mi-8/17/171 helicopters.
The MMV module is equipped with oxygen dispensing unit and two oxygen tanks, defibrillation system with accessories and monitoring, electrocardiograph, lung ventilator, infusion pumps, special mattress and collars for immobilization, electric suction device as well as a paramedic box with additional rescue equipment.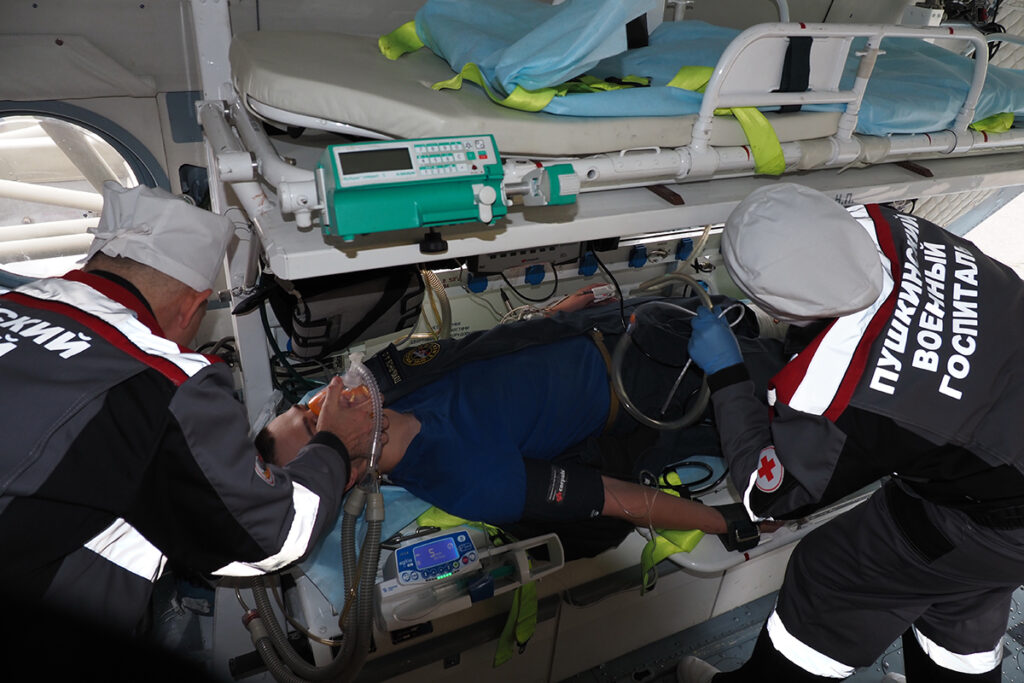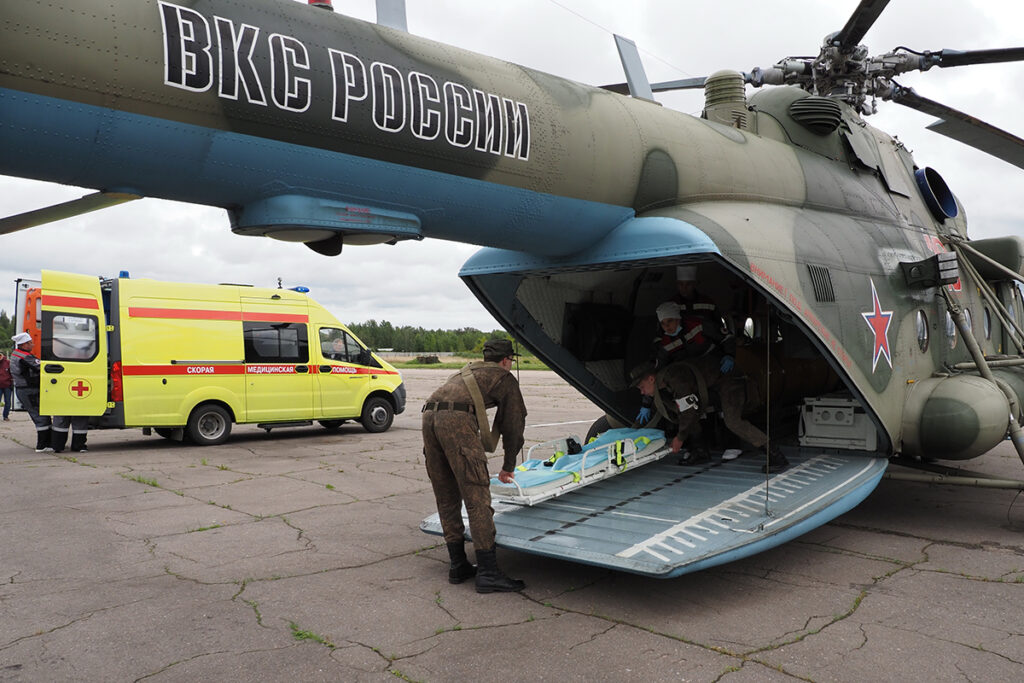 The module is being manufactured in two separate variants – to be mounted at front and rear of cargo compartment. Therefore, a Mi-8/17/171 helicopter equipped with two MMVs can carry up to four seriously injured persons (as there is no additional equipment on the port side, usually a standard folded bench is left there).
Another aircraft assigned to the exercise represented a standard configuration of a medical evacuation helicopter on basis of Mi-8MTV-5. Any rotorcraft of that type can be quite easily converted into a medevac by mounting a special stretcher-racks in its cargo compartment. They allow to carry up to twelve injured persons lying on stretchers. Additional necessary equipment includes a table and chair for a paramedic, safety belts, oxygen installation with masks (in case of high-altitude flight) and other medical smallware.
That medevac based on the Mi-8 can be also used in different configurations, with smaller number of racks, and therefore allowing to carry other passengers or cargo together with the wounded. It is worth to note that conversion of a standard Mi-8MTV-5 into the medevac can be done without disassembling its armament at outer hardpoints.  
The Mi-8MTV-5 in its medical variants has an operational range of approximately 230 kilometres, without additional fuel tanks and with recommended cruise speed between 220 – 230 kph.
Obviously, the abovementioned helicopters – although being most common ones – are not the only medical helicopters from the Mi-8/17/171 family. Since 1968, there were at least ten other specialized variants designed, including several versions of ´flying hospital´ (Mi-8MB, Mi-8MTV-3G, Mi-17G) and even a rotorcraft to provide medical assistance for cosmonauts (Mi-8MTN).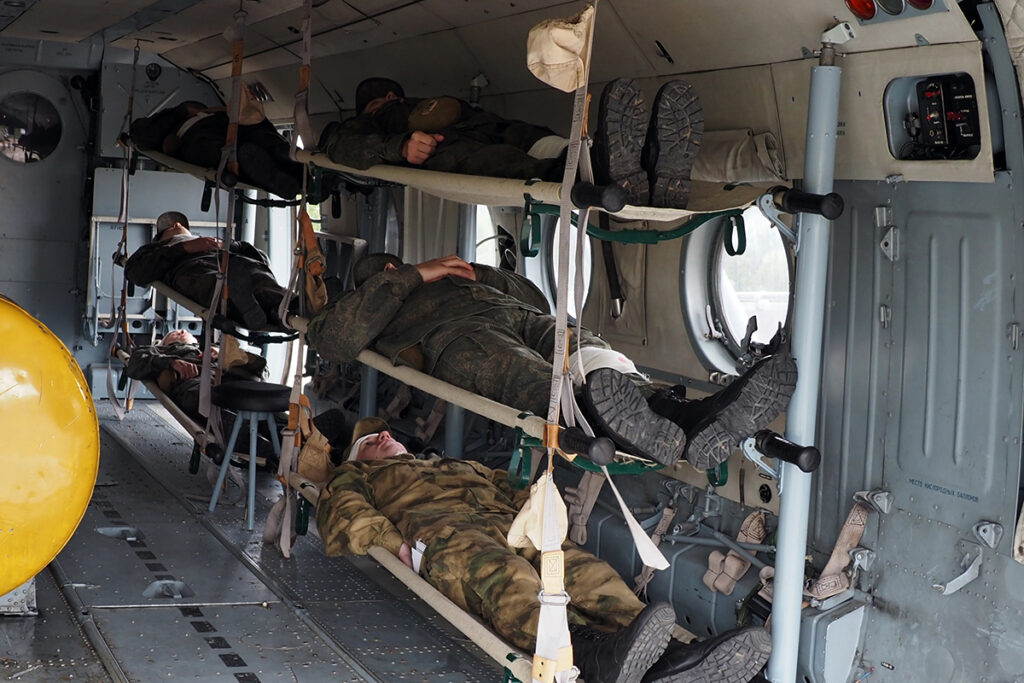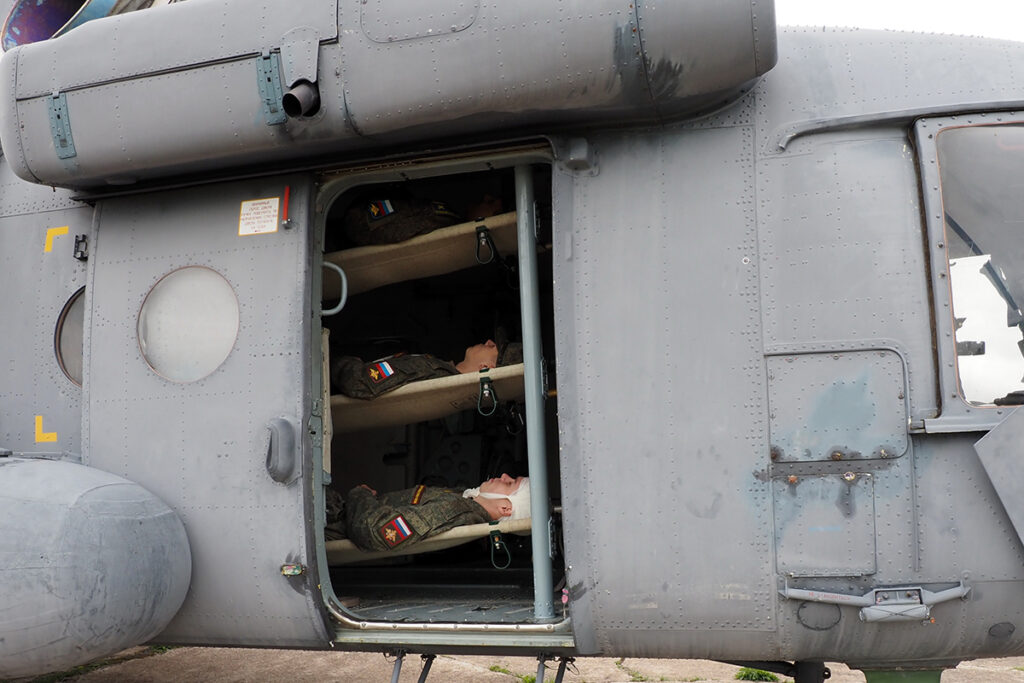 All photos and quotations © Russian MoD (Министерство обороны Российской Федерации), used under the Creative Commons Attribution 4.0 license. MoD press information were used.