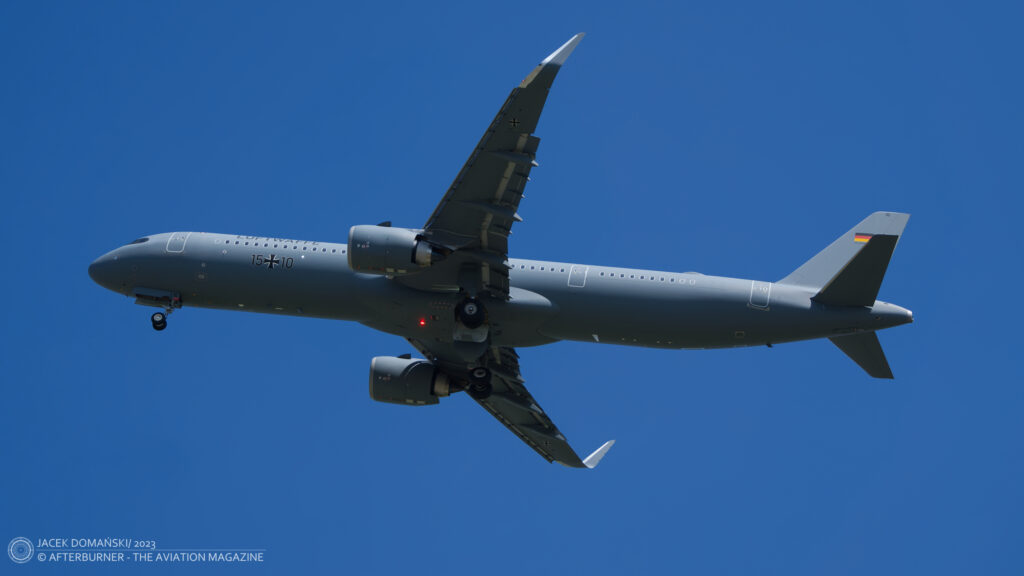 Airbus A321-251NX (c/n 10613, 15+10 of the German Air Force / Luftwaffe) performing a flypast over Neuburg air force base, Neuburg a.D., July 2023.
The Airbus A321LR (Long Range) belongs to A321neo family, being the newest generation of popular narrow-body, single aisle airliners. The A321neo was for the first time announced by Airbus at the end of 2010 and then introduced for operational service in May of 2017, with Virgin Atlantic airline.
In 2014, Airbus officially disclosed that the company is developing a long-range variant of the airliner. The A321neoLR, as it was initially designated, featured three Additional Centre Tanks (ACT) for extending its operational range up to 7,400 kilometres and 164 passenger seats. Next year, its configuration was changed to accommodate 206 seats in two classes.
In 2020, the German Ministry of Defence ordered two A321LR aircraft, to replace the ageing Airbus A310 aircraft used by the Luftwaffe for long-range military transport and medevac duties for more than thirty years.
The aeroplanes intended for the Luftwaffe were re-built from A321 business jets and represent the 251NX standard, thus equipped with two CF International LEAP-1A26 engines. The first of those jets – ´15+10´, pictured above within our Photo of the Week series – was ready at the end of 2021 and was officially handed over to the German Air Force in June of 2022, during a solemn ceremony held at ILA 2022 air show. The second aeroplane, ´15+11´, was delivered to the Luftwaffe on 17th August of the same year.
Then, the aeroplanes were adapted for specific needs of the air force by the Lufthansa Technik company. According to the Luftwaffe, both aircraft may operate with eighteen different interior configurations – military passenger transport, government and parliamentary air support, flying hospital or medevac. The A321LR may be equipped with conference room or business seating but also medical compartments to carry up to six patients in critical condition, as well as provide quality military transportation for troops and their equipment.
The A321LR delivered to the Luftwaffe are the first aircraft from the A321 family specifically tailored for military operator. As officially announced by the Luftwaffe, everyday service of the new jets includes the Navy crew exchange flights to South America, supporting the German contingent in Baltic countries and rotation of military personnel involved in African missions.