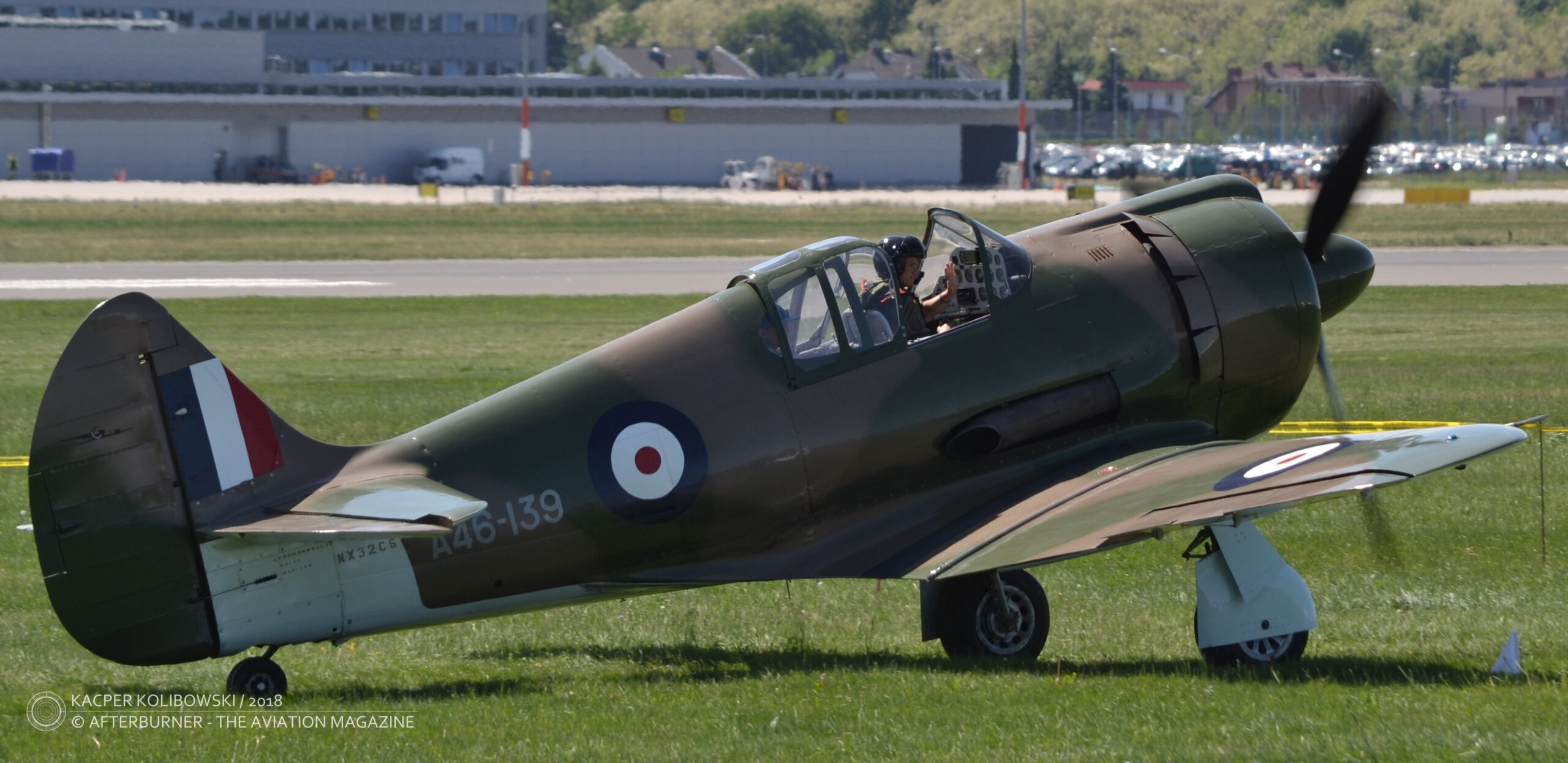 Commonwealth CA-13 Boomerang A46-139 'Phooey' (NX32CS), taxiing after flying display at Poznań Air Show, May 2018
In 1942, Australia found itself in a difficult situation. The country was at war with Japan, which at that time seemed impossible to stop, but having no guarantee of military equipment support from allied superpowers, as both the United States and the United Kingdom were focused on supporting their own armed forces. As a consequence, Australian authorities almost immediately decided to expand the domestic arsenal on their own – this decision resulting, inter alia, in creation of the CAC Boomerang fighter aircraft.
Among the members of the new fighter development team was Fred David (actually Friedrich W. David), an Austrian Jew with an interesting experience in aviation industry. Before coming to Australia, and obviously before the war, David worked for Heinkel in Germany and two Japanese aviation companies, Mitsubishi and Aichi Kokuki, where he participated in creation of the A5M ´Claude´ fighter and the D3A Type 99 ´Val´ dive bomber. Without any doubts, David´s experience and technical knowledge about Axis aircraft made a significant contribution in Boomerang design.
The new aeroplane had to be manufactured by Commonwealth Aircraft Corporation. This Australian company, based at Fisherman's Bend near Melbourne, already manufactured two types of aircraft, both originated from other aviation companies – Beaufort torpedo bomber, designed by Bristol Aeroplane Company and Wirraway training aircraft, being a derivative of the North American NA-16 (later known as T-6 Texan). And exactly the latter aeroplane became the basis for the new Australian fighter.
In the new aeroplane, the centre fuselage section, wings, tail and undercarriage of the Wirraway were used, combined with the newly designed front fuselage section and a single-seat cabin. Also the engine was changed, as the original Wirraway R-1340 Wasp was replaced by license-manufactured and more powerful Pratt & Whitney R-1830 Twin Wasp with 1200 hp. The Boomerang was equipped with two British-made 20 mm Hispano-Suiza cannons and two Browning .303 machine guns. Additionally, the aeroplane was able to carry up to four 20 lb (9 kg) smoke bombs mounted under the wings.
Boomerang is a perfect example of a wartime rapid aeroplane development. The request for the new Royal Australian Air Force (RAAF) fighter was announced on 18th February 1942, its first prototype was ready only three months later and performed the maiden flight on 29th May the same year. Yet in October 1942 the first aircraft was sent to the training unit and in early 1943 the Boomerang entered operational service in No. 84 Squadron RAAF.
Approximately 250 Boomerang fighters were built until 1945. The aircraft was operated by Nos. 4, 5, 83, 84 and 85 Squadron RAAF, No. 2 Operational Training Unit and No. 8 Communications Unit. According to the official RAAF records, none of Boomerangs scored any aerial victory ever, although they initially served in a home defence and frontline air defence units. They were too slow and had poor high altitude to effectively engage any Japanese aircraft, but, on other hand, proved successful in their deterring role.
However, the aircraft turned out to be very useful as the light close-support aircraft and was also widely used for artillery fire correction, reconnaissance missions, aerial supply drop and even for anti-malarial spraying. With the end of the World War II, the short, but extensive, operational service of CAC-13 Boomerang came to an end.
Regrettably, due to the low number of produced aircraft and quick withdrawal from the active service, only one relatively complete and original airframe of Boomerang has survived to this day and can be found at the RAAF Museum at Point Cook, Victoria. On the other hand, many separate elements of those aeroplanes were somehow preserved and later used for re-building of several Boomerangs for static displays and even for flying condition.
And exactly one of such aircraft is pictured above, a CA-13 Boomerang made of elements coming from several different aeroplanes. This somewhat replica is now representing the fighter with c/n 962, that originally belonged to 'A46-139/QE-A' aircraft operated by No.4 Squadron RAAF in New Guinea.
This re-born Boomerang was registered as NX32CS and made its first flight on 20th July 1991, in the United States. In 2014, this unique aircraft arrived Europe, landing at Antwerp airport, and received its current Australian marking, together with the name 'Phooey'. On 17th May 2015 it debuted in front of the European public at the Antwerp-Deurne airport.