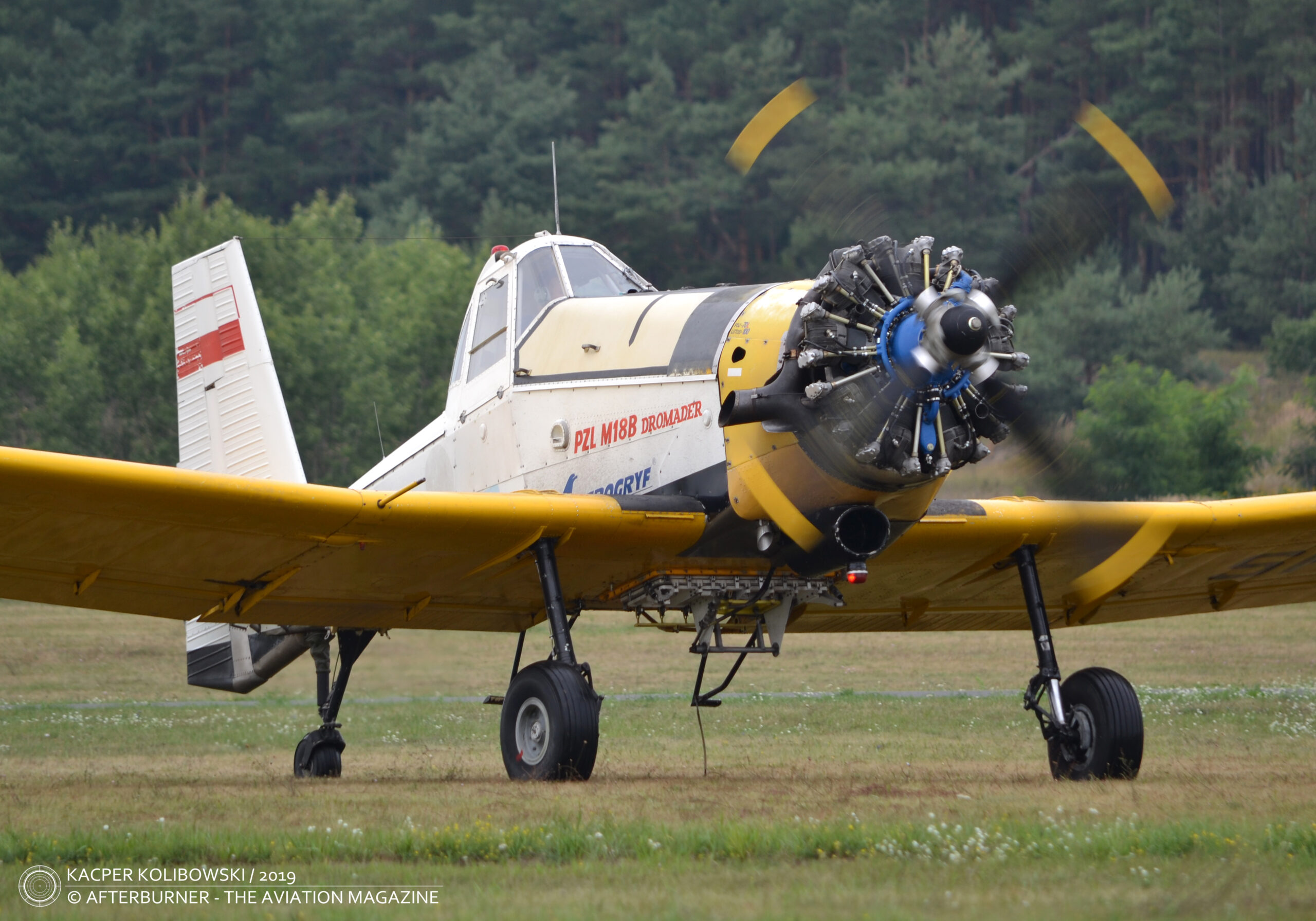 PZL M18B Dromader, SP-FOH, taxiing after the water drop display – air show at the 11th FAI European Advanced Aerobatic Championships 2019 in Toruń, Poland.
The PZL M18 Dromader is a Polish agricultural and fire-fighting aircraft, with the roots dates back to the first half of the 1970s, when WSK Mielec (now as PZL Mielec), Polish aeroplane manufacturer, established a partnership with Rockwell aviation company. As a result, the American company offered the Polish partner a possibility to launch, under a license agreement, production of Rockwell 111 / 112 touring and utility aircraft (what, however, did not happen), together with manufacturing of Rockwell S-2R Thrush Commander agricultural aeroplane.
The original S-2 aircraft were usually powered by army surplus, US-manufactured, Pratt & Whitney engines and this could be a future issue for the Polish manufacturer. However, WSK Mielec was at that time manufacturing also Antonov An-2 biplanes, that were powered by the Soviet Ash-62IR radial engine – more popular and more available in Poland, as produced by WSK PZL Kalisz.
Although the Antonov engine was much more powerful than the American one – 1000 hp, comparing to 600 hp of Pratt & Whitney R-1340 Wasp used in Rockwell S-2R – a group of Polish engineers from the R&D department in WSK Mielec, headed by M.Sc., Eng. Józef Oleksiak, decided to use the ASh-62IR engine. As a result, a new construction was created, based on the S-2 design. The new aeroplane was bigger, 40 percent heavier, but also have greater load-carrying capacity, being able to carry up to 1850 kg or 2500 litres of liquid.
In autumn of 1974, the works on this new project begun and the aircraft was designated as M18 Dromader (´dromedary´). Although the Polish aircraft based largely on S-2R components delivered from the USA, it was significantly changed. Central and rear parts of the fuselage truss, aeroplane cabin, external parts of the wings and control system elements were taken from the American aircraft. Redesigned or newly constructed were the front section of fuselage truss, a middle part of the wing, all the control surfaces, chassis and the tank for chemicals. In addition, a modified propeller from An-2 aircraft was also used and the cabin was sealed.
The first flight of PZL M18 Dromader prototype, piloted by an experimental pilot Andrzej Pamuła, took place on 26th (or 27th, according to some sources) August 1976 at Rzeszów-Jasionka airport. One year later, the aircraft was officially presented at Paris Air Show.
An introductory series of M18 was made in 1978, together with the prototype of fire-fighting variant. Shortly thereafter, the Dromader went into serial production. Although initially intended only for domestic market and export to the USA, PZL M18 quickly gained international recognition and its users have grown to over twenty countries around the world, including Argentina, Australia, Brazil, Bulgaria, Canada, China, Croatia, Cuba, Czechoslovakia (Czech Republic), France, Germany, Greece, Hungary, Iran, Italy, Nicaragua, Portugal, Spain, Turkey, USA, Yugoslavia and Venezuela.
Finally, over 765 Dromaders in several versions were produced totally, including: M-18A, equipped with a back to back seat for a mechanic behind the cockpit; M18B – powered with more powerful K-9 engine and able to carry up to 2200 kg of payload plus mechanic; M18BS – training version with double controls, with student pilot cabin located in place of the chemical tank and able to carry up to 700 kg of payload. For many years the PZL M18 Dromader aircraft was among the best-selling products of WSK/PZL Mielec, moreover, in 1996, a contract for opening the Dromader assembly plant in Brazil was finalised. Although the production was put on hold once in 2000s, it was never officially ceased and the aircraft is still offered by the company, according to the official web site of PZL Mielec.
In addition to the abovementioned variants, there is also a turboprop version of the aircraft used in the USA, powered by Pratt & Whitney PT6A-45AG engine and marked as PZL T45 Turbine Dromader. There were also plans to produce several other versions of this aeroplane – PZL M-21 Dromader Mini (smaller), PZL M-24 Dromader Super (enlarged) and PZL M-25 Dromader Mikro (the smallest of Dromader variants), but none of them went beyond the prototype phase.
An interesting fact is a combat use of M18 aircraft during the Croatian war of Independence between 1990 and 1995. In the initial war years, the Croatian army did not have its own air force. Therefore, it was decided to set up the ´First Airborne Unit of the Croatian Army´, consisted of about 30 different types of aircraft from the agricultural aviation base near Osijek. Among them were PZL M18 Dromader and PZL An-2 produced in WSK Mielec. The improvise armed Dromader aeroplanes, next to An-2 biplanes, carried out night bombings on Serbian positions around besieged Vukovar (called the ´Croatian Stalingrad´).
Currently in Poland there are approximately 60 aircraft of this type still used for firefighting and anti-pest purposes. One of them is pictured above – PZL M18B Dromader, registered SP-FOH and being operated by Polish private aviation company Aerogryf.
Every year, from March to October, the Aerogryf company maintains a couple of temporary air bases on the territory of north-western Poland, included in the State Forests fire protection system. In 2019, the PZL M18B Dromader SP-FOH was operating from one of them, the base located at the airfield of the Pomeranian Aero Club (Aeroklub Pomorski) in Toruń, Central Poland. And this created a perfect opportunity for performing a water-bombing display at the final day of the 11th FAI European Advanced Aerobatic Championships 2019.