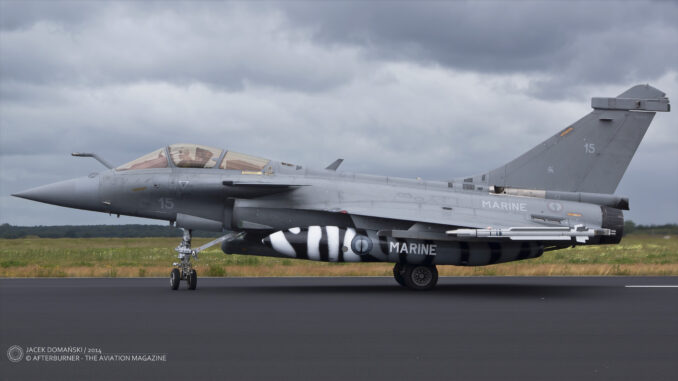 Dassault Rafale M (´15´, c/n 31), Flottille 12F, Aéronavale (French Naval Aviation), NATO Tiger Meet 2014, Fliegerhorst Schleswig/Jagel, June 2014.
A French-made, twin-engine multirole fighter aircraft known as the Dassault Rafale was officially introduced in 2001, however its development programme began already in the early 1980s. The aircraft was designed in a canard delta wing configuration and by its manufacturer – the Dassault Aviation company – is referred as ´omnirole by design´.
And with no exaggeration, the list of potential tasks that can be performed by Rafale, is indeed impressive – air supremacy missions, deep air support, reconnaissance, ground support, anti-ship operations and nuclear strikes; all those duties can be assigned to Rafale jets.
Currently, the aircraft is manufactured in three variants: Rafale C (single-seat), Rafale B (twin-seat) and Rafale M (single-seat, carrier based). The French fighter is currently operated by Armée de l'Air et de l'Espace (French Air and Space Forces), Aéronautique navale (French Naval Aviation), Egyptian Air Force, Indian Air Force, Qatar Emiri Air Force and Hellenic Air Force. There were more than 200 of Rafales in all variants already built, with the French Air Force having the biggest inventory of them, including more than 100 jets.
The Rafale M is a carrier-borne version for the French Naval Aviation. The naval aircraft have a strengthened airframe, longer and strengthened nose gear leg, built-in boarding ladder and larger tailhook. Unlike the land-based version with 14 armament hardpoints, the naval variant has 13 of them.
An interesting fact is, that Rafale M is the only non-US manufactured fighter approved to operate from US Navy aircraft carriers. First tests were performed in the summer of 2007 with the USS Enterprise, then in early 2008 two Rafales operated from the USS Truman. On the larger scale this advantage was practiced for the first time in July 2008, when five French fighters from Flottille 12F operated from the deck of USS Theodore Roosevelt, during the ´JTFEX´ exercise.
French naval fighters are being operated by three squadrons (in French: Flottille) 11F, 12F and 17F. The Rafales from Flottille 12F already participated in several combat missions, including Operation Heracles (Afghanistan 2001), Agapanthe (Indian Ocean 2010) and Operation Harmattan (Libya 2011).
The Rafale M was also offered as a plastic scale model kit in 1:48 scale, manufactured by Revell. A fun fact is that one of possible variants of this kit was the fighter carrying the tactical number ´15´, with the decals representing this aircraft while participating in Operation Harmattan – exactly as pictured above.