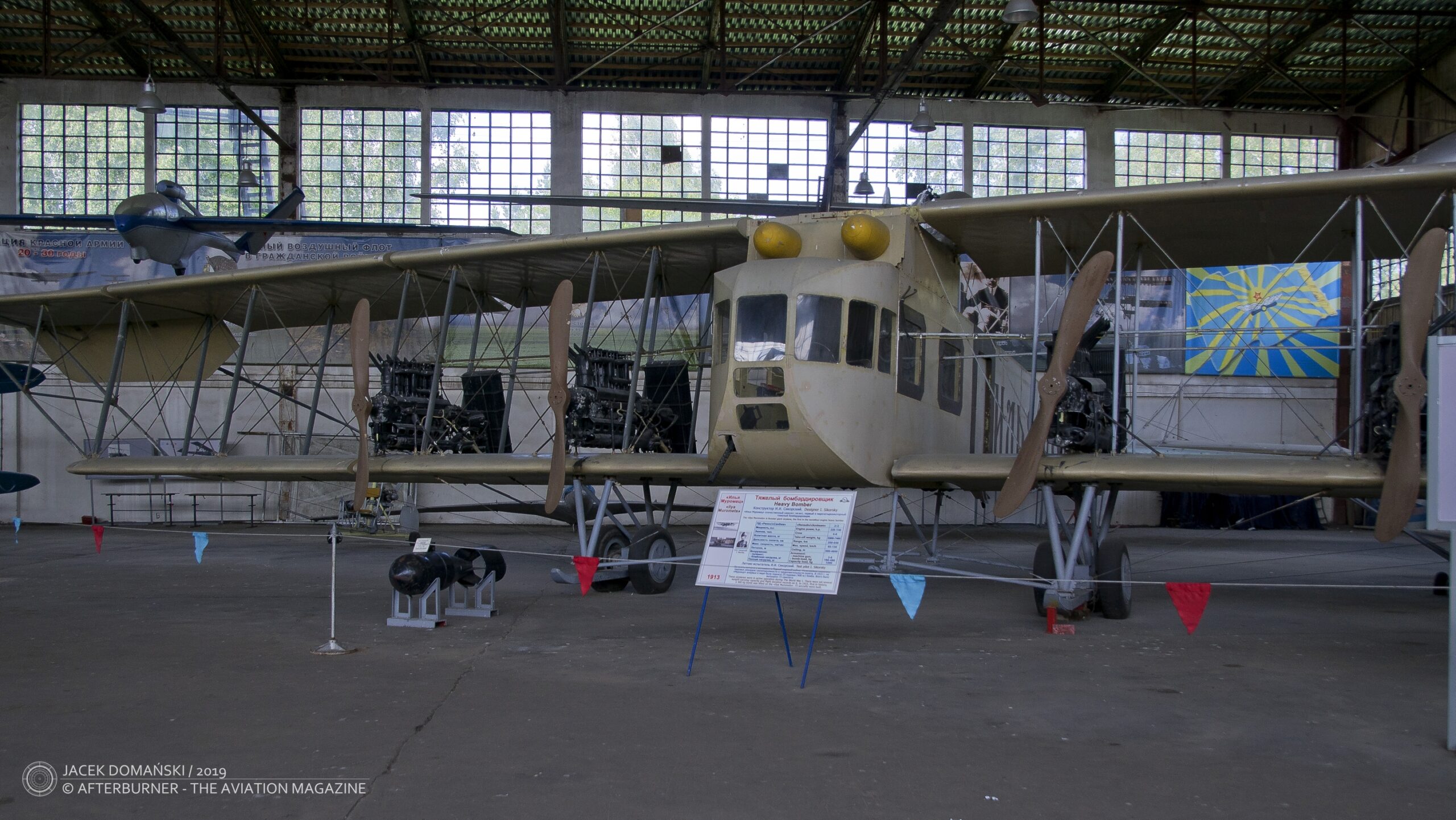 The second prototype of ´Ilya Muromets´ performed a demonstration flight with 16 passengers, setting a new world record for number of passengers carried.
Although Igor Sikorsky is usually associated with helicopter industry and known as one of the leading rotorcraft pioneers, he was also a successful aeroplane designer. In his early years as an aircraft-manufacturer, Sikorsky created several interesting constructions that set many world aviation records and earned him a few national and international awards.
The S-22 ´Ilya Muromets´ (С-22 Илья Муромец) was one of such aircraft. And, as was so often the case with Sikorsky, a desire to prove that (almost) nothing is impossible was the reason behind creating this aeroplane.
At the beginning, there was С-21 Русский Витязь (English: S-21 Russian Knight), also known as Большой Русско-Балтийский концепт (English: Big Russo-Baltic Concept), an aeroplane designed in between 1911 – 1913, and built by Sikorsky at the Russian Baltic Railroad Car Works. The S-21 was an exceptional aircraft, for one and main reason – it was powered by four tractor engines, therefore being the world´s first four-engine aeroplane and had a maximum take-off weight of approximately 4,000 kg.
Sikorsky´s aircraft meant such a great step forward – at that time the aeroplane maximum take-off weight record was at 1,350 kg – that the news about the first flight of ´Russky Vityaz´ have been considered a hoax. Nevertheless, the S-21 successfully performed its maiden flight and later set up a flight duration record of 1 hour and 54 minutes.
In September 1913, ´Russky Vityaz´ was damaged in a curious aviation accident – by an engine that fell off the Dux/Meller II aeroplane that was flying over the S-21. Sikorsky have decided to abandon this project and focused on his other brainchild, an aircraft significantly exceeding the take-off weight of 4,000 kg.
These days, such take-off weight was generally considered as the final limit for aviation. However this just meant another challenge for Sikorsky and he was really anxious to prove that those who created this limit were just wrong.
Sikorsky´s next aeroplane was named ´Ilya Muromets´, after a hero from Slavic mythology. The first prototype was ready in October 1913 and successfully performed its maiden flight. Setting up the new aviation records with new four-engine aircraft started within few weeks. The first one was the world record in carrying capacity that was beaten on 12th December – the S-22 piloted by Sikorsky took-off with the payload of 1,100 kg, almost doubling the previous record of 635 kg.
On 12th February 1914, the ´Ilya Muromets´ took-off for another milestone flight, again flown by Sikorsky himself, but at this time carrying 16 passengers and a dog. This flight not only set up the new record in number of carried passengers – to say nothing of the dog – but in addition improved the one from December, with 1,290 kg of payload on board. As expected, the S-22 also proved that aircraft heavier than 4,000 kg can fly, performing a successful flight with take-off weight of 4,800 kg.
In the following years ´Ilya Muromets´ became one of the most recognizable four-engine aircraft in the world. There were almost 80 aeroplanes of this type built, in several civil and military variants, including a heavy bomber, used operationally during the Great War.
Pictured above, there is a replica of ´Ilya Muromets´ heavy bomber, displayed in the Central Air Force Museum in Monino.