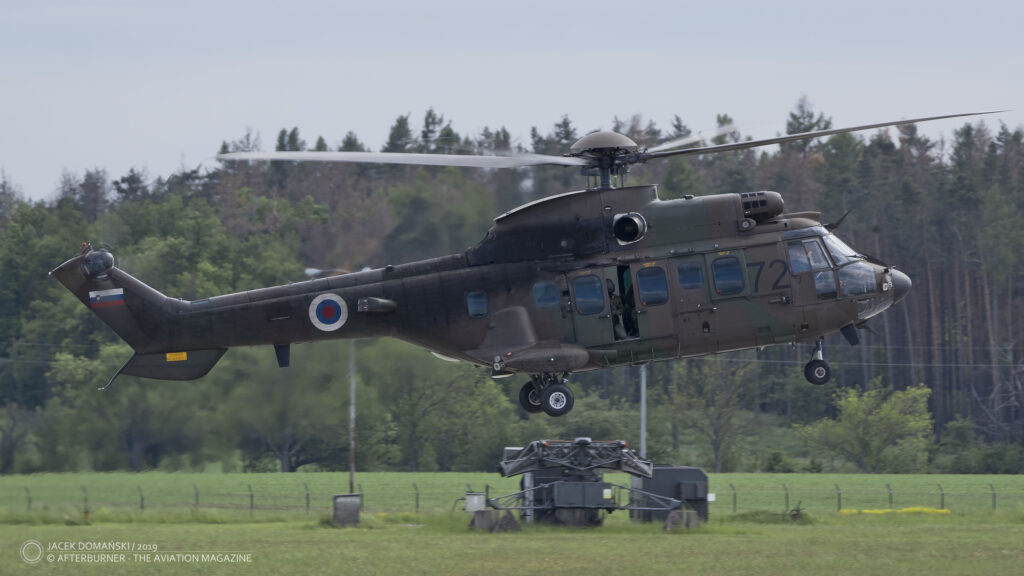 Eurocopter AS532 AL Cougar (c/n 2585, H3-72 of the Slovenian Air Force and Air Defence), exercise Dark Blade 2019, Náměšť nad Oslavou, May 2019.
At the very beginning, there was a helicopter designed by Sud Aviation in response to requirements of the French armed forces for a new medium multipurpose helicopter. The rotorcraft had to be capable to fly in any weather conditions, carry about twenty soldiers and to have a possibility to be used for cargo transport tasks. Its development process was launched in 1963 and the first prototype of new French helicopter – initially designed Alouette IV – performed its maiden flight two years later.
The rotorcraft, eventually produced as SA 330 Puma, was a great success. It was operated by more than thirty air forces all over the world and several civil companies, being especially popular among off-shore transport companies. In the 1970s, the Puma was considered to be the best selling European helicopter. Apart from France, the rotorcraft was also license manufactured in Romania (as IAR 330) and assembled in Indonesia, as well as used by the South African aviation industry as a base for Oryx and Denel helicopters.
In 1970, Sud Aviation and two other French aviation manufacturers merged to form Aérospatiale company. A few years later, the new entity – based on the commercial success of the SA 330 – launched development of its successor. The new helicopter was designated AS332 Super Puma and made its maiden flight on 13th September 1978.
The Super Puma was still based on the original design, however it received more powerful engines and composite rotor blades, as well as its aerodynamic characteristics were significantly improved. In addition, the AS332 was also a bit more spacious. Serial production of the Super Puma began in 1980. As a result, manufacturing of the SA330 by Aérospatiale was ceased until 1987.
And like the previous design, also the AS332 quickly became a popular medium-size multipurpose helicopter. It was purchased by both civilian and military operators from approximately forty countries on four continents. Approximately fifteen different variants of the Super Puma rotorcraft were developed, including a SAR version, several specialized naval variants, a helicopter for commercial passenger transport, as well as VIP versions.
Since 1990, the military variants of that helicopter are officially designated AS532 Cougar, to distinguish them from civil variants. Nevertheless, when in 1992 helicopter divisions of Aérospatiale and DASA merged into Eurocopter Group, the rotorcraft was produced under its name, as Eurocopter AS532 Cougar. Two decades later, Eurocopter was renamed Airbus Helicopters and the company has decided to move manufacturing of the Super Puma / Cougar family to Brașov, Romania. The name of the rotorcraft was changed again, this time to Airbus H215 / H215M for its civil and military variant, respectively. Nevertheless, the original name Super Puma is still commonly used for all helicopters from the family.
Yet in the era of Eurocopter, development of the Super Puma / Cougar family was continued. The civilian variant resulted in EC225 Super Puma, a long-range passenger helicopter for off-shore operations and VIP transport. The Cougar was developed into EC725 Caracal, long-range tactical transport helicopter. Both rotorcraft performed their maiden flights in 2000. Today, they are offered under a unified designation H225 / H225M.
The Slovenian Air Force and Air Defence operates their Cougar helicopters from 2004. They are used not only for their basic task of troops transport, but also for fire-fighting, heavy load transport and VIP transportation. The Slovenian Cougars are equipped with night-vision goggles for the crew and are able to operate in all weather conditions.
Since 2016, the Slovenian fleet of Cougar helicopters was a subject of significant upgrade. It was led by the NATO Support and Procurement Agency (NSPA), within the Aviation Support Programme activities.
All four AS532 from the Slovenian Air Force inventory are assigned to the 151st Rotary Wing Squadron, based at Brnik air force base.