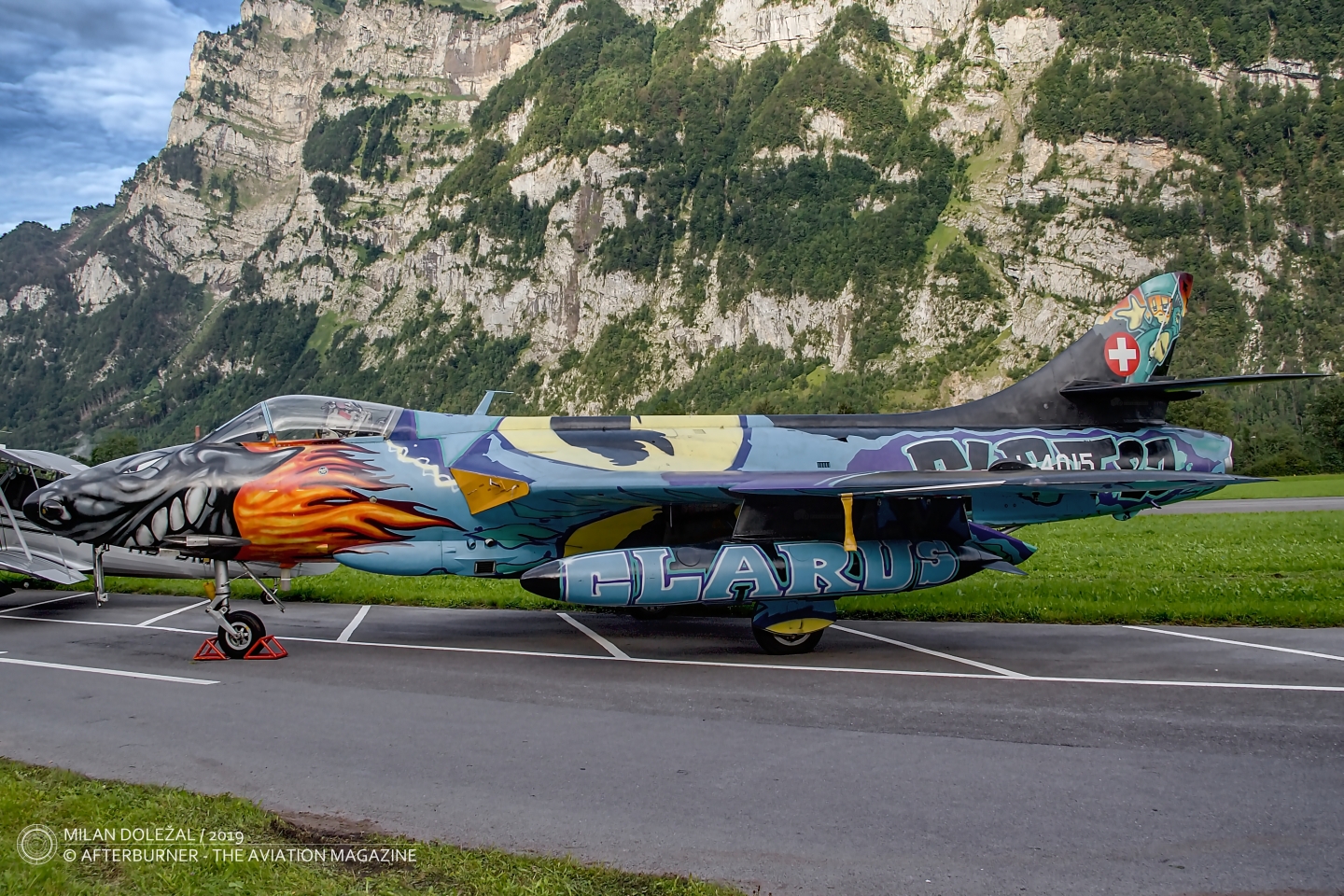 Hawker Hunter Mk.58 ´Graffiti Hunter´ (a former Swiss Air Force ´J-4015´), at the static display during Zigermeet 2019 in Mollis, Switzerland.
Hawker Hunter was introduced into the Swiss Air Force in late 1950s, as a winner of the 1957 contest for the new jet fighter. An order for 100 aircraft was placed in January 1958, and the first 12 Hunters arrived very soon – this first batch of new jets being the former RAF F.6 aeroplanes upgraded to Mk.58 variant.
The deliveries from the initial order were concluded in 1960 and Hunters served in the Swiss Air Force as interceptor jets and ground-attack aircraft. Switzerland ordered additional 30 Hunters in 1971, then another 22 jets in 1973 and finally last 8 Hunters in 1974, the latter in T.Mk.68 configuration.
Hawker Hunter had a very intensive, 30-year-long service in the Swiss Air Force. The average service life is reported at 2,500 flying hours, with the record-high 2,860 flying hours clocked up by Hunter J-4023. The last official flight of Swiss Air Force Hunter jet took place in 1994, by J-4001 aircraft, one of the first ex-RAF fighters delivered in early 1958.
Patrouille Suisse, the Swiss Air Force jet aerobatic team formed in 1964, used the Hawker Hunter as their display aircraft until 1994, when Hunters were replaced by F-5 Tiger II.
Hawker Hunter Mk.58 ´J-4015´ was manufactured in 1959 and delivered to Emmen air base of the Swiss Air Force in February that year. During its 20-year-long career, this aircraft was operated by 3rd, 5th, 7th, 11th and 20th Squadron (Fliegerstaffel). At the end of its operational service, the ground crew personnel was allowed to use their imagination and create the non-standard painting scheme. After applying 160 cans of spray paint of J-4015, the unique ´Graffiti Hunter´ was born. The Hunter J-4015 was flying in this unusual livery between September and December 1994, when it was officially retired.
The last flight of J-4015 took place in May 1995, when the aircraft was transferred to the ex-Swiss Air Force base at Mollis. The ´Graffiti Hunter´ is currently owned by Huntervereins Mollis and preserved in top, near-airworthy condition (as the cost of full airworthiness restoration is very high). The aircraft is from time to time participating at the static exhibition during Zigermeet air shows and Hunter Meets at Mollis airfield.