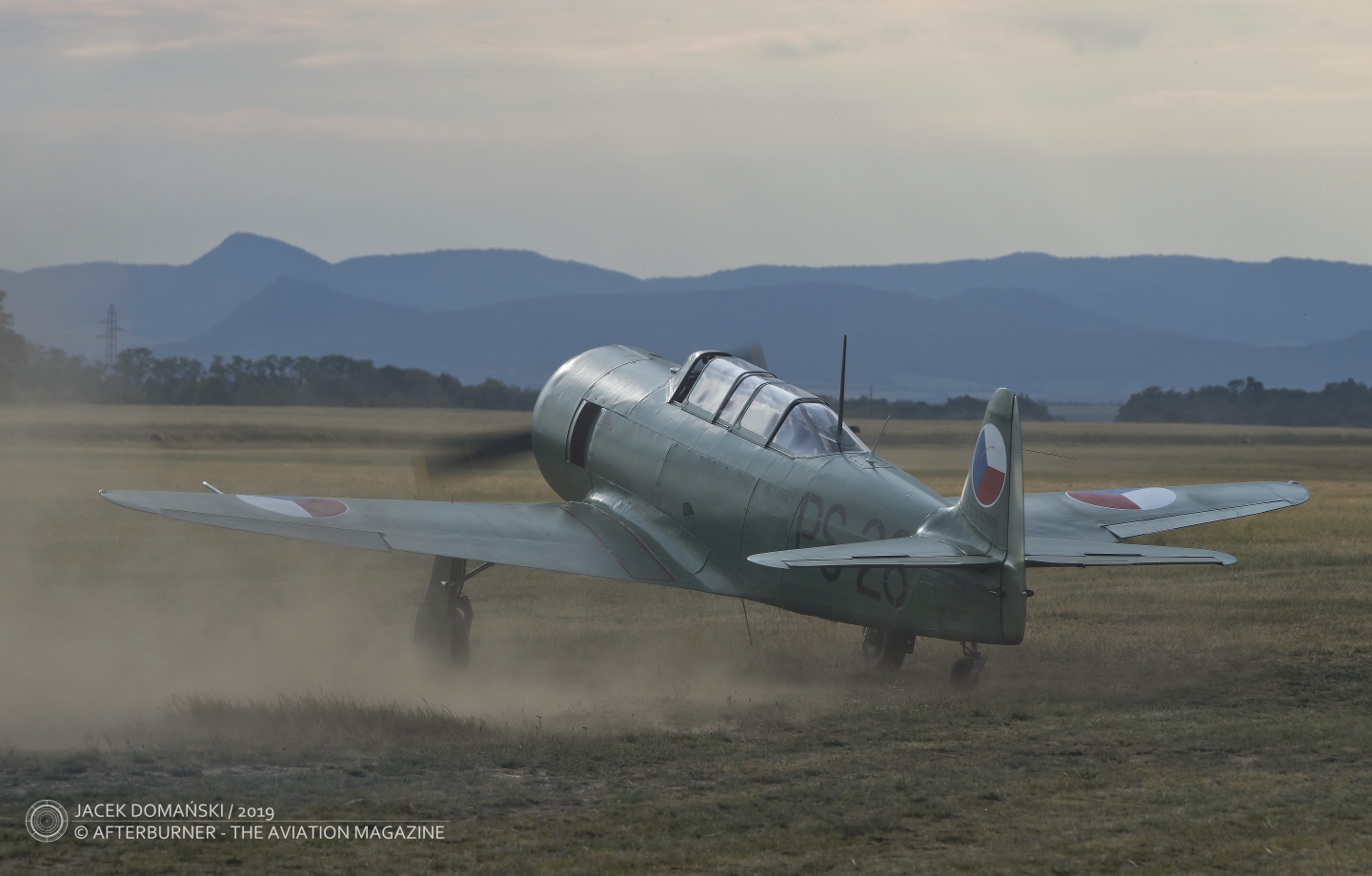 The recently restored training aircraft LET C-11, operated by CLV Pardubice, photographed on the Roudnice airfield runway at the end of the first day of Memorial Air Show 2019.
LET C-11 is the Czechoslovak manufactured Yakovlev Yak-11 trainer, produced under licence in LET Kunovice factory between 1953 and 1956. Totally 708 aircraft were produced, approximately 120 of them were those days flying in the former Czechoslovakia as the basic training aeroplane. The other C-11s were exported to many countries all over the world, including the Soviet Union, Poland, Hungary, Algeria, Syria, Afghanistan, Guinea or Vietnam. Finally, most of the former Czechoslovak-operated C-11 aircraft were sold to Egypt.
An interesting fact is, there were two aerobatic groups in Czechoslovakia, flying the C-11 – one based in Mladá Boleslav, another one in Olomouc.
C-11 with the serial number 171511 was previously used by the Czechoslovak Air Force, then assigned to Svazarm (Union for Cooperation with the Army) and was flying in the aerobatic group in Mladá Boleslav, as OK-JIL, until 1976. After the renovation performed at the beginning of 1990s, the trainer, now owned by the Military History Institute (VHÚ) was registered as OK-JZE and operated by the private BMZ company.
Due to the problems with the engine, the C-11 lost their certificate of airworthiness and was stored. Previously, it seemed the future of this C-11 is uncertain, but finally the reconstruction works were performed by LOM Praha, and the legendary trainer was airworthy again in 2018, now with CLV Pardubice as the operator (while VHÚ remains the owner).
The premiere flying display of the renewed C-11 took place in June 2018, during the Přerov Airfield Day. Currently there are two display pilots, Vladimír Peroutka and Tomáš Bruštík, who are certified for performing the flying display with this vintage trainer.
LET C-11 remains today one of the popular vintage aircraft, partly because of its resemblance to Yak-3U and Yak-3UTI warbirds. It is estimated, that more than 120 C-11s remain airworthy today. However, most of those aeroplanes were modified or re-built, used for air racing or playing the role of the Soviet World War II fighters at the air shows.