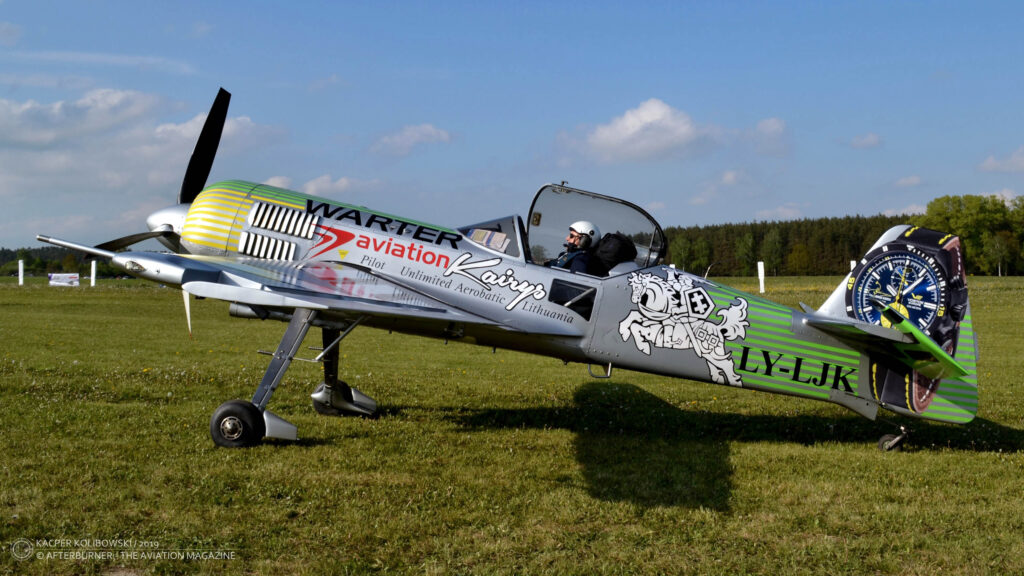 Sukhoi Su-31 (reg. LY-LJK, c/n 35125) and Jurgis Kairys at the controls, getting ready for departure, Lotnicza Majówka Iława, May 2019, Poland.
 A brief history of that ´aerobatic beast´ – which Su-31 undoubtedly is – has already been told  in one of our previous articles from ´Photo of the Week´ series, published in June this year. Therefore, this time we will especially focus on the man who can tame that beast like no one else – Lithuanian aerobatic pilot and aeronautical engineer Jurgis Kairys.
Jurgis Kairys was born on 6th May 1952 in Krasnoyarsk, Siberia, where his parents were deported by then Soviet authorities. After some time, while still being a young boy, he and his family managed to return to Lithuania, where he grew up living near an airfield. And it was just observing aircraft taking off and landing there that soon made him become interested in aviation.
In 1970, Kairys graduated from Secondary School in Kaltinėnų and then started his studies at Engineering Construction Institute in Vilnius, which he completed in 1973. A few years later, he began another studies, this time at Leningrad Civil Aviation Academy, from which he graduated in 1984 with qualification of aviation engineer.
Kairys´ pilot career has started while he was still between studies – in 1974 he started flying in Kaunas Aero Club, soon focusing on aerobatics. Already in 1976, due to his talent and determination, Jurgis Kairys became a member of Lithuanian Aerobatic Flying Team. And only a year later, he was officially appointed to the USSR Aerobatic Team, in which he flew until 1989. Then, after restoration of Lithuanian independence, Kairys has returned to represent his home country again.
Yet in the same year of 1989, Jurgis Kairys became a test pilot for Sukhoi Aviation Company. Working for this well-known Russian aviation manufacturer, he had a contribution to development of Su-26, Su-29 and Su-31 aerobatic aircraft family. In the following years of his career, at the controls of the mentioned Sukhoi aerobatic specials, he won a series of European and World Championship titles for both USSR and Lithuania.
Speaking of aeroplanes, to development of which Jurgis Kairys had a contribution, one of them  should be mentioned in particular. In 1999, the Lithuanian bought an unfinished prototype of MAI-90 trainer aircraft together with all its documentation from the Moscow Aviation Institute. Then, on its basis and using all his experience in aeronautical engineering and piloting, Kairys designed a brand new, extremely light and powerful aerobatic aeroplane named Juka (a combination of the first two letters of his first and last name). That aircraft proved to be an extremely successful design, which was confirmed by Kairys´ achievements in Aerobatic World Cups – in which he participated with the yet-to-be-completed Juka aeroplane.
In his long and interesting aviation career, Jurgis Kairys has also a number of aviation stunts and challenges, as well as  a series of flights under bridges. On the 4th  July 1996, within a framework  of the Lithuanian National Day celebrations, Kairys flew under a bridge in Kaunas. That flypast is commonly recognized as the first legal feat of this type. On 6th  July 1999, he performed a similar stunt of flying under a bridge in Vilnius. Later on the same year, on 18th September, Jurgis Kairys flew under all the bridges over Lithuanian river Neris. And finally, on 2nd September 2000, he once again flew under the bridge in Kaunas but this time performing that stunt upwind.
In 1997, while flying a Su-31 aerobatic aeroplane, Kairys became the first pilot in the world to perform the famous 'Cobra' manoeuvre on a propeller-driven aircraft. This trick remains one of his 'trademarks' to this day. Other authored aerobatic manoeuvres developed by that Lithuanian  pilot include 'Kairys' Wheel' and 'Small Loop'.
During his nearly fifty-year-long aerobatic career, Jurgis Kairys stood three times on the podium of European Championships and seven times earned a medal of World Championships in Freestyle and Unlimited class. In addition, he has also received numerous awards for his achievements in other aerobatic competitions. As flying instructor, Jurgis Kairys passed on his knowledge to many other pilots who are also successful in aerobatics to this day.
Over the years, Jurgis Kairys has developed his own distinctive style of flying. To the delight of aviation enthusiasts and fans, he often presents his aerobatic skills with Sukhoi aerobatic specials and Juka aeroplane at airshows not only in Lithuania, but also in many countries of Europe and around the world. He is also the godfather and co-founder of AirBandits group, within which he performs joint displays with a formation of Yak-52 aerobatic trainers.
Three years ago, Jurgis Kairys once again was a guest in the Polish sky, performing a fantastic display with his Su-31 during an air show called Lotnicza Majówka Iława 2019. The photo we feature this time within the Photo of the Week series was taken at Stary Kamień airfield,  just before  Kairys' departure from the aforementioned aviation event.