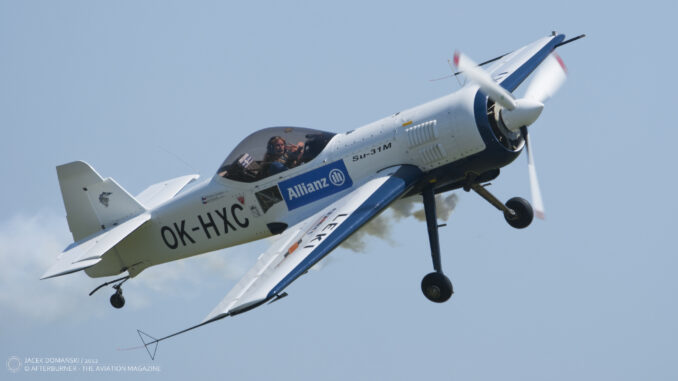 Sukhoi Su-31M (OK-HXC, c/n 0601), Aerobatic Freestyle Challenge, Prague, June 2012.
Usually, when we think about aircraft designed by Sukhoi construction bureau, combat aeroplanes are the first that comes to mind. And indeed, military aircraft were exactly what made Sukhoi a worldwide recognized aviation company – Su-7, Su-15, Su-27, Su-30, Su-35 and Su-57 fighters; Su-17 and Su-24 bombers; Su-25 close-support aircraft and Su-35 fighter-bomber.
Nevertheless, the Sukhoi construction bureau has also worked on few other non-military designs, of which the most known one is Superjet 100 regional airliner, introduced in 2011. However, Sukhoi has also an interesting list of projects that were abandoned at their prototype stage – Su-38 agricultural aeroplane, Su-80 short-range airliner or Su-28 training aircraft.
In addition, the range of Sukhoi-made aeroplanes includes a successful family of aerobatics aircraft. Their story began in 1983, when works on Su-26 were launched and was continued with further developments, being designated as Su-29 and Su-31.
That first aerobatic Sukhoi aeroplane performed its maiden flight in 1984. It was not merely an advanced aerobatic special, but also an innovative project with characteristics that revealed it was designed by a fighter-making aviation company. The Su-26 was the first sport aircraft in the world being originally designed to have operational limit of +/- 12 g – however Russian sources indicate that the airframe was successfully stressed up to 23 g. For the first time, in that class of aircraft, pilot´s seat had a backrest inclination of 35⁰, for easier carrying of high g-forces. Another innovation was a wide usage of modern materials as composites and titanium.
Development of the Su-26 was still continued after launching its serial production. The rumours are that only four or five first manufactured aircraft were made according to initial design as shortly its upgraded variant, designated as Su-26M, was introduced. The Sukhoi Su-26M made its international debut at the 13th FAI World Aerobatic Championship in 1986, when the Russian team scored 16 medals and became the winner in team category.
In 1990, works on Su-26 successor were launched. That aircraft was designated as Su-29 and performed its first flight in 1991. Unlike its predecessor, the Su-29 was designed as a two-seater, as it was also intended for training purposes. The share of composite materials was increased up to 60%. In 1994, the test bed aircraft, designated as Su-29KS, appeared and became the first ever aerobatic aircraft being equipped with an ejection seat (SKS-91 type). This unique solution was then adopted in serial variant of the aeroplane, known as Su-29M.
Then in 1992, an aircraft known as Sukhoi Su-31 made its first flight. It was another upgrade of the single-seat Su-26 aeroplane, that also at the same time adopted several solutions from Su-29 series. The share of composite materials was even more increased, up to 70% and the aeroplane was certified for +12 / -10 g. Similarly to the two-seater, the Su-31M variant was equipped with the ejection seat.
What distinguishes Sukhoi aircraft from most of their Western counterparts, is use of a radial engine – the Su-26/31 family is powered by few consecutive variants of M-14 powerplant, being manufactured in Voronezh. Its latest version, a 400 hp M-14PF, allows the Su-31 to perform a rotorcraft-like hovering stunt.
Although Sukhoi sport aeroplanes were a pure aerobatic special aircraft and were produced just in approximately 200 – 250 examples, they are well-known among aerobatic pilots all over the world. They were exported to several countries, including Argentina, Australia, the USA and South Africa. Pilots that used to fly the Su-26/31 family aircraft won several national and international aerobatic championships. Regrettably, serial production of Su-31 was ceased in 2007.
In recent years, many Sukhoi aerobatic aeroplanes are being replaced with more cost-effective aircraft with inline engines, like Extra or XtremeAir. Exactly the same applies for pictured OK-HXC and its sister-aircraft OK-HXB, being owned by Aeroclub of the Czech Republic. As it was reported in the end of 2020, both aircraft were not operated for five seasons, due to economic reasons, and there was an intention to replace them with one Extra 330.
The Sukhoi aerobatic specials were – and still are – used by several well-known pilots, including Jurgis Kairys, Ramón Alonso and Svetlana Kapanina.
Kapanina – who became World Aerobatic Champion in the women´s category in 1996, 1998, 2001, 2003, 2005, 2007 and 2011 – can be seen in the picture above, sending greetings from the cockpit of Su-31M, while taking-off for Aerobatic Freestyle Challenge 2012.