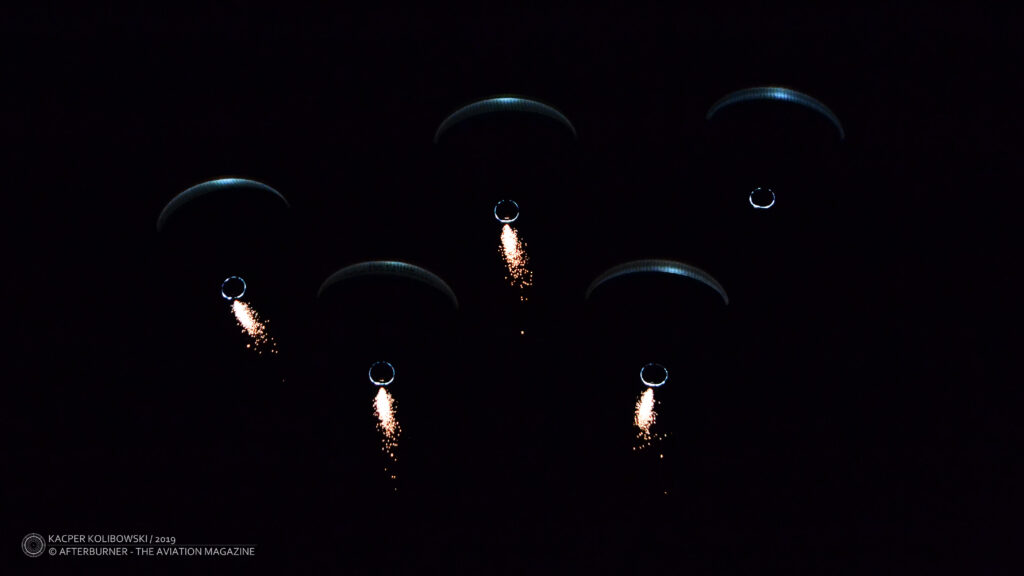 The Flying Dragons Team, paramotor display group, performing night display at LOTOS Gdynia Aerobaltic air show, August 2019.
Paragliding is nowadays definitely one of the most accessible forms of recreational flying. Relatively low cost of short-duration flight training, as well as acceptable price of the equipment itself, made paragliding popular all over the world, especially in Europe.
Moreover, and perhaps most importantly, it is difficult to imagine a kind of flying closer to nature than that offered by paragliding. The fact it allows you to take-off from virtually any suitable location and soar like an eagle, taking advantage of the weather conditions and being in total contact with the air space surrounding you, makes it really special.
Nevertheless, throughout its already more than fifty-year history, paragliding had evolved and today, its second, if even not the most popular, variant is powered paragliding. Using a push-propeller engine in a paraglider allows, in some respects, for more freedom in flying and more independence from weather conditions, like thermals and updrafts. However, despite appearances, in its own way it can be no less attractive and spectacular, than paragliding without propulsion. And The Flying Dragons Team is a good example here.
History of The Flying Dragons Team from Krakow, Poland, began 11 years ago. It started as an initiative of a few paragliding pilots who decided to create a powered paraglider display group, performing formation flying. Since 2014, the team began attending domestic aviation events and quickly gained recognition from aviation enthusiasts. Finally, the Flying Dragons became one of the most well-known and popular aviation display groups in Poland.
Currently, the team consists of as many as ten pilots and flies Snake 1.2 paragliders. They are made by Dudek Paragliders, a well-known Polish manufacturer, and equipped with – also Polish-manufactured, by Techno Fly company – Tornado 280 paramotors.
The Flying Dragons Team display programme consists of a series of group manoeuvres, flypasts and formation changes. It can be performed in two variants, for day and night shows.
The daytime show is additionally enhanced by colourful smoke generators that are installed on each paraglider. The night shows performed by the group, however, are even more spectacular, thanks to combination of pyrotechnic effects and unique paragliders illumination, synchronised with the music accompanying the show, as well as with reaction of spectators.
The uniqueness of The Flying Dragons Team shows could be admired, among others, at LOTOS Gdynia Aerobaltic 2019, when the group demonstrated both – day and night – variants of their display. One of the night shots from this very aviation event, we introduce to you today within our Photo of the Week series.
Although the group performs mostly in the Polish sky, taking part in the vast majority of domestic air shows, The Flying Dragons Team had also visited a few foreign countries. In 2018, they performed during Flygfesten in Dala Jarna, Sweden. In the following year, the team took part in Albufeira Carpe Nox in Portugal, performing its show during the night of 31st December 2019 to 1stJanuary 2020, celebrating the New Year.
In 2020, the team for the first time participated in English-hosted online airshow, called ´Aerobility Armchair Airshow´. Next, the Flying Dragons visited Saudi Arabia, taking part in the Saudi General Aviation Forum ´Sand & Fun 2020´, organised in Riyad.
In conclusion, it is worth to add that The Flying Dragons Team is one of only two powered paragliding display teams in the world, besides Qatar Paramotor Team.