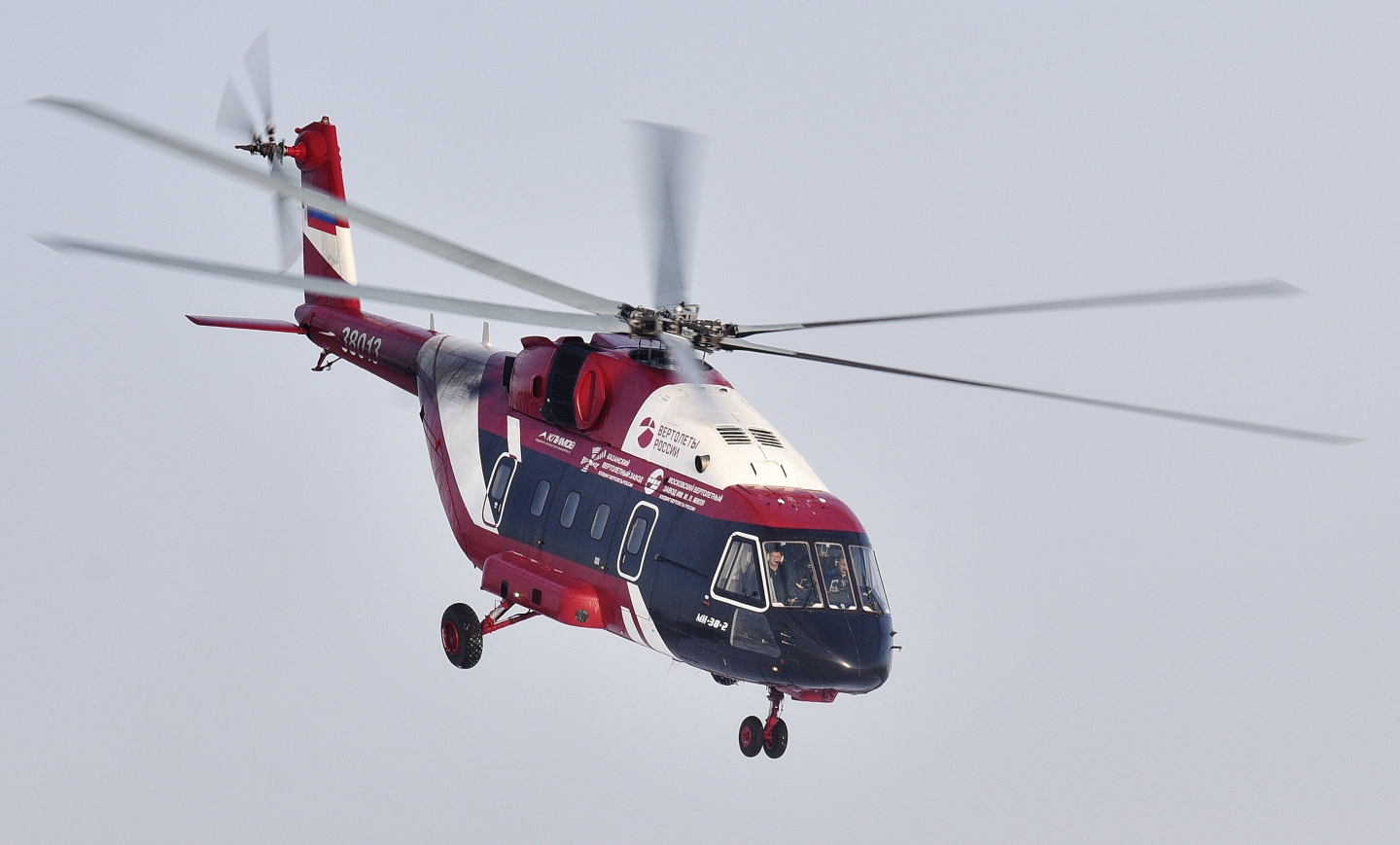 The very first serial Mi-38 helicopter made by the Kazan Helicopter Plant was presented two weeks ago at a static exposition of International Aviation and Space Salon MAKS-2019. The helicopter also took part in the flight programme, flying with other civilian aircraft made by Russian Helicopters.
The pre-production prototypes of Mi-38, used for the certification purposes, had been already demonstrated at previous editions of MAKS. However, this year it was the premiere of the already-certified, serial helicopter. Additionally, the military transport helicopter Mi-38T, based on the civilian Mi-38 variant was exhibited for the first time, also taking part in the multi-helicopter flypast.
The multi-purpose Mi-38 occupies a niche between the middle Mi-8 and heavy Mi-26 rotorcrafts. Several changes to the design of the Mi-38 helicopter have been made, these are improved aerodynamic contours of fuselage and cowling of a propulsion unit, protection of the main rotor hub and a swashplate.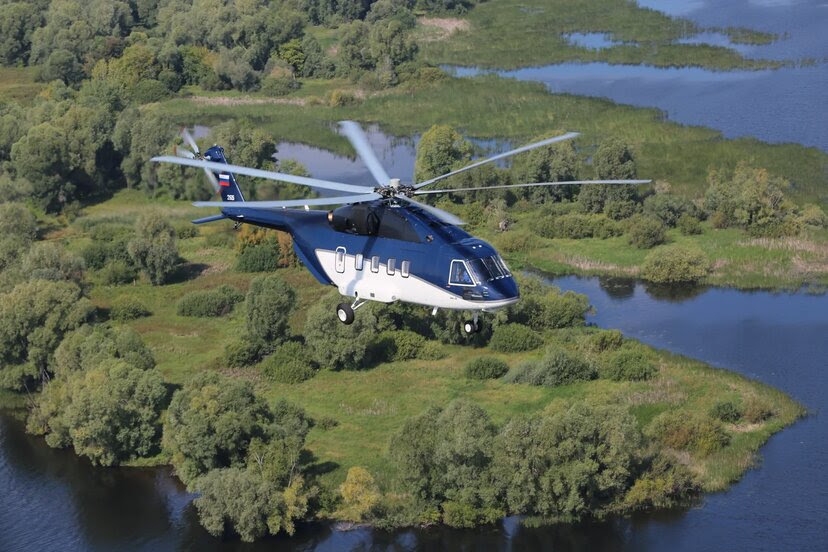 For the first time in Russian helicopter industry engines are placed ´behind´ the main rotor transmission instead of their traditional placement in front of it. This allowed reduction in aerodynamic resistance and noise level in a cockpit, and increased safety of the machine. The ´VIP Cabin´ version of the civilian Mi-38 helicopter can accommodate up to eleven passengers. Mi-38 has new engines manufactured in Russia, an explosion-proof fuel system, and additional landing gear struts for landing on soft ground and snow.
´Mi-38 is a new achievement in Russian helicopter industry. Due to its performance, cost-effectiveness, flight range and cargo transportation capabilities this helicopter is an extremely interesting one in terms of commercial operation and for state customers. Currently, certification tests of the Mi-38 helicopter with a highly comfortable cabin have been completed, and we are ready to begin to supply these machines: we are conducting negotiations with a leasing company now,´ said Director General of Russian Helicopters Holding Company Andrey Boginsky.
The Federal Air Transport Agency (Rosaviatsiya) has recently certified the civilian Mi-38 helicopter with a highly comfortable cabin. The fact that the main change to the certificate for the machine of this type was approved gives Russian Helicopters the new opportunities in terms of Mi-38 promotion on the Russian market and abroad. Besides, Russian aviation authorities certified an eightfold increase in the resource of the light Ansat helicopter's fuselage.
´Certification of the VIP version of Mi-38 gives us new opportunities in terms of supplying this machine both in Russia and abroad. We present the first serial machine of this version at MAKS-2019 Aviation and Space Salon. It will soon have a Russian operator, and we also expect that foreign customers will be interested in it. Such a considerable increase in the period of airworthiness certification of the light multi-purpose helicopter Ansat fuselage is a result of hard work of our engineers,´ said Boginsky.
During MAKS-2019 Aviation and Space Salon the head of Russian Helicopters received certification documents in the presence of Russian Deputy Premier Minister Yury Borisov.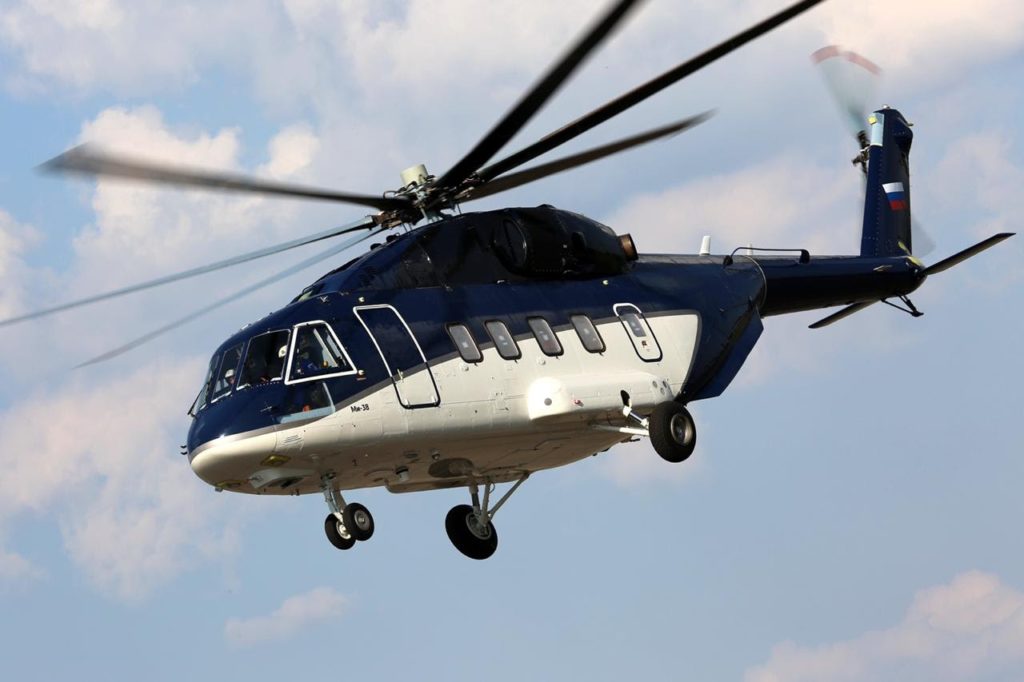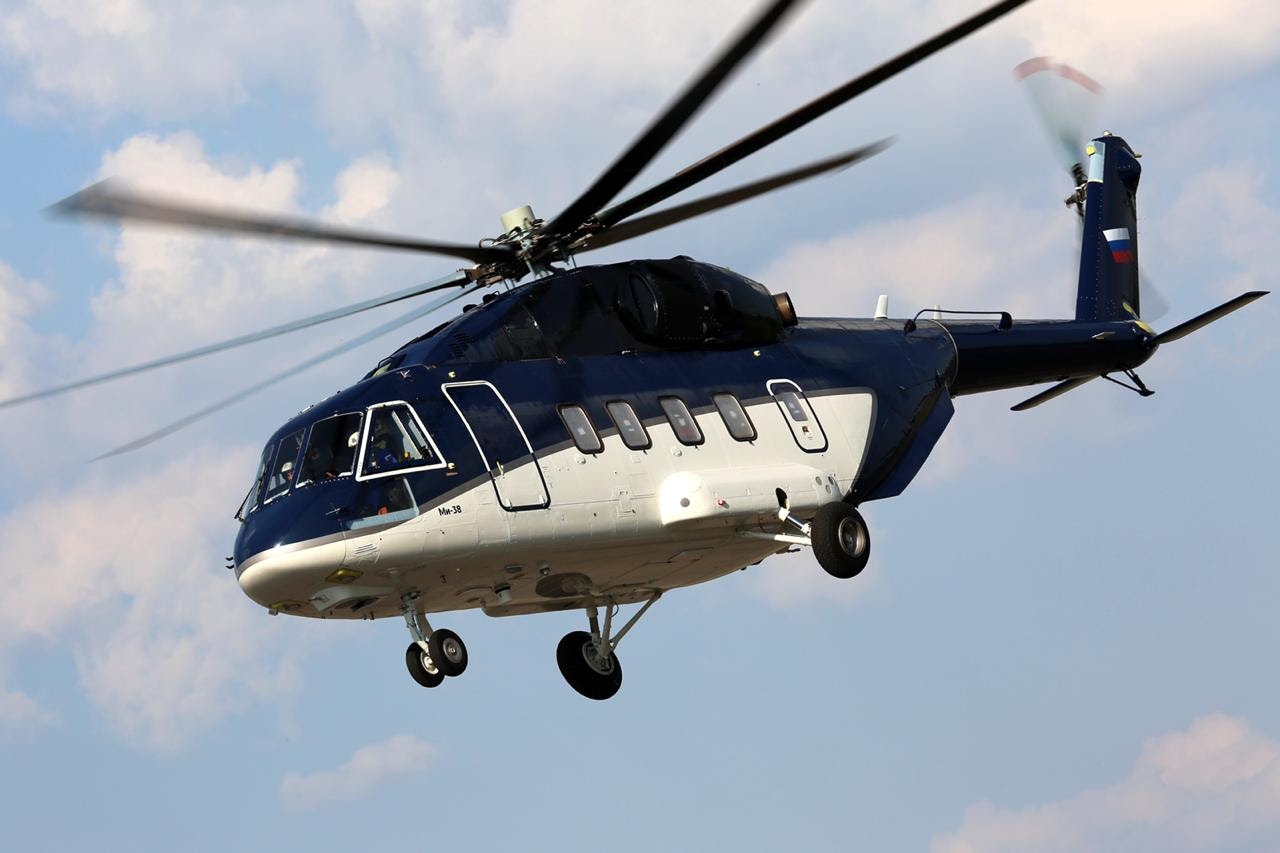 The Mi-38 helicopter was given two approvals for the main change to the type certificate: for a highly comfortable cabin and an air conditioning system for cargo and passenger cabins. A change in the period of airworthiness certification of Ansat fuselage was certified, the resource was increased from 2,000 to 16,000 hours.
A passenger version of Mi-38 can accommodate up to 30 passengers, and up to eight passengers if this is a version with a highly comfortable cabin. The flight range of the new helicopter is up to 1,300 kilometres (with additional fuel tanks). Mi-38 whose maximum take-off weight is 15.6 tonnes can carry five tonnes of payload on board or on an external sling.
It can be operated in a wide range of climatic conditions including maritime, tropical and cold climates. Owing to unique technical solutions, Mi-38 is superior to other helicopters of its class in weightlifting capacity, passenger capacity and main aircraft performance characteristics.
Photos courtesy of JSC "Russian Helicopters" / Rostec State Corporation. "Russian Helicopters" press materials were used.