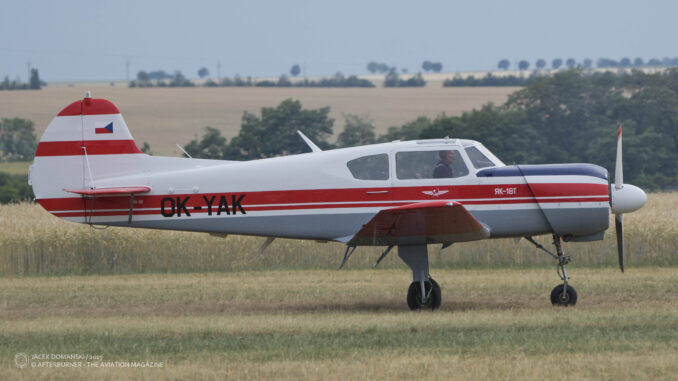 Yakovlev Yak-18T (OK-YAK, c/n 10-32) on the runway of Roudnice airfield, during the 15th Memorial Air Show, June 2019.
At the beginning, there was a Yak-18, a two-seat, in tandem configuration, primary training aircraft designed by Yakovlev construction bureau at the end of the World War II. An initial idea of this aircraft was born already in May 1945, in December the same year construction of its prototype began and, finally, the new trainer performed its maiden flight on 6th May 1946.
The Yak-18 was primarily a military trainer, used in the armed forces for basic and advanced pilot training, navigation teaching and as a liaison aircraft. The Yakovlev´s trainer was also manufactured under licence in China, as CJ-5, and even used in combat during the Korean War – in a role of a night bomber.
There were several variants of this aeroplane, designated Yak-18U, Yak-18A and Yak-18P. The latter, also known as Yak-18AP, was a single-seat aerobatic version of the standard trainer. It was developed in 1957 and successfully used by the Soviet aerobatic pilots during domestic and international contests.
And then here came a Yak-18T. An aircraft that, at first glance, has nothing in common with the original Yak-18 trainer family – except from being designated with the same type number.
Its story began in 1965, when the group of young aircraft engineers working for Yakovlev bureau decided to made some improvements on the design of the above mentioned Yak-18P. The modified aircraft, named Yak-18PM (пилотажный модифицированный – modified aerobatic) performed a maiden flight in December. And it was exactly the Yak-18PM aircraft, with which the Soviet team won the 4th International Aerobatic Championship, organized in July-August of 1966 in Moscow.
As the team of young engineers has proven their skills, they were assigned a new task – to design a small, multi-purpose and four-seat aircraft. It was initially supposed to be based on the Yak-18PM, but with partially re-designed airframe.
However, the group of young designers decided to change the airframe completely and used a semi-monocoque structure. As a result, the new aircraft was even slightly lighter in weight than the original Yak-18P. In addition, the construction team used automobile-type doors, that became one of characteristic features of the new Yak aeroplane.
Regrettably, this aircraft – although pretty-designed – has not elicited any interest from military authorities and it seemed that would end just as a nicely made prototype. Then the Yakovlev bureau proposed the new design for Aeroflot, that at that time was desperately searching for a training aircraft for its crews. And this was a perfect move.
The authorities of the Soviet national carrier almost immediately appreciated the features of the proposed trainer aeroplane. First of all, in this aircraft the seats of student-pilot and instructor were situated next to each other so there was no need to double the instrument panel. In addition, its cockpit resembled a standard, usual one from a passenger aircraft and moreover, during the flight the student could easily observe the instructor and his actions.
Two prototypes of a new trainer were ordered by the Soviet Ministry of Civil Aviation in 1967, and yet the same year the Yak-18T appeared at the Paris Air Show. As the rumour says, the prototype being exhibited at Le Bourget was finished in the evening, just a day before the show commenced. Shortly afterwards, the maiden flight of Yak-18T took place and finally, after a few adjustments and changes to the initial project, the aircraft was approved for serial production in 1972.
At the beginning, the Aeroflot was the major operator of Yak-18T aeroplanes, using it at five flight training centres for initial stage of pilot education. Soon, it turned out to be a reliable and sturdy aircraft, and then became desired by other operators and aeroclubs, and later by private owners.
There were several long-distance flights performed with Yak-18T, including a 32,000 kilometre-long route Moscow-Seattle-Moscow completed by six aeroplanes of that type in 1990. It can be said without any exaggeration, that Yak-18T aircraft are being used in all climate conditions and may be spotted all over the world. They were exported inter alia to Cuba, Armenia or Kazakhstan and were operated by air forces there. Once a privately-owned Yak-18T was even registered in Australia.
It could seem incredible, but Yak-18T is still being offered by the Smolensk Aviation Plant. And indeed, a small production batch of this Yakovlev´s trainer goes out of the factory from time to time. It simply proves the quality and timelessness of the Yak-18T design.
The aircraft pictured above was manufactured in 1993, being a part of 32nd production series. This Yak-18T was initially registered in Russia to private owner and then arrived to the Czech Republic in 2010. Next, registered as OK-YAK in 2012, this interesting training aeroplane is a frequent participant of domestic aviation events.