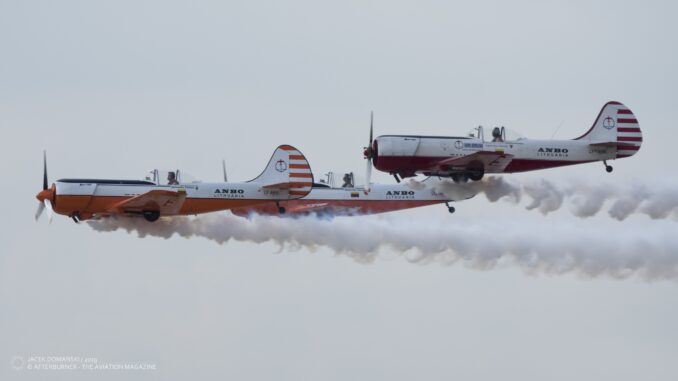 First flight of Yakovlev Yak-50, aerobatic trainer aircraft.
Between 1946 and 1965, Yakovlev design bureau created, under common designation Yak-18, a series of quite different training and aerobatic aircraft. It included a variant designated Yak-18PM, developed in 1965, especially for the purpose of participation in aerobatic competitions.
Essentially, it was a modified version of serial produced Yak-18P aeroplane. A group of young enthusiasts from the Yakovlev's design bureau – which included the eldest son of its main designer, Alexander Sergeyevich Yakovlev – was responsible for its development. Modifications they made to the aircraft increased its manoeuvrability whilst simultaneously reducing the weight.
In August of 1966, the Yak-18PM took part in the 4th World Aerobatic Championships organised in Tushino, Moscow area. From various types of aircraft taking part in this competition, it was just the Yak-18PM that proved to be the best and won the main prizes in all categories.
This success quickly spread around the world and, with further development of aviation sports in the USSR at the turn of the 1960s and 1970s, there emerged a need for a new, mass-produced aerobatic aeroplane to be operated by Soviet aeroclubs and aviation training centres. In response to this need, Yakovlev design bureau independently came up with a solution, already in 1972 proposing an aircraft designated as Yak-50, developed by a team led by chief engineer V. P. Kondratyev.
In terms of aerodynamics and overall silhouette, the design of Yak-50 was strongly based on its direct predecessor – Yak-18PS (a variant similar to the PM version, but with landing gear in tailwheel configuration). However, the new Yakovlev aerobatic trainer was slightly smaller in dimensions and had an improved, stronger construction.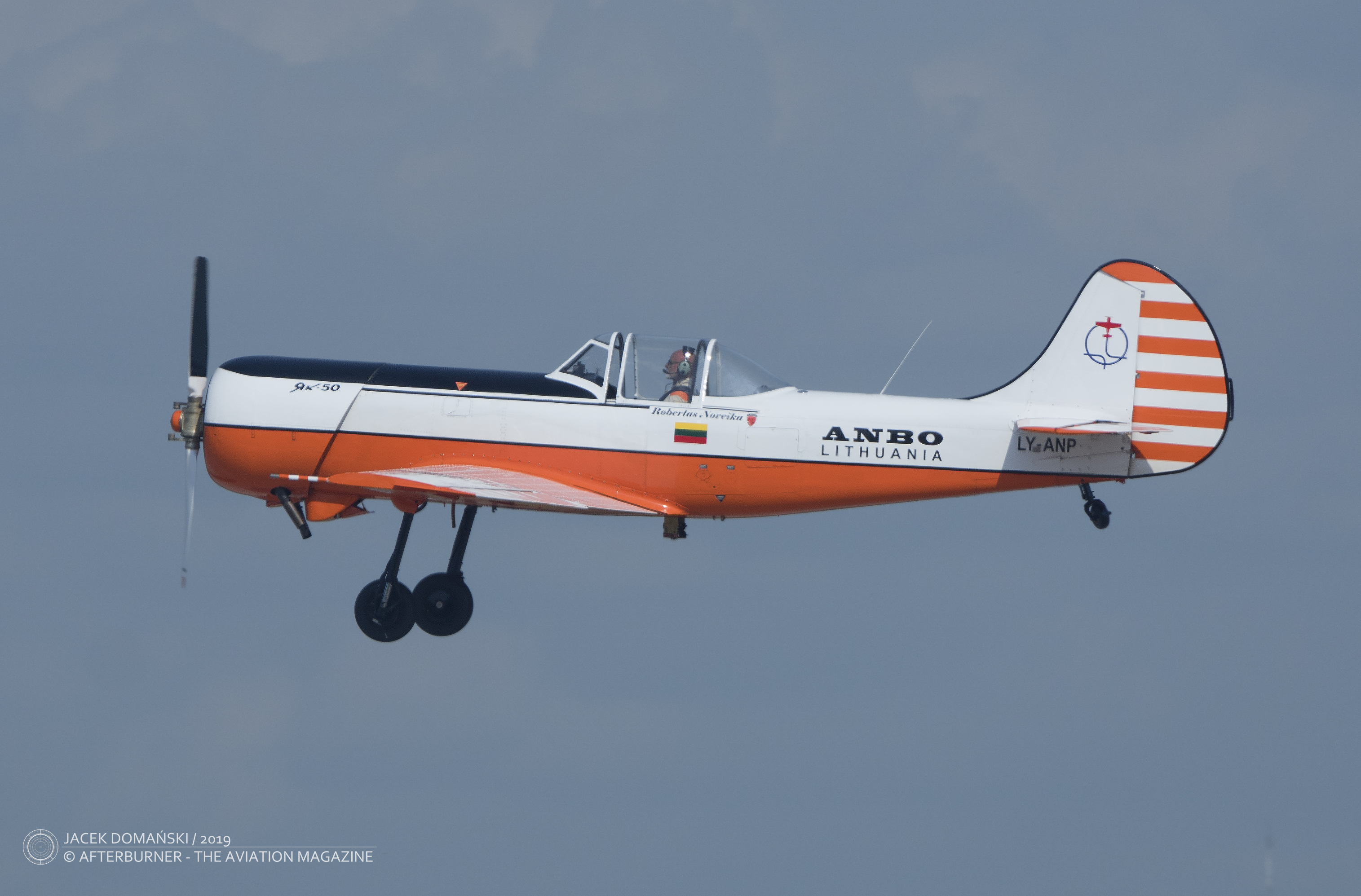 Generally speaking, the Yak-50 was a single-seat, semi-monocoque and low-wing aircraft of all-metal construction. It had a straight, trapezoid-shaped wings and retractable landing gear of a classic tailwheel configuration. Airframe of the Yak-50 was to be robust, but also as light as possible. Therefore, in order to save weight, it was decided to combine classic and, at that time, modern solutions in construction of that aeroplane. Thus, in addition to canvas-covered control surfaces, some parts of the new Yak aerobatic trainer have been made of titanium and synthetic materials.
As a power unit for the Yak-50, a nine-cylinder radial engines of Vedeneyev M14 series, with two-blade variable pitch propeller, were chosen. Standard, serial production examples of the aeroplane were fitted with 360 hp M14P engines, while later also M14PF (400 hp) and M14R (450 hp) powerplants were being installed on the aircraft of this type. In fact, those engines were a more powerful development of Ivchenko AI-14s used, among others, in the earlier mentioned Yak-18PS aeroplanes.
The design and construction work on the first Yak-50 took about three years. The aeroplane made its first flight on 25th June 1975. Next year, Arsenyev aviation plant launched serial production of the aircraft.
New aerobatic trainer made its debut at international aerobatic competition yet in the year of its entry into serial production. During a ´friendly competition´ of the Eastern Bloc countries organised in 1976 in Czechoslovakia, the Soviet Union team flying Yak-50s won all three team categories.
In August of the same year, the 8th World Aerobatic Championship was held in Kiev. That´s where – flying the Yak-50, certainly – Viktor Lestko and Lydia Leonova became the World Champions, and other Soviet pilots earned their medals.
In the following year, pilotsfrom the USSR flying the Yak-50 aircraft had managed victories in the Eastern Bloc countries competition in Kiev and at the European Championship in France. During the latter event, Oleg Bulygin and Svetlana Savitskaya set a number of world records in the category of speed and rate of climb.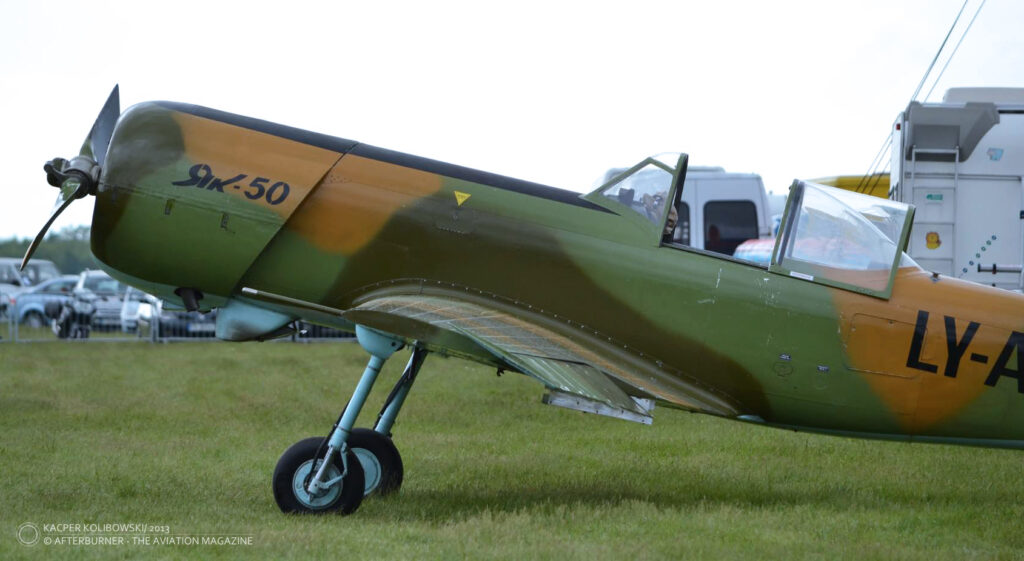 Regrettably, after few years of operation, it turned out that the Yak-50 had a major structural problem. During aerobatic manoeuvres, the airframe was submitted to intense stresses and forces, which in many cases led to a damage to the main wing spar and at least one instance, also a failure of the centre section. That brought about a series of tragic accidents caused by in-flight loss of wing. Sadly, they resulted in several fatal casualties, and among pilots that lost their lives in such accidents was also the aforementioned World Champion, Viktor Lestko.
In order to prevent further accidents of that kind, the Yak-50 aeroplanes that were operated by the Soviet National Aerobatic Team were being withdrawn from active service after only about 50 flying hours. However, two examples flown by that team underwent modifications to strengthen the wing spar, what was considered enough to prevent further failures. Nevertheless, in 1984 it was finally decided to retire all Yak-50s used by the national aerobatic team and replace them with Yak-55 and Su-26 aircraft.
The manufacturer had approached the abovementioned issue seriously and several modifications were implemented to strengthen the wing spar area. They were listed in official Yakovlev Design Bureau service bulletins, i.a. 16DK, 37DK, 53DK, 61DA and 79. The aircraft being a subject of those upgraded recorded no further damages related to that issue.
The Yak-50 aeroplanes were being manufactured until 1986, and by that time approximately 314 examples of the aircraft have been manufactured. Although they were mostly used by the Soviet aeroclubs and training centres, a number of Yak-50 aeroplanes was exported to other Eastern Bloc countries, such as Czechoslovakia, East Germany or Poland. A few were sold to Denmark, Great Britain, Australia and the USA.
Despite the abovementioned issues, the Yak-50 proved to be a reliable aerobatic aeroplane with exceptionally good flying characteristics, good performance and a relatively satisfactory power-to-weight ratio. Pilots that were flying that aircraft had achieved international success in aerobatic competitions and in addition had worked out their own, characteristic style of flying, while performing stunts at high speed and high inclinations.
Although they were mainly used in the Soviet Union, a number of those aeroplanes were exported to Czechoslovakia, East Germany, Poland, Denmark, Great Britan and even Australia and the USA. Nowadays, there are still 60 – 90 airworthy Yak-50s worldwide, depending on the source. They are among frequent participants of air show events, flying both solo and group displays. In many cases, such a group displays are flown together with Yak-52 aeroplane – a two-seat training variant, developed on a basis of the Yak-50 design.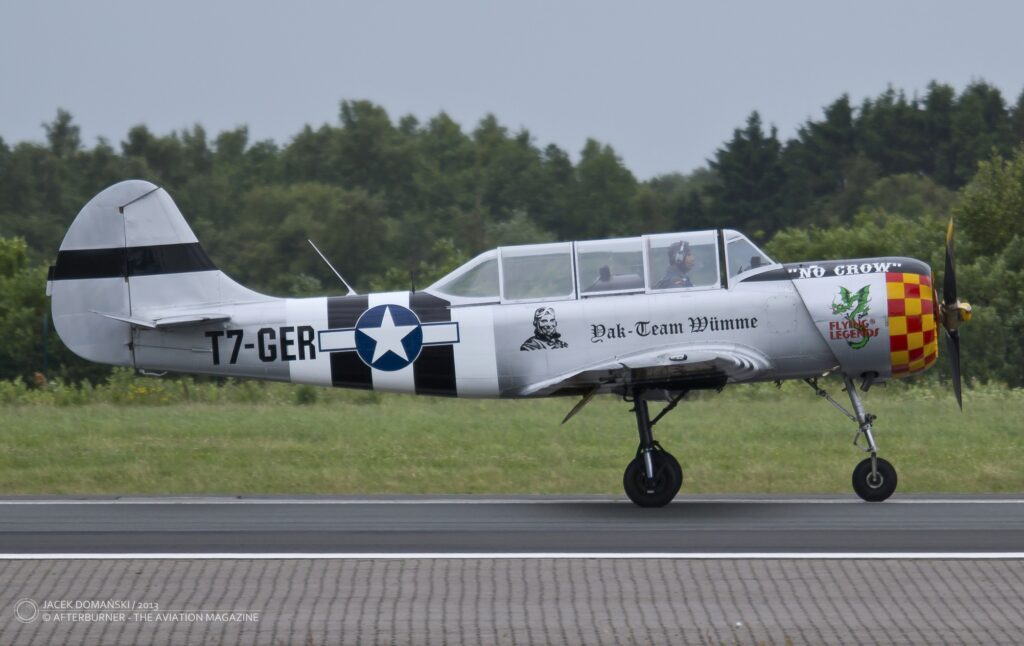 Cover photo – Presidential team 'ANBO', a formation of three Yak-50 aircraft led by Rolandas Paksas, a former Prime Minister and President of Lithuania, flying display at MAKS-2019