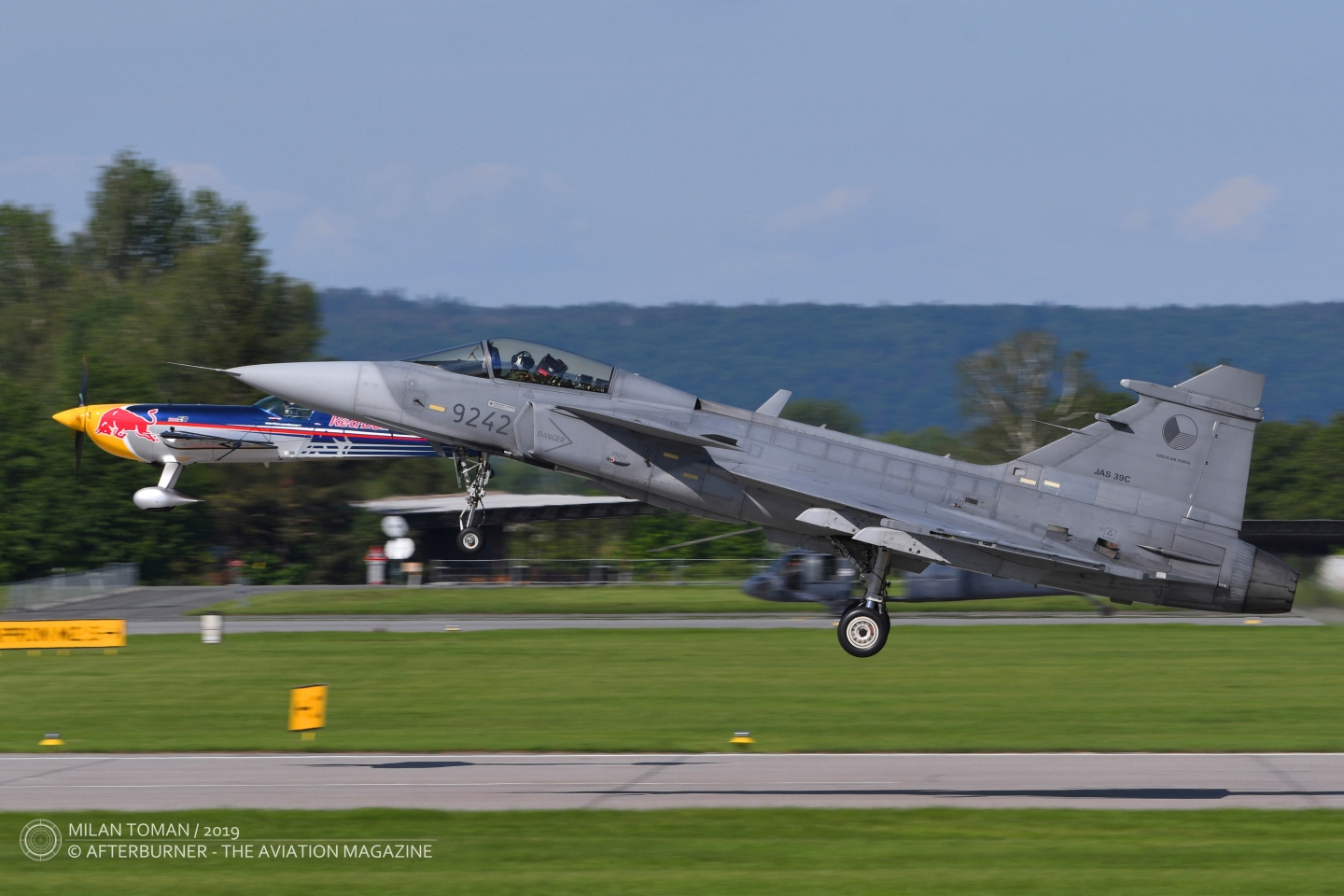 What is the hottest aviation news in Czech Republic today? Undoubtedly, the joint display of Martin Šonka (2018 champion of the Red Bull Air Race) and Capt. Ivo Kardoš (JAS-39 display pilot of the Czech Air Force), performed on 25th May during the open doors event in 21st Air Force Base in Čáslav.
The idea of joint display of JAS-39C fighter and Extra 300 SR aerobatic special aeroplane was already announced some weeks earlier as the highlight of the 2019 Open Day in Čáslav. A few official news was released followed by several rumours that circled around the Internet, fanning the flames of anticipation.
The idea of combining the two completely different aircraft in one display is not new. There already were several joint displays performed by the military jet and the historical fighter aeroplane – RAF Tornado with Hurricane, US F-15 with P-51 Mustang or Belgian F-16 with Spitfire are widely known among the aviation enthusiasts.
However, they were just the more or less advanced flypasts, while the combined aerobatic display of the fighter jet and propeller-powered small aerobatic aeroplane is distinctly different. Not only because of the contrasting characteristics of both aircrafts, but also due to the potential threats to the aerobatic aeroplane brought by the super-heated air and turbulences created by the jet engines. It is therefore so important to plan such display to the last detail and then practice it step by step.
The pioneers of such display are Artur Kielak, Polish aerobatic champion, and Polish Air Force MiG-29 display pilots. Their joint display performed by MiG-29 and XA-41, known as Xtreme Sky Force, debuted in 2016. However, according to Kielak, this idea was developed during seven long years. Together with Kielak, two MiG-29 pilots were flying this display – Col. Piotr Iwaszko and Lt. Jacek Stolarek.
The information about another fighter jet/aerobatic special joint display is, without any doubts, the great news. Directly after the public premiere of the new display – well received by the spectators and lively discussed afterwards – there is nothing else like to wish Martin Šonka and Ivo Kardoš to continue with flying in this extraordinary formation. May this performance in Čáslav would not remain the only possibility to see this amazing display.