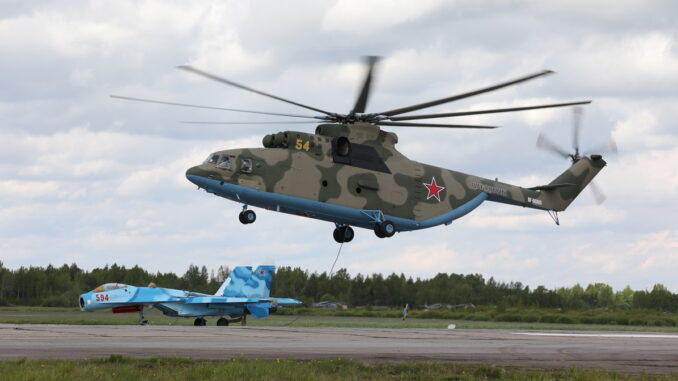 Retired aircraft can often be seen at aviation monuments, in museums or in a role of air base gate guards. Usually they reach their final destination after a complicated logistic operation and being carried there by road. But sometimes it happens that their last journey turns into a more spectacular event…
On 27th May 2021, a Mi-26 heavy transport helicopter and its crew participated in transportation of a retired Sukhoi Su-27 fighter, from air base in Pushkin, Leningrad area, to territory of 442nd Military Clinical Hospital (442 военный клинический госпиталь) branch in Gatchina, where the fighter was anchored as a part of an aviation monument.
The Su-27 intended for memorial in Gatchina carries a fictional tactical number ´594´, being the number that belonged to military hospital of the Leningrad Military District until 2009. A solemn ceremony of official unveiling of the monument is planned to be held in the coming days.
According to press release issued by the Russian MoD, the Mi-26 helicopter arrived to Pushkin from its home airfield in Pskov region, located approximately 300 kilometres away. The fighter was carried on an external sling at an altitude of 150 – 200 metres and at a speed of 100 – 150 kph. A special route from Pushkin to Gatchina was planned, to avoid settlements and high structures. During the flight, onboard cameras of Mi-26 allowed the crew to monitor the payload and to prevent the fighter from swaying.
More information about the Mi-26 heavy transport helicopter, history of its development and latest upgrades can be found in our previous articles: Mi-26T2V / Mi-26T2 for EMERCOM / Mi-26T2V flight tests
Photos from last flight of Su-27 to Gatchina (courtesy of the Russian MoD):
All photos © Russian MoD (Министерство обороны Российской Федерации), used under the Creative Commons Attribution 4.0 license. MoD press information were used.