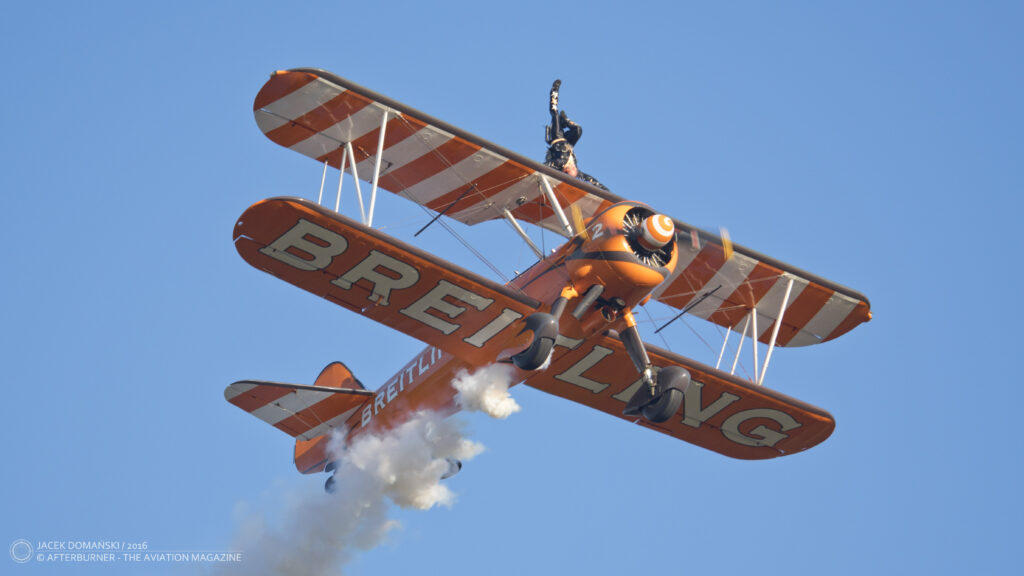 Boeing A-75N1 Stearman / PT-17 Kaydet (built 1941, c/n  c/n 75-717, N74189), during a wing walking flying display at the 6th Sanicole Sunset Airshow, September 2016.
A daredevil aviation stunt known as ´wing walking´ is almost as old as aeroplane itself. The first attempt of a similar feat – at that time including just standing on a wing – was recorded already in 1911. On 14th January, Col. Samuel Franklin Cowdery (aka Samuel Franklin Cody or just ´Flying Cowboy´), a Wild West showman and aviation pioneer, performed a flight with a biplane he built, with his two stepsons standing on lower wing of that aeroplane.
A few years later, the Great War broke out and there were several cases reported during the war years, we could now acknowledge as wing walking. Nevertheless, they were not done for fun but main reasons were in-flight adjustments or repairs. Well, that time even a simple act of changing an ammunition drum was, by today´s standard, a dangerous stunt.
In aeroplanes like Nieuport 11 with not synchronized Lewis machine gun mounted over the upper wing, pilot had to unbuckle his seatbelts, stand up straight in the cockpit and do the change while keeping the control stick between his legs. Similarly, in the case of gun jams, which used to happen very often. In those days, such feat was a common part of being a fighter pilot – or the airman who could not perform this quicky during a flight, became no pilot just as fast.
When the war was over and armed forced were significantly reduced, there were many pilots left out a job. One of the possibilities of earning some money was performing at public events. That form of entertainment was then commonly called ´barnstorming´ and over time – as everyone wanted to prove his skills were better than others – those stunts became even more advanced and daring. It was then that the so-called ´wing walking´, was born.
Ormer Locklear, a former US Army Air Service pilot, is usually recognized as one of the first wing walking pioneers. He started his career of an aviation stunt performer in 1918, and soon founded one of the first ´flying circuses´ – Locklear Flying Circus. Among his popular stunts was jumping from one aircraft to another but later Locklear and his fellow pilots mastered a feat they called ´Dance of Death´ – with two pilots switching their aeroplanes during the flight. Working for a Hollywood film industry was the final step of Locklear´s career. In 1920, regrettably, he died in a crash while working on his second aviation film – being blinded by studio lights, as the official report acknowledged.
A lot of brilliant aviators came through barnstorming and wing walking activities. Among them were Lillian Boyer, Gladys Roy, Richard Schindler, Bessie Coleman (the first African-American woman to hold a pilot licence), Ethel Dare (the first woman to switch aircraft in mid-air), Elrey Borge Jeppesen (founder of well-known Jeppesen company) and even Charles Lindbergh. All this wing walking fun suddenly stopped in 1936, when the American authorities banned it from being performed below 1,500 feet (460 metres).
That daredevil stunt returned in the mid-1970s, although initially it seemed purely academic. Nevertheless, with increasing availability of surplus biplanes – mostly all variants of Boeing Stearman/Kaydet – walking or standing on wings again began to gain popularity.
Nowadays, wing walking is commonly seen among air show displays and there are several teams in Europe that are performing that feat on regular basis. Moreover, some of them are offering a so-called ´wing walking experience´ for general public – when everyone interested may try how it feels to be a wing walker (subject to several conditions, certainly).
Wing walking is also one of common ways to raise money for charity. The Wing Walk Company from Dorset, England, is one of such examples. According to the news released on their web site, just during the previous air show season the company raised approximately 100,000 GBP through wing walking.
Although it may seem extremely dangerous, wing walking has a surprisingly short track of fatal casualties. There were only eight deaths reported in the early years (until 1936) and a similar number of fatalities since 1975. Usually, the danger related to wing walking is compared to parachute jumping activities.
However today all in-flight activities related to moving outside the aircraft cockpit during its flight are commonly named wing walking, some proper definitions must be mentioned here. A pure ´wing walker´ is a person who uses several parts of an aeroplane to perform the mid-air stunts and moves between them freely. A person just strapped to aircraft wing for an entire flight is called a ´wing rider´.
Pictured above is Boeing A-75N1 Stearman / PT-17 Kaydet – one of biplanes operated by AeroSuperBatic team – performing a display during the 6th Sanicole Sunset Airshow. The AeroSuperBatic company was founded in 1982 by Vic Norman and is performing wing walking shows since 1987.