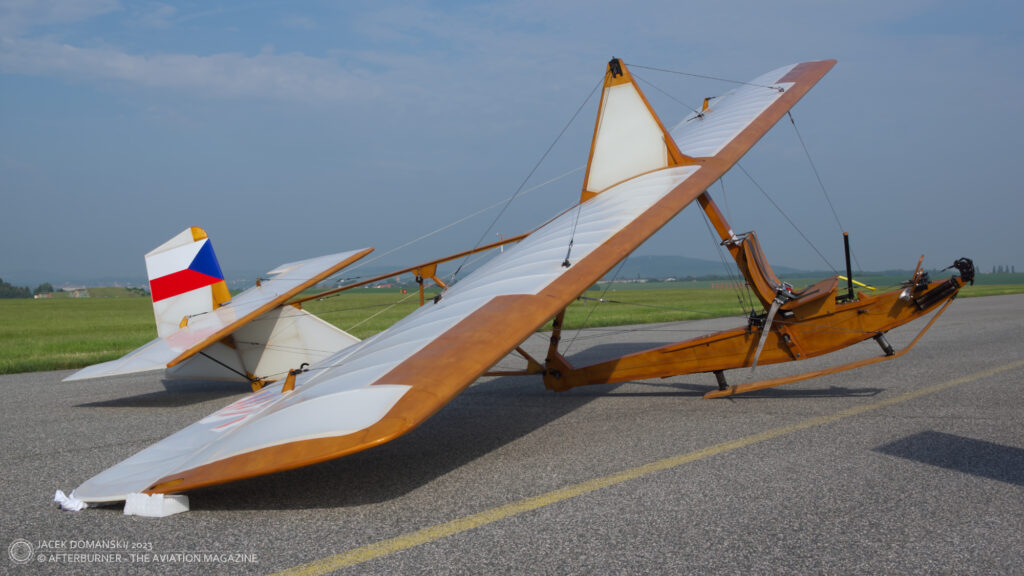 Schulgleiter SG 38 (OK-ZKD 35, an airworthy replica of German training glider from the 1930s), static display at open doors event at 21st Tactical Air Base, Čáslav, May 2023.
In 1936, Edmund Schneider, a German aircraft designer and owner of a glider factory, began works on his new project. Together with his production manager and test pilot Ludwig Hofmann and examiner Rehberg (full name unknown), Schneider developed new training glider designated SG 38.
Similarly to Schneider´s earlier design, very successful Grunau Baby sailplane, the new glider was created in Segelflugzeugbau Edmund Schneider factory that was founded by Schneider in 1928 and had its seat in Grunau village, located near Hirschberg in Silesia (in present day, Jeżów Sudecki near Jelenia Góra, Poland). Therefore, letters in aircraft type name stand for ´Schneider´ and ´Grunau´, not being an abbreviation from German term Schulgleiter (training/school glider), as often mistakenly assumed. The glider is also known under the name Schneider DFS 108-14.
The new glider was based on experiences the Schneider´s team took from previous constructions, such as Grunau 9, Zögling 31 and Zögling 35. The SG 38 was intended for initial flight training and was characterized by both simplicity and robustness of its construction. Therefore, from the very beginning, a special emphasis was placed on its capability to survive hard landings. In addition, the glider had to be easy to fly and repairable in poor conditions that at that time prevailed in German aeroclubs.
The SG 38 was made of wood, with the wings and tail surfaces covered with aircraft fabric. It had a high wing, stabilized with cable bracing and featured no cockpit at all – the glider pilot was sitting in the open air, without even any simple windshield.
In 1938, the SG 38 officially performed its maiden flight and shortly after was approved for serial manufacturing. The glider received a warm welcome in aeroclubs and flying schools, quickly becoming one of the most popular training gliders ever made.
According to Schneider´s official register, 8,750 gliders of that type were produced. However, several SG 38 were additionally built in aeroclubs, using plans distributed by the company. The glider was still manufactured after the World War II, in both West and East Germany. There were also some examples of the SG 38 built on license in Spain and almost exact copy designed in the United Kingdom.
Although it is not possible to determine what is the most produced glider in the world, there is no doubt it was designed by Edmund Schneider. The aforementioned Grunau Baby sailplane was manufactured in approximately 7,000 examples but some sources indicate even rather unrealistic number of 15,000 sailplanes of that type made. The SG 38 was built in approximately 10,000 examples. Regardless of which Schneider´s sailplane is credited with the title of the most produced glider aircraft in history of aviation, both numbers are impressive.
The SG 38 and Grunau Baby played critical role in training pilots for the newly established German air force, the Luftwaffe.
A dozen years ago, students of technical school in the Czech Republic started with building an airworthy replica of the SG 38. The project was successfully finalized on 3rd September 2020, when the replica completed its maiden flight.
The Czech replica of the SG 38 is currently in active operation and sometimes can be seen during local aviation events. In May of 2023, the glider was exhibited on the static display during open doors day held at 21st Tactical Air Base in Čáslav, where our current Photo of the Week was taken.