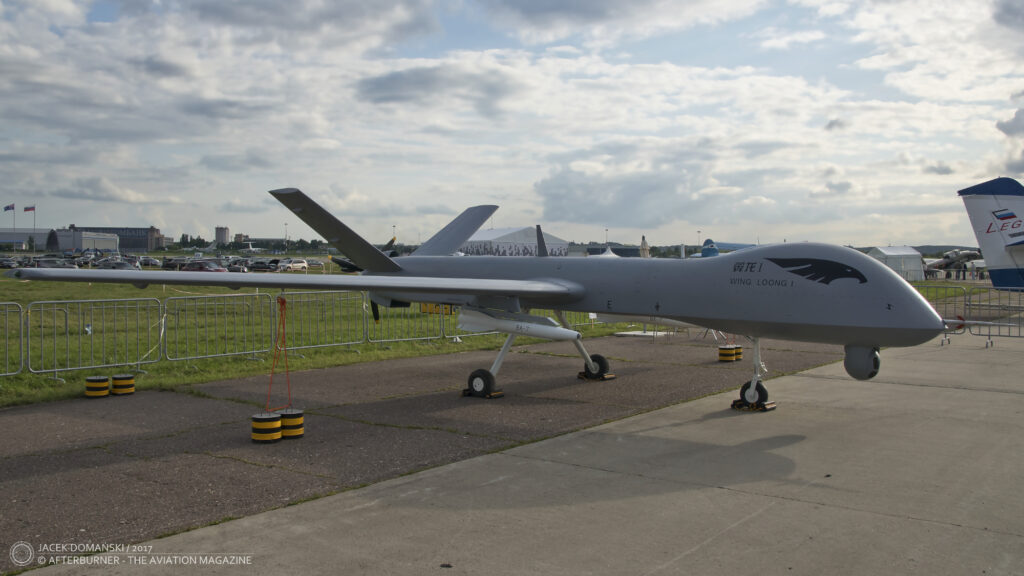 CAIG Wing Loong I / Chengdu GJ-1 (mock-up aircraft for exhibition purposes), static display at 13th International Aviation and Space Salon MAKS 2017, Zhukovsky, July 2017.
The Wing Loong I is a Medium-Altitude Long-Endurance (MALE)-class unmanned aerial vehicle (UAV), developed by the Chinese aerospace corporation Chengdu Aircraft Industry Group in the late 2000s.
For the first time, the Wing Loong I was disclosed to public at China International Aviation and Aerospace Exhibition 2010. However, the first – although unofficial – information about the aircraft are dated back to 2008. And, reportedly, the Wing Loong I performed its maiden flight already in 2007.
From the very beginning, the Wing Loong I attracted great interest, especially due to its uncanny resemblance to Predator/Reaper UAV family, developed in the United States by General Atomics.
The Chinese UAV was developed in both civilian and military variants. In its basic configuration, the Wing Loong I is intended to operate as surveillance and reconnaissance aircraft. The combat variant are, in addition, equipped with variety of air-to-surface bombs and missiles, therefore turning the GJ-1 into the unmanned combat aerial vehicle (UCAV).
Two main Chinese military versions of the aircraft are designated WJ-1 and GJ-1. The first is a pure UCAV without reconnaissance capability, while the GJ-1 represents more versatile variant that combines surveillance/reconnaissance and combat capabilities.
The CAIG also offered the Wing Loong I for foreign customers. Usually, they were of purposedly developed variants, known as Pterosaur I, Pterodactyl I, Sky Saker (aka Rui Ying), ID and IE. More than one hundred of those drones were sold to Bangladesh, Egypt, Ethiopia, Indonesia, Kazakhstan, Morocco, Saudi Arabia, United Arab Emirates and Uzbekistan.
The aforementioned export success is also the cause the Wing Loong I aircraft already have a pretty impressive combat record. These UCAVs were, for example, used by the Egyptian Air Force in operations against militants in North Sinai, participated in the Second Libyan Civil War, the Tigray War and Operation Decisive Storm in Yemen. With regards to the latter, the Houthi forces in Yemen claimed they shot down at least five Wing Loong I UCAVs until 2022.
In 2012, a Pterosaur I was exhibited at the 9th China International Aviation and Aerospace Exhibition. That UCAV was carrying a special marking of fifteen missiles and twenty red stars painted on its fuselage, reportedly representing the number of air-to-ground missiles successively launched on targets, as well as the number of combat missions completed by the aircraft.
In 2018, the Wing Loong II upgraded variant of the UCAV entered operational service with the People´s Liberation Army Air Force. That modernized variant of the aircraft can carry up to twelve air-to-surface missiles on external pods.