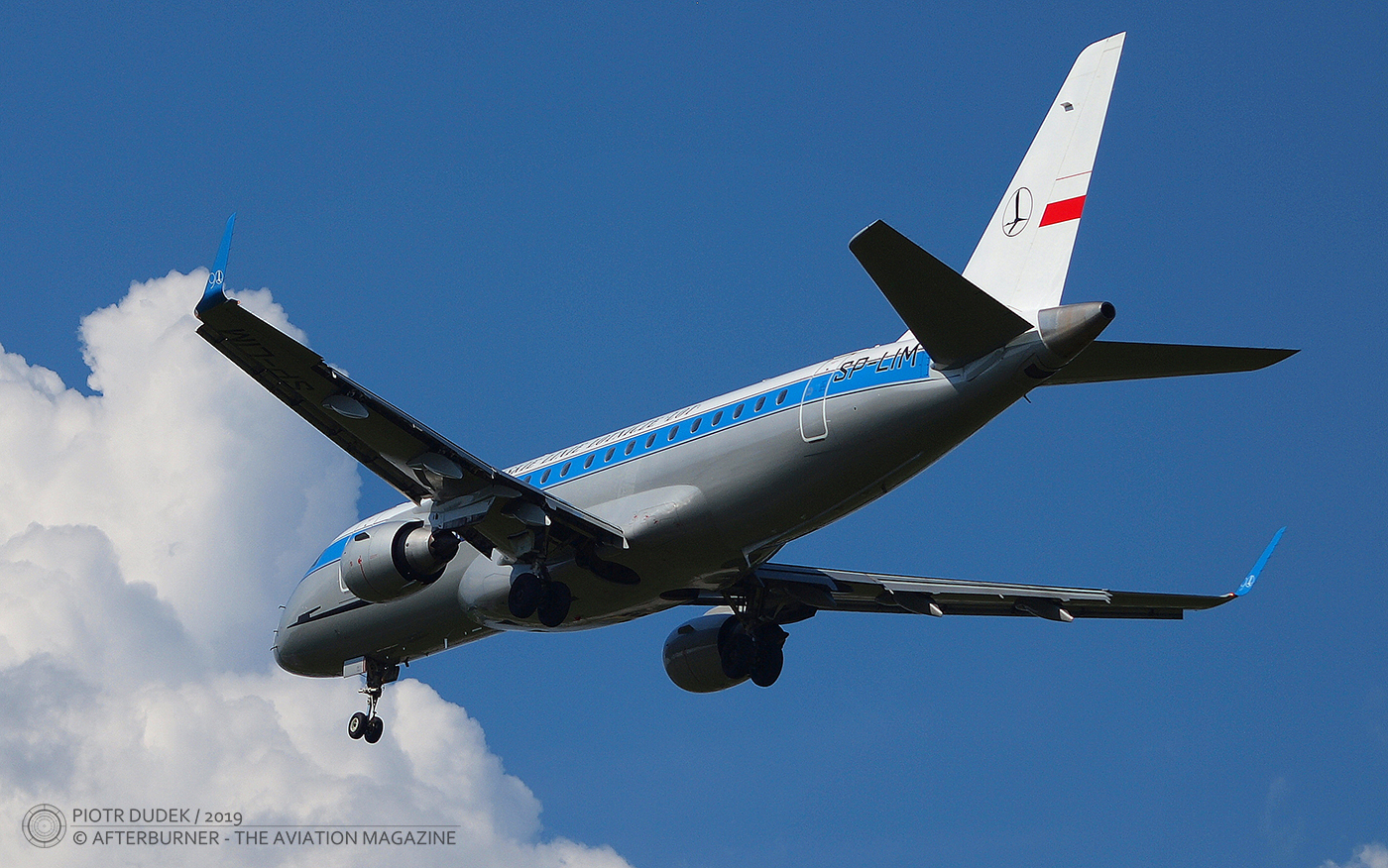 In December 2018 LOT Polish Airlines celebrated its 90th anniversary. Apart from obvious official ceremonies that were held on this occasion, the management of the national carrier prepared a nice surprise for its passengers and aviation enthusiasts, introducing a beautiful retro livery on one of its Embraer ERJ-175 regional jet.
Many airlines paint selected aeroplanes from their respective fleets in special schemes recreating liveries that were used years or decades ago, in order to commemorate some milestones in an airline's history or to stress its long-lasting tradition and experience.
With Polish Airlines "LOT", one of the oldest continuously active airlines in the world the situation couldn't have been different. On the eve of its 90th anniversary it applied a special retro livery to one of its ERJ-175 regional jets.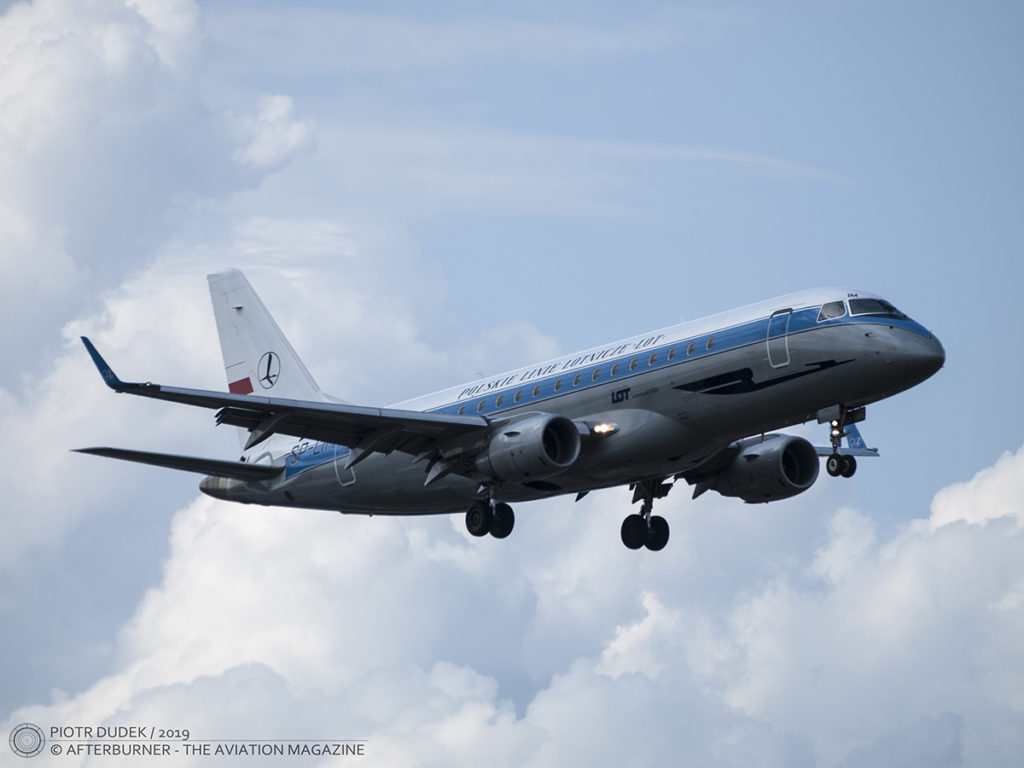 The ERJ-175-200LR (SP-LIM) received a beautiful paint-scheme recreating the livery used in "LOT" from 50s to mid 60s on such classics as Li-2 or Il-14 airliners. This livery features light-blue cheatline on the window line with two thin lines beneath and above. The cheatline separates two different colours of the fuselage: white over the cheatline and silver (originally natural metal) – below. The black stylised crane with its wings swept back is painted on both sides beneath the cockpit. The black inscription "Polskie Linie Lotnicze LOT" ("LOT Polish Airlines") is placed on the white part of the fuselage (both sides). The white vertical fin features both black logo of the airline (a crane spreading its wings) and a finflash in Polish national colours. Logo is also present on winglets.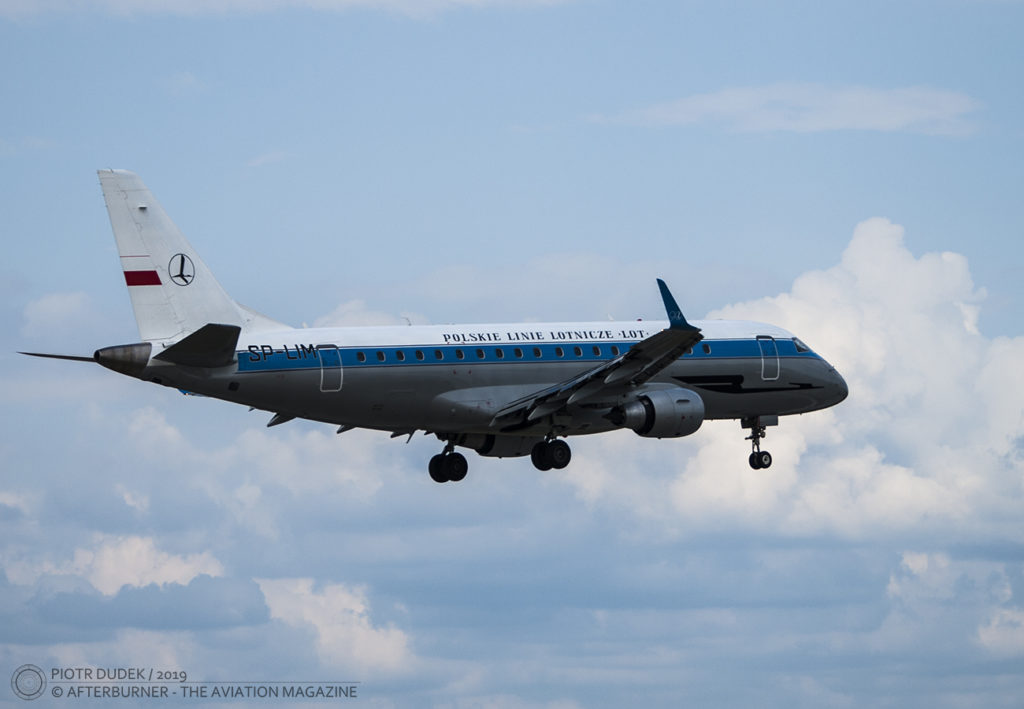 Passengers travelling by SP-LIM seat in the cabin that is furnished with beautiful, old advertisement posters of LOT from sixties (so-called "golden era of Polish poster art").
The "retro" ERJ made its first flight from Warsaw-Okęcie (EPWA) to Budapest (LHBP) in new-old livery on December 24, 2018. Since then, SP-LIM has been serving various regional routes. LOT representatives claim that the aeroplane will remain in the special paint scheme as long as until 2024.
SP-LIM (serial number 17000311) was delivered to Poland on May 28, 2010 and is one of 12 ERJ-175 aeroplanes used by LOT Polish Airlines and one of 35 its Embraer jets (ERJ-170/175/190/195). It represents ERJ-175-200 LR variant in Y82 configuration (82 economy class seats) powered by two General Electric CF34-8E5 turbofans (note: CF34 is a civilian version of TF34 turbofan engine used mainly on A-10 Warthog and S-3 Viking aeroplanes).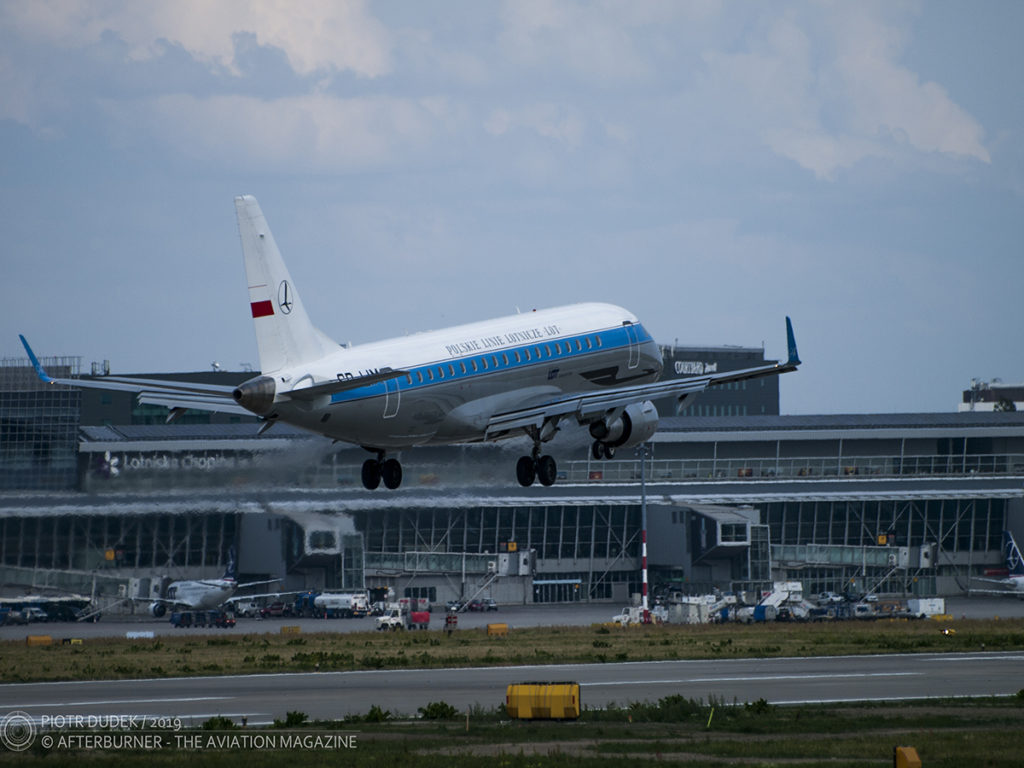 LOT Polish Airlines has been created in 1928 as a result of merger between Aerolot, Aero and Śląskie Towarzystwo Lotnicze (Silesian Aviation Association) airlines. It commenced operations on January 1, 1929 and is one of the longest functioning airlines in the world. At present LOT operates over 80 aircraft on domestic, regional and long-range routes.