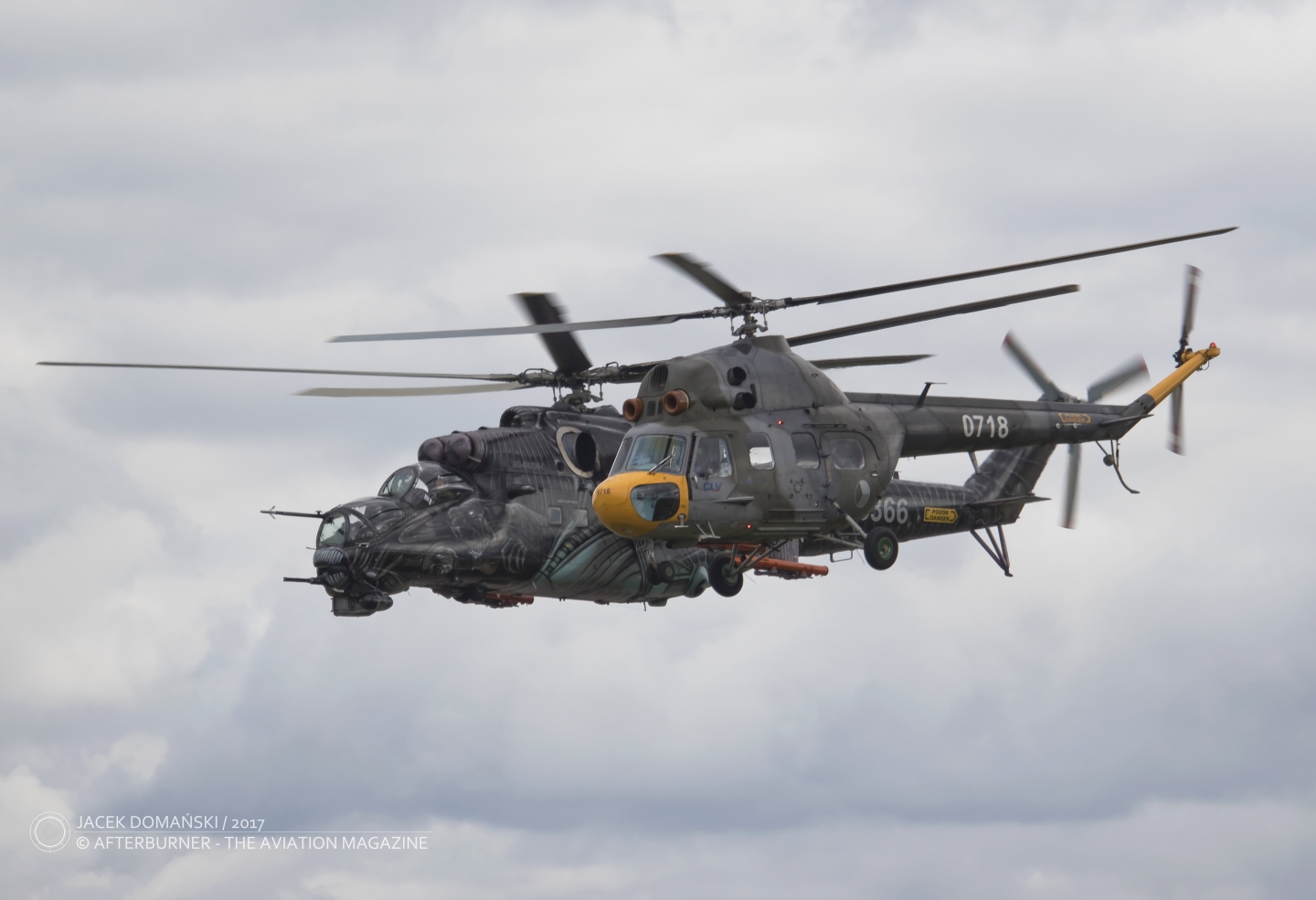 A unique formation display of Czech Air Force Mi-24V (Mi-35) ´3366´ attack helicopter and Mi-2 from Flight Training Centre, performed during Czech International Air Fest 2017.
Undoubtedly, the ´Alien Tiger´ is one of the most recognized Mi-24 rotorcrafts. This special painting was made for NATO Tiger Meet 2016, that was held in Zaragoza, Spain – and, certainly, was the winner of ´Best Painted Tiger Aircraft´ trophy there.
This remarkable aircraft livery design was created by Jan and Josef Rükr, and inspired by the biomechanical style of Hans Ruedi Gigern, the Swiss painter whom works were the basic for making the Alien movie creature.
Mi-24V ´3366´ was delivered to Czech Republic in 2005, as a part of the Soviet-era debt settlement, and since then operated by Czech Air Force – currently by 221st helicopter flight from 22nd air base in Náměšt n/ Oslavou.
Mil Mi-2Sz ´0718´ was manufactured in Mielec (Poland) and delivered to, at that time, Czechoslovakia in 1988. Initially the helicopter was operated by the 1st squadron in Plzeň-Líně. When in 1991 the squadron was assigned the HEMS duties, ´0718´ was one of the helicopters performing the air ambulance services.
At the end of 1990s, the new W-3A Sokół helicopters were acquired, and ´0718´was transferred to Pardubice and operated by the 34th training squadron until 2002. After a few years of being stored, this Mi-2 was overhauled in 2006 and then used for training purposes by Centrum Leteckého Výcviku (Flight Training Centre) in Pardubice.
The formation display in Hradec Králové, performed during CIAF 2017, was an exceptional experience that, most probably, would never be repeated again. All Mi-2 helicopters are already retired from their active service in Flight Training Centre, replaced by Enstrom 480B-G rotorcrafts. And also the active service of Mi-35 in Czech Air Force is coming to an end – it was already announced that the Russian-manufactured helicopters would be replaced by Bell AH-1Z Viper.
At the end of its long operational service ´0718´ participated in several air shows in the Czech Republic, that was kind of a farewell with Mi-2 in Czech Air Force. The last display was flown in June 2018, during the air show at Přerov airfield. After returning home from Přerov, ´0718´ was withdrawn from CLV inventory and dismantled.