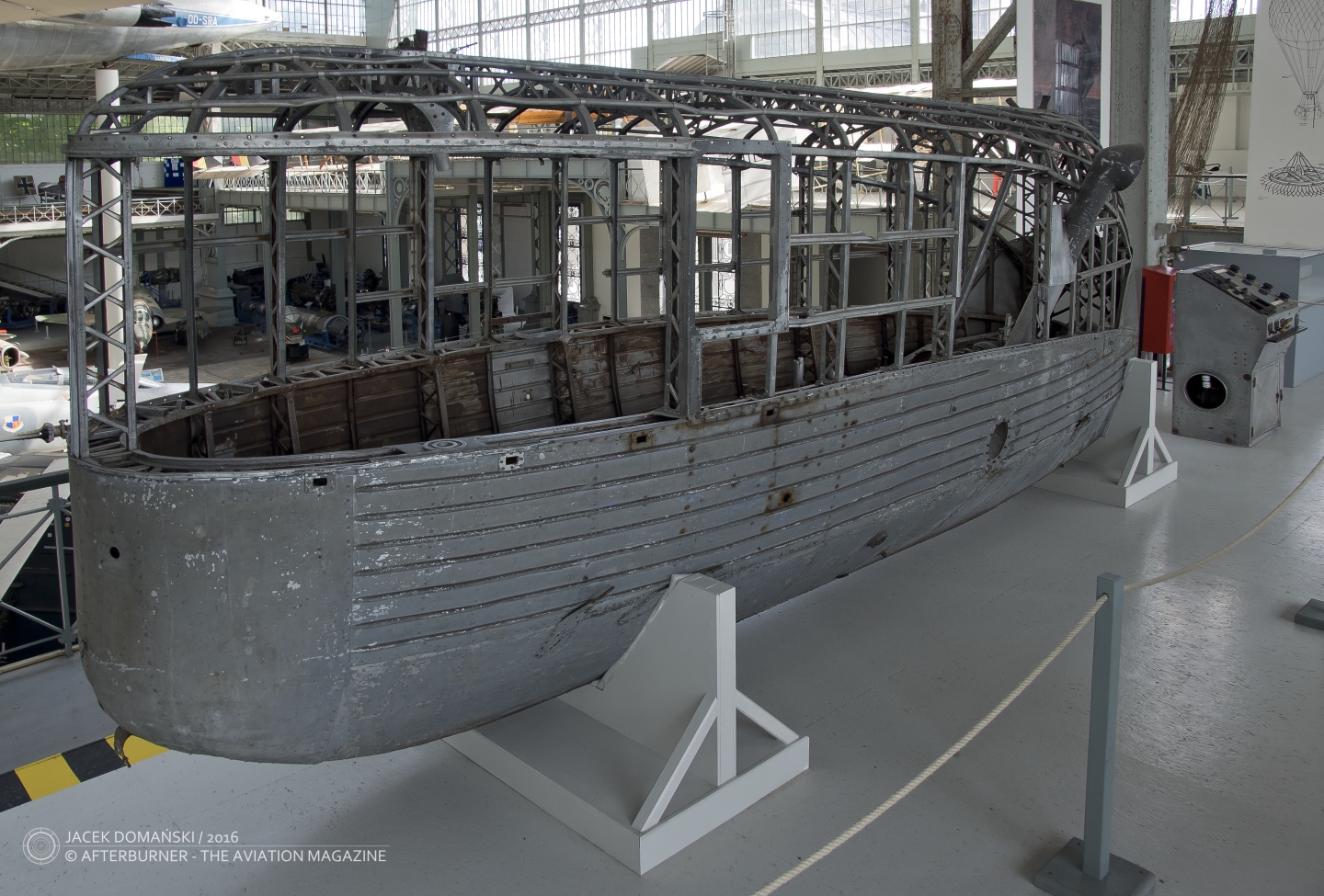 Port-side nacelle from Zeppelin ´L 30´ (factory number LZ 62), exhibited at the Royal Museum of the Armed Forces and Military History, Brussels (September 2016).
Among the many aviation pioneers, Ferdinand Adolf Heinrich August Graf von Zeppelin is the man who was inseparably connected with the history and development of airships. Count Zeppelin is usually considered the father of rigid airship, a design that was successful enough to turn his name into a synonym of airship, as they are commonly called just ´zeppelins´.
Before the outbreak of the Great War, Luftschiffbau Zeppelin GmbH in Friedrichshafen manufactured already 25 airships, including the experimental dirigibles of A and B class. LZ 3, a B-class airship produced in 1906, became the first operational aerostat of the Imperial German Army. Three years later, LZ 6 of D-class started the era of airship transport, operated by DELAG airline. In 1912, the German Navy followed and became the third operator of Zeppelin-manufactured aerostats.  
Despite a few incidents, the early ´zeppelins´ have gained popularity and were widely used by the German armed forces for reconnaissance and bombing missions. The first dirigible air raid in the Great War occurred as early as 6th August 1914, when LZ 21 attacked Liège, in Belgium. On 19th January 1915, the first raid on England was performed by M-class airships LZ 24 (Tactical No. L 3) and LZ 27 (Tactical No. L 4) of the German Navy. 
Shortly thereafter, the development of a new R class has been started, using the experience gained during those first raids on England. On 28th May 1916, the prototype of new design, an airship later named LZ 62, performed its maiden flight. It was an impressive, completely new construction, created without any size limits. With a volume of 55,200 m³, length of 198 metres and a diameter of 24 metres, LZ 62 was the largest Zeppelin dirigible designed during the war and the whole R class was nicknamed Grosskampftyps (also ´Super-Zeppelin´, as it was so-called in England).
The LZ 62 (Tactical No. L 30) had 6 Maybach 240 hp engines in four gondolas, Telefunken radio station with estimated range of 1,500 kilometres, ten 08/15 machine guns for self-defence and an impressive bomb load of 7,600 kg. The crew consisted of 17 airmen.
The first R-class airship turned out to be one of the most successful dirigibles of the World War I. It is reported that LZ 62 performed at least 31 reconnaissance missions and 10 air raids on England, Livonia, Pärnu and Saaremaa, dropping 23,305 kg of bombs. At the time LZ 62 was made, it was also the fastest airship in the world, exceeding 100 kph of speed. It could also climb up to the ceiling of 12,500 feet. 
However, with the rapid development of aircraft and air defence, the characteristics of LZ 62 shortly became obsolete and the airship was withdrawn from active service on 17th November 1917 and then stored. After the war, in 1920, LZ 62 was intended for Belgium, as a part of war reparations. Deemed useless for military purposes due to lack of infrastructure and crew, the first of R-class airships was dismantled at the place it was stored. Just a few parts of LZ 62 were preserved for the exhibition purposes and sent to Brussels.
Today, in the Royal Museum of the Armed Forces and Military History in Brussels two gondolas from LZ 62 can be found, together with a radio station, bombs and a few other artefacts.