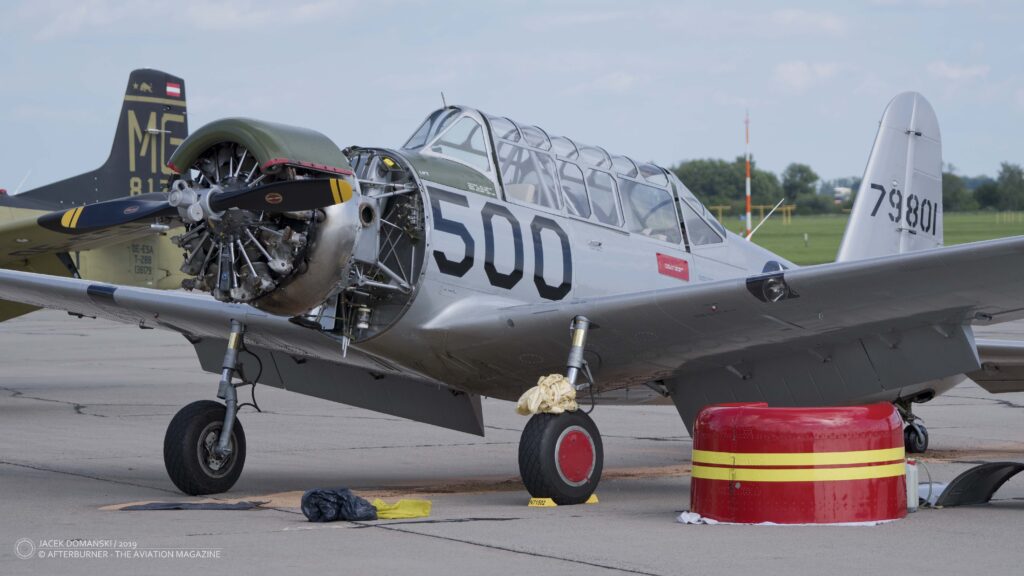 Vultee BT-13B Valiant trainer aircraft (c/n 79-801, formerly 42-89949 USAAC, N71502), static display during 29th edition of Aviatická pouť (Aviation Fair) in Pardubice, June 2019.
At the very beginning, there was a concept of single-engine, light fighter aeroplane. It was created in 1938 by Richard Palmer, the chief designer of Vultee. Nevertheless, having learned about requirements for a new advanced trainer issued by the US Army Air Corps (USAAC), Palmer quickly re-worked his initial design into a training aircraft.
The aircraft received an initial designation V-51 and its first prototype was ready in the beginning of 1939. It was powered by Pratt & Whitney R-1340 Wasp radial engine of 600 hp, had an enclosed cockpit for instructor and student pilot, in a tandem configuration, as well as retractable landing gear, flaps and hydraulic installation to control them.
On 24th March 1939, the V-51 prototype performed its maiden flight. In May of that year, the aeroplane entered the USAAC competition for training aircraft, receiving Army designation BC-51. However, the Vultee project was rejected and North American BC-2 was announced the winner.
Nevertheless, Palmer was not discouraged. He changed the initial design a bit, at the same time replacing the R-1340 with a less powered, and more available, radial engine. That configuration of the aeroplane was named VF-54 and was offered for sale to other countries and operators but without any success.
In August of 1939, Palmer made another attempt to sell his project to the USAAC. Dur to that, the aircraft was one more time re-designed – this time it was equipped with a fixed landing gear and 450 hp Pratt & Whitney R-985 Wasp Junior engine. In addition, the hydraulic installation was removed and flaps were controlled by a rather complex cable system.
And eventually, the aeroplane was accepted. The USAAC ordered 300 examples of the (Basic Trainer) BT-13 – as they named the Vultee trainer – with delivery of the first example scheduled for June 1940.
Finally, there were more than 7,000 examples of the BT-13A and further 1,125 of the BT-13B manufactured in total. The only difference between both variants was the electrical system – 12V installation was used with the A version, and 24V with the other one.
In addition, there was also a variant called BT-15, powered by a Wright R-975 engine. It was developed due to the high demand for the R-985 and a total of 1,263 examples of that aircraft were made. In addition, the US Navy also ordered approximately 1,800 aircraft of the BT-13A/B versions, designating them SNV-1 and SNV-2, respectively. The aeroplane was also bought by several air forces all over the world, including Argentina, China, Egypt, France, Indonesia or Israel.
The Vultee BT-13 was officially named Valiant but quickly was nicknamed and widely known as ´Vibrator´. There are several explanations of this name existing, nevertheless, all of them are pointing that certain elements of the aircraft had a tendency to vibrate in flight or on the ground.
The Valiant was used in the second, out of three, stage of pilot training. Primary course was done with PT-13/17/19 biplanes, then there was the BT-13 – a complex aircraft with more powerful engine, two-position pitch propeller, landing flaps and radio. However, it still had a fixed landing gear and could not perform advanced aerobatic manoeuvres.
At the end of the Second World War, both US Navy and the Army considered the BT-13 as obsolete. In the course of year 1945, the aeroplane was replaced by AT-6 and T-6 trainers. Most of the existing aircraft were sold to private owners that often used them just as a source of reliable radial engines, while scrapping the airframes.
The aircraft pictured above was manufactured in 1942 for the USAAC and served there with a number 42-89948. After being retired from military service, the aeroplane was sold to a private owner and registered as N71502. Since 2015, this Vultee BT-13B is being based in Germany and is the sole airworthy Valiant in Europe.