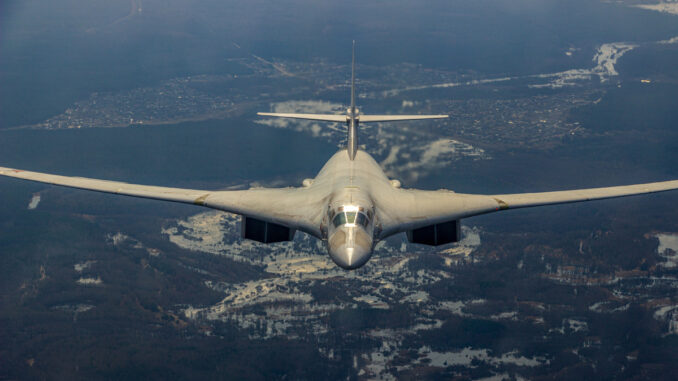 In Russia, preparations for commemorate the 76th anniversary of the Victory in Europe Day have entered its final phase. The final week before the nationwide celebrations was marked by several rehearsal flights, performed over the biggest cities of the Russian Federation.
On 28th and 30th April, the Baltic Fleet aviation made two training flights over Kaliningrad. About 20 aircraft participated in each of those two rehearsals: Su-27 and Su-30SM fighters, Su-24M bombers, Mi-24 attack helicopters and Mi-8 transport helicopters. The flypast formation also included two types of naval helicopters, being used in anti-submarine and SAR missions – Ka-27PL and Ka-27PS.
The Baltic Fleet aircraft took-off from Chkalovsk, Chernyakhovsk and Donskoye airfields, all of them being located in Kaliningrad area. The rehearsal, similarly as the parade, was performed at altitudes between 150 and 300 metres, with speed from 160 kph to 550 kph. The final rehearsal before the Victory Day flypast is planned for 7th May.
An intense flying exercise is also ongoing over the ´northern capital´. One of the final rehearsal flights over St. Petersburg was completed on 28th April with participation of thirty aircraft. They took-off from several airfields of Leningrad area – Petrozavodsk and Khotilovo (tactical aviation), Pushkino (army aviation helicopters) and Levashovo (transport aviation).
A mixed aviation group intended to perform over the Neva river includes Mi-26, Mi-8, Mi-28 and Ka-52 helicopters; An-26, An-12 and Tu-134 transport aeroplanes; as well as MiG-31, Su-35S and Su-34 combat jets.
On 28th April, the final rehearsal of the main aviation group – intended to perform the flypast over the Red Square in Moscow – took place at Alabino training ground. As the press service of the Russian MoD informed, there was nine training flights performed by this mixed group until today, and now both crews and aircraft are ready to participate in the central celebrations of the Victory Day.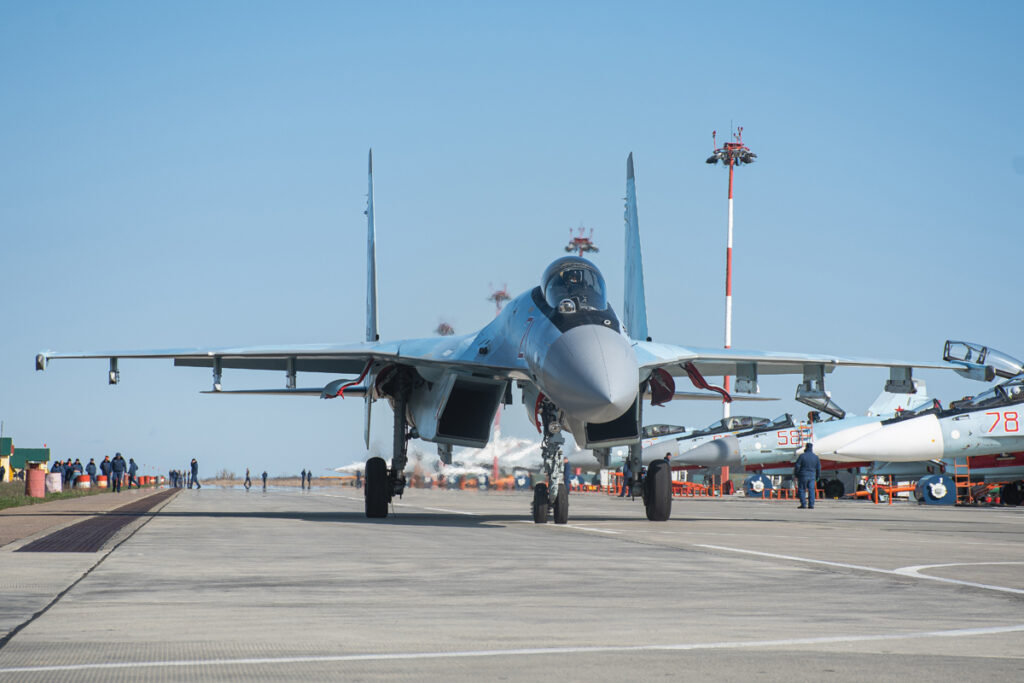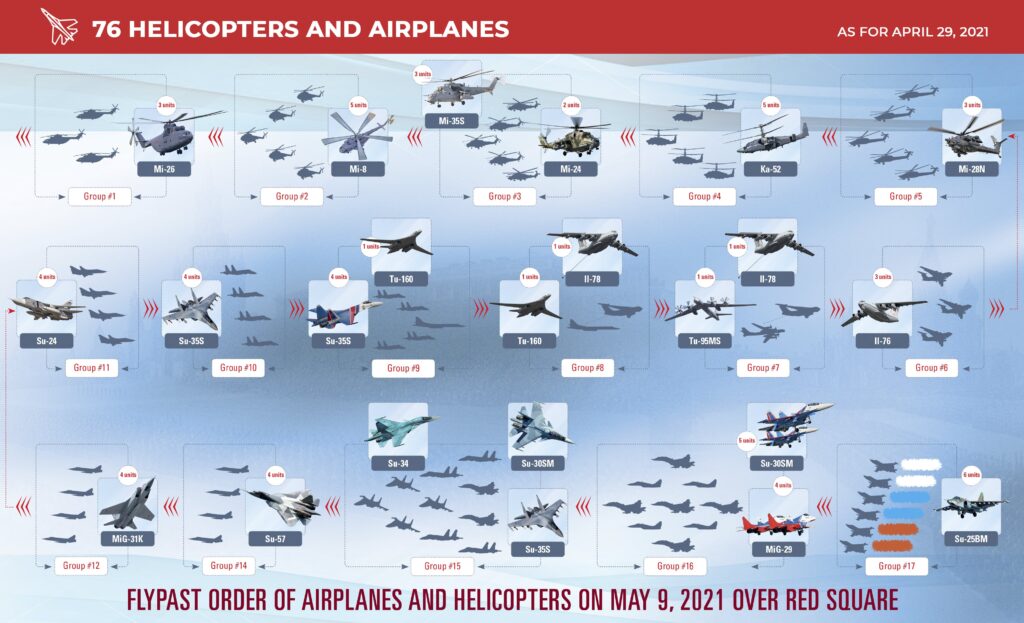 According to the official press release, this year´s flypast will include one debut – for the first time, a formation including a Tu-160 strategic bomber in a close escort of Su-35S fighters should appear in the sky over Moscow. The aviation part of the Victory Parade will be opened by three Mi-26 heavy-lift helicopters, followed by other Russian rotorcraft: Mi-8, Mi-35, Ka-52 and aerobatic team ´Berkuts´ flying their Mi-28N attack helicopters.
In addition, the aviation component of the Red Square parade will include MiG-31K and Su-57 fighters, Tu-160 and Tu-95MS strategic bombers, Su-35 fighter-bombers, Su-24M bombers and Il-76 transport aircraft. Those combat jets will be accompanied by ´Russian Knights´ and ´Swifts´ aerobatic teams, flying together in a joint ´Kubinka diamond´ formation. As in 2020, the parade will be closed by a formation of Su-25 ground support aircraft, creating Russian national flag from coloured smoke trails.
The flypast on 9th May is planned to be performed at altitudes from 180 to 550 metres, with speed varying from 200 kph to 550 kph. As usual, the Victory Day celebrations in Moscow and St. Petersburg will be broadcasted live by Russian television channels, on the internet and via YouTube service.
As usual, the Victory in Europe Day will be also celebrated by Russian contingent deployed to Syria. A parade will be organized at Khmeimim air base – and will also include a flypast of mixed formation of the Russian and Syrian aircraft.
According to the Russian MoD, that formation should include Russian Ka-52, Mi-35 and Mi-8AMTSh helicopters; Syrian Mi-24 and Gazelle rotorcraft; An-26, Il-20, An-72 and Il-76 aeroplanes; as well as MiG-29, Su-34, Su-24M and Su-35S combat jets. The highlight of the ground part of the parade will be a T-34 tank, formerly belonging to the Syrian army and recently being fully renovated to operational condition by Russian engineers.
A few days ago, the Russian MoD launched a special web service, with all information related to the 2021 edition of the Victory Day celebrations in Moscow and other cities all over the country. All details regarding the aviation flypast, ground parade and vehicles that could be spotted during the parade can be find there easily (this service is available in English).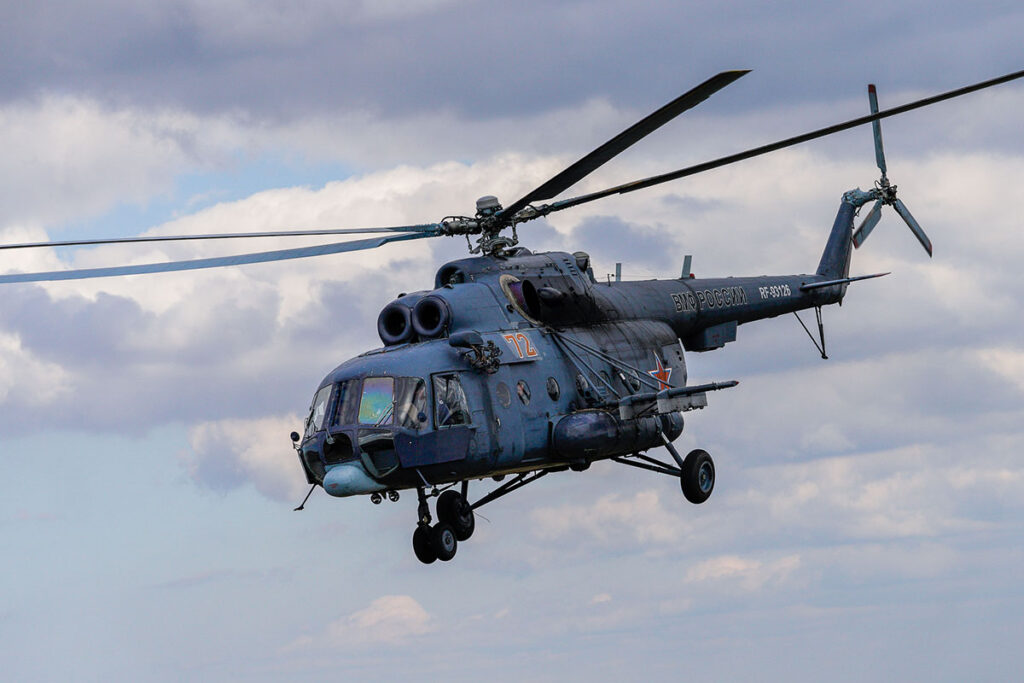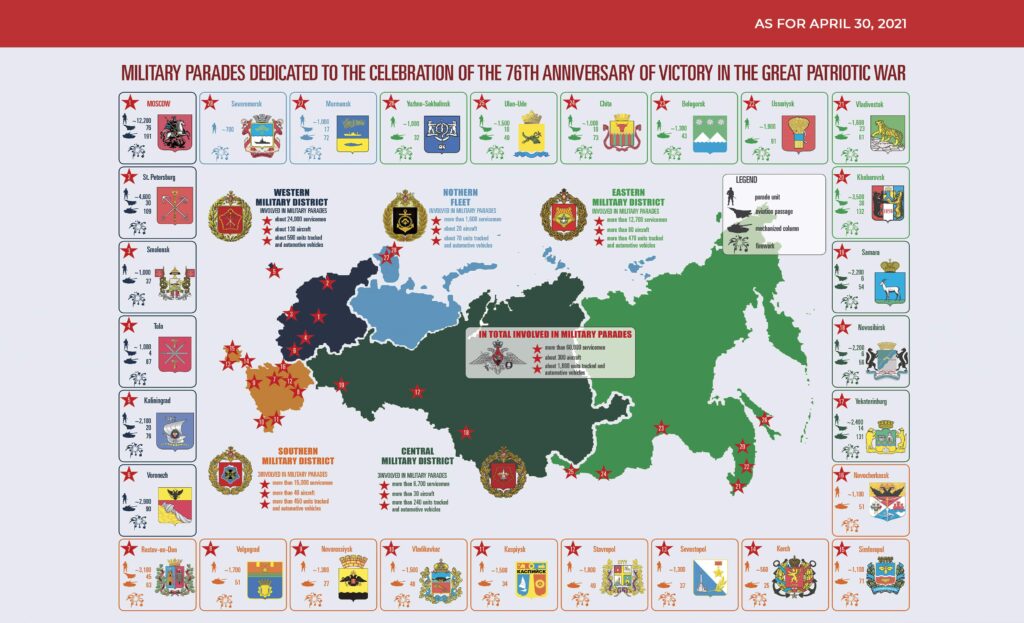 All photos and infographics © Russian MoD (Министерство обороны Российской Федерации), used under the Creative Commons Attribution 4.0 license. MoD press information were used.