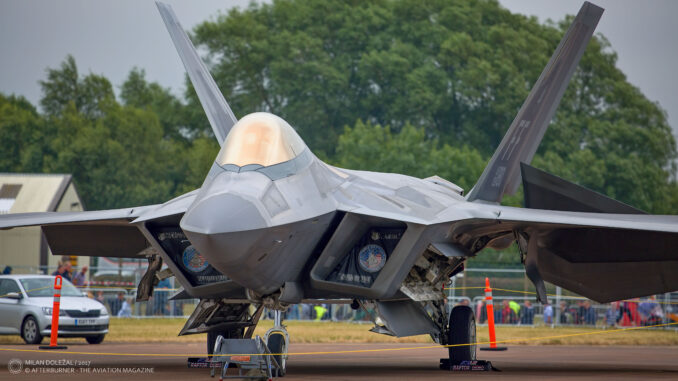 The F-22 fighter aircraft was unveiled during an official roll out ceremony at Marietta, Georgia.
The roots of an Advanced Tactical Fighter (ATF) programme go back to 1981. At that time, the USAF issued an initial requirement for future air-superiority fighter, codenamed ´Senior Sky´. This aircraft was intended not only as a mere replacement for F-15 Eagle and F-16 Fighting Falcon but, above all, had to ward off the threat caused by Su-27, MiG-29 and other Soviet developments.
The US next-generation fighter had to be designed with use of the latest technologies, including those still being in development. Stealth technology, advanced and powerful engine, sophisticated flight control system and STOL characteristics were among the main points of the abovementioned requirements.
There were as much as seven aviation companies being interested in development of a new fighter for the USAF. In 1986, Lockheed and Northrop were chosen for the programme and entered the 50-month-long demonstration and validation phase. In conclusion, two technology demonstrator prototypes – YF-22 and YF-23, respectively – were made and presented to the military authorities.
Regrettably for the USAF, the initial requirements turned out to be either extremely expensive or impossible to meet. As a result, several options and features had to be reduced or deleted. That included the STOL capability, side-looking radars, downgrading an infra-red system and many others.
The YF-23 performed its maiden flight on 23rd August 1990, the YF-22 followed on 29th September of the same year. After a series of demonstration flights, on 23rd April 1999, the YF-22 concept created by Lockheed and Pratt & Whitney, was announced the winner. It was the engine with thrust vectoring nozzles, manoeuvrability and lower final cost that tipped the scale for Lockheed. Moreover, the YF-22 was merely considered less adventurous one.
This decision allowed Lockheed Martin Aeronautics to launch Engineering & Manufacturing Development (EMD) stage, aiming for manufacturing a pre-serial prototype. On 9th April 1997, the first F-22 EMD aircraft, carrying a tail number 4001, was officially unveiled at Dobbins Air Reserve Base in Marietta, Georgia.
Roll out of the first F-22 was a special day for all companies involved in the programme. Although the project was led by a consortium established by Lockheed Martin, Boeing Defense, Space & Security and Pratt & Whitney, there were more than 1,000 contractors and suppliers from 46 states assigned to manufacture the new US fighter.
On 7th September 1997, the ´4001´ successfully performed its maiden flight. The F-22 Raptor, as the aircraft was officially named, was ready for serial production.
Initially, yet in 1985, the USAF aimed to acquire as much as 750 next generation fighters. However, this meant a cost of more than 25 billion USD just for the aircraft, excluding the development, implementation and training cost. Such amount was unacceptable for politics and resulted in several cuts – the number of aircraft was first reduced to 648, then to 339 and further to 277. Finally, only 187 operational aircraft were manufactured until 2011 (excluding the pre-serial, EMD fighters), when their production was ceased.
Such reductions, pioneering technologies and internal political tensions not only caused several delays in production of F-22 fighters but also resulted in overspending. An estimated cost of a single aircraft was approximately 138 million USD, while the total cost of AFT programme exceeded 65 billion USD.
However, unlike other US-made fighters, the manufacturer was not able to lower the cost per aircraft by offering them for any foreign air forces. Selling F-22 abroad was banned by the US federal law, in order to protect its advanced technologies and equipment.
In 2017, the US military authorities once again stated, that there are no plans to restart serial production of Raptor, despite the new defence threats. Nevertheless, the existing fleet of F-22 is well maintained and kept in operational condition. All aircraft underwent through Structural Repair Programme that extended their service life by another 8,000 flying hours. And their Mid-Life Upgrade is planned to be launched in 2024.
Cover photo by Milan Doležal (F-22 Raptor Demo Team of the USAF, static exhibition at RIAT 2017)