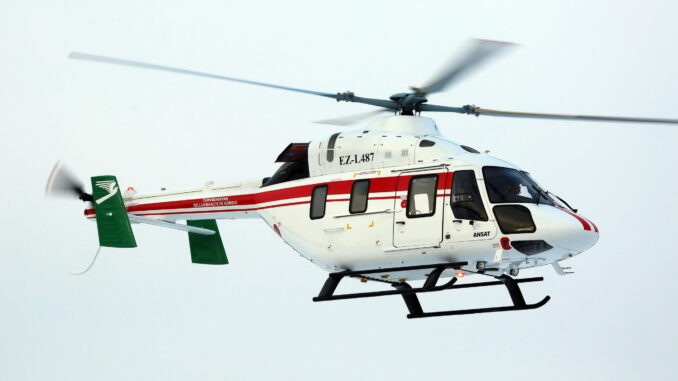 Rostec has recently informed about the delivery of two medical helicopters for Turkmenistan. As a result of an agreement signed on 31st March 2020, an Ansat rotorcraft and Mi-17-1V were supplied by Kazan Helicopters company (being a part of Russian Helicopters holding and Rostec corporation).
In March 2020, and following the resolution of the President of Turkmenistan, Türkmenhowaýollary – Civil Aviation agency of Turkmenistan (commonly referred as Turkmenistan Airlines), ordered two medical helicopters, intended for emergency medical service.
Details of this contract were then discussed on 6th April 2020, during a videoconference held between Türkmenhowaýollary and representatives of PJSC Kazan Helicopters. The parties have agreed on delivery of those two rotorcraft, their necessary equipment and features, after-sale service and spare parts delivery, as well as training of flying nad maintenance personnel. The delivery date of Ansat and Mi-17-1V was then set for March 2021.
According to the manufacturer, both helicopters were delivered in its multipurpose variant enhanced by medical modules and equipment, including an additional anti-burn sets. Both rotorcraft are able to provide the first and emergency medical assistance directly on the spot.
Onboard medical equipment of the Ansat contains, among others, a digital defibrillator and a ventilator that are used in cardiopulmonary resuscitation, a drainage aspirator, a video laryngoscope, endotracheal tubes and variety of splints.
The Mi-17-1V is sometimes being referred as a ´flying hospital´. Apart from emergency medical services this rotorcraft can be also used for evacuation purposes and is able to carry up to 12 injured persons. The helicopter delivered to Turkmenistan has additional fuel tanks extending its operational range, a SLG-300 hoist system, a landing and search light and external sling which can carry large cargo up to 4 tonnes.
In addition, within the framework of the purchase contract, approximately thirty engineers and pilots from Turkmenistan attended a course in the Aviation Training Centre of Kazan Helicopters. 
The delivered Ansat helicopter was inspected by Gurbanguly Berdimuhamedov, the President of Turkmenistan and Minister of Health Protection and Medical Industry Nurmuhammet Amannepesov, during an official event held on 8th April in Ashgabat, the capital of Turkmenistan. The presidential inspection was broadly commented by domestic media and reported as an evidence of development of healthcare system.
Both recently delivered helicopters would be operated by the International Burn Centre, a new medical facility opened last year in Ashgabat. However, if necessary, they will be also at the disposal of the State Commission for Emergency Situations of Turkmenistan. On daily basis, the Ansat helicopter is intended to secure HEMS duties for the capital city and its vicinity.
According to Turkmenistan media, the president has instructed Amannepesov and Dovran Saburov (the chairman of Turkmenistan Airlines) to study the possibility of acquiring another medical helicopters, to provide HEMS duties in other regions of the country (welaýatlar). This is supposed to happen if the Ansat and Mi-17  service would be examined and proved effective.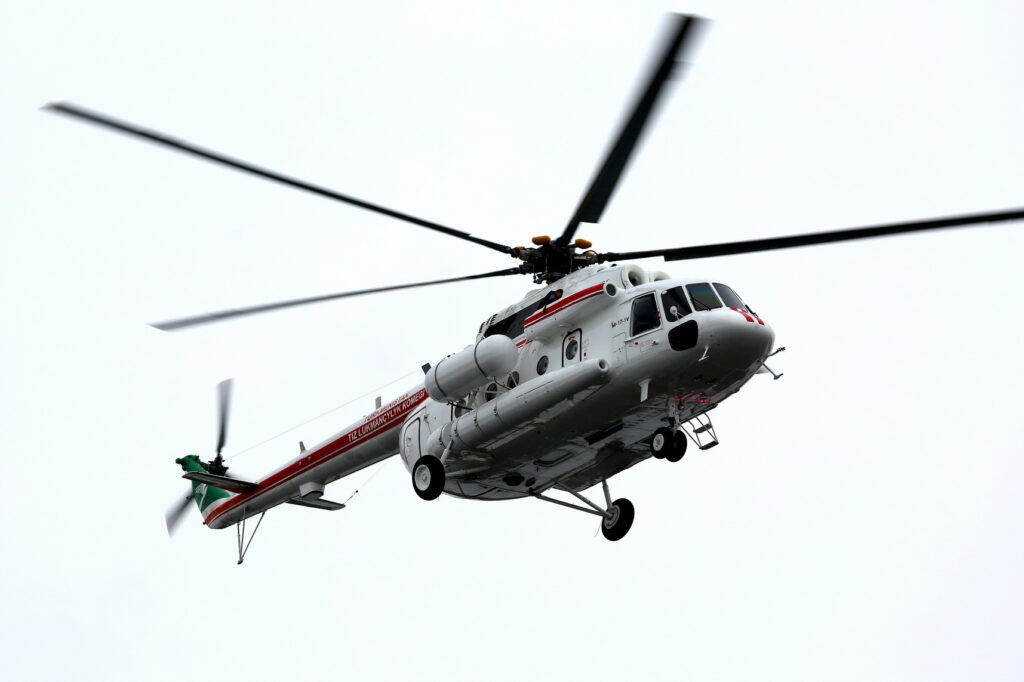 Photos courtesy of JSC "Russian Helicopters" / Rostec State Corporation. "Russian Helicopters" press materials were used.