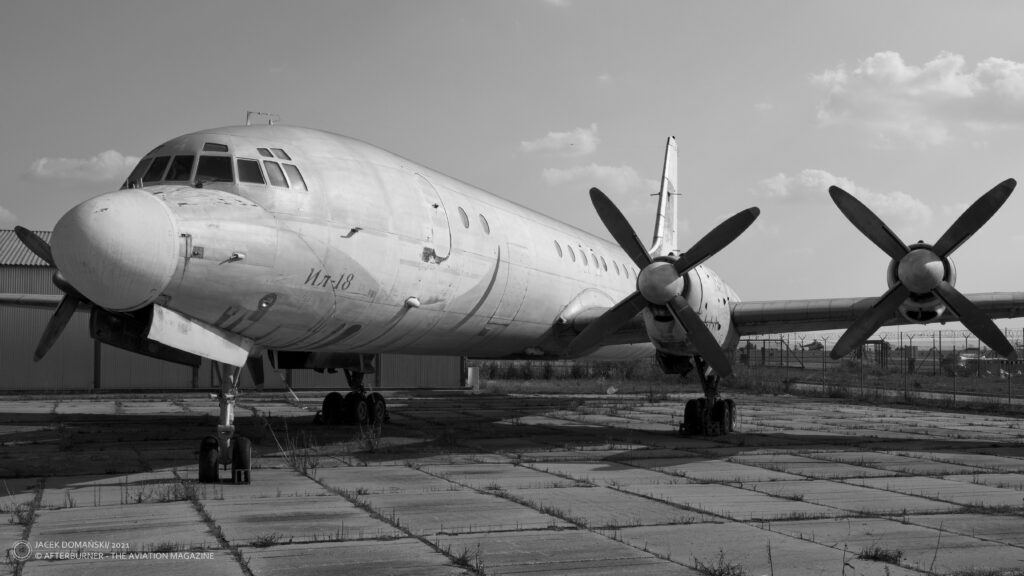 Ilyushin Il-18B (c/n 189001604, OK-NAA, formerly operated by Československé aerolinie), exhibited at Letecké muzeum Kbely (Kbely aviation museum), Prague, September 2021.
In the mid-1950s, the piston-powered passenger aircraft were being slowly replaced by faster and more effective turboprop airliners that were able to cover increasing demand for a commercial air travel. It was no different in the Soviet Union, where the state authorities realized that both – extension of the current civil transport fleet and introducing some new aircraft were needed.
In reference to that, in December of 1955 the Council of Ministers of the Soviet Union issued a few directives focused, inter alia, on development of new turboprop engines and transport aircraft. The task of creating modern powerplant for new airliners was assigned to Kuznetsov and Ivchenko design bureaus and resulted in building NK-4 and AI-20 engines, respectively.
Aircraft construction bureaus went their own ways and proposed three new designs, based on three different concepts. Ilyushin presented a preliminary design of a conventional airliner, powered by four turboprop engines. Antonov used already existing project of twin-turboprop military aircraft, known as An-8, and turned it to a four-engine airliner. The most revolutionary design was proposed by Tupolev, who used a Tu-16 heavy bomber as a base for creating the first Soviet jet-powered airliner, designated Tu-104.
Ilyushin´s project was approved by the Council on 25th May 1956 and officially designated as Il-18. In September of the same year, works on the first prototype have began. Initially, both Ilyushin and Antonov preferred the NK-4 engine, to power their new airliners. Nevertheless, the prototype of Il-18 was also built in view of the possible use of Ivchenko engines.
In June of 1957, the new airliner was, for the first time, officially presented to party and government leaders during a static exhibition. The aeroplane was well received and following the suggestion of the Moscow City Committee, was given a trade name of ´Moscow´.
On 4th July 1957, the first prototype of Il-18 performed its maiden flight on a route from Moscow to Zhukovsky. Shortly thereafter, the aircraft was approved for serial production and the first series was officially designated Il-18A.
However, the performance of the NK-4 engines was considered as not satisfactory. After some additional flying tests, the decision was made to replace them with the AI-20s. The Ivchenko´s engines proved to be more reliable and were eventually chosen to be the only ones used in serial manufactured airliners, known as Il-18B.
On 20th April 1959, two Il-18s performed their first operational passenger flights on routes from Moscow to Adler and Moscow to Almaty. Soon thereafter it was widely adopted by Aeroflot and other airline operators within the Eastern Bloc countries.
The Ilyushin Il-18 was the first Soviet passenger aeroplane equipped with an automatic approach system and a weather radar. The aircraft had a pressurized fuselage with 89 seats and payload capacity of 12 tons (shortly after increased to 14 tons). The Il-18 proved to be a unique design, known by its durability and usability. And it also was the first Soviet airliner designed from a scratch as passenger transport aeroplane, not converted from an earlier military design.
More than one hundred aircraft of that type were acquired by foreign operators from all over the world. Military variants of the airliner were used by approximately fifteen air forces for VIP transport, reconnaissance and electronic warfare. There were more than twenty-five world aviation records set by that aircraft, in flight range, altitude and payload categories.
A variety of specialized variants were also created, including a flying command post, telemetry relay aircraft and engine/equipment test bed aeroplane. Among them, there was also a specialized version designed to operate in harsh Arctic conditions. On 15th December 1961, the first Il-18 flight to Antarctica began, lasting ten days and covering a route via Delhi, Jakarta, Sydney to Mirny station. It was so successful that for many years all flights to Antarctica were operated by the Ilyushin Il-18 as a rule. In 1958, the design of the Ilyushin Il-18 was awarded the Grand Prix at the Brussels World Fair.
Most of the Il-18s were retired from active service until the mid-1980s, usually replaced by Il-62 jet airliners. Nevertheless, single examples were reported to be operational still in the 2010s.
The Czechoslovak state airlines (Československé aerolinie, ČSA) acquired their first two Il-18s in January of 1960. Additional two aircraft were added to the Czechoslovak fleet in May of the same year and finally ČSA operated twelve aeroplanes of that type, in B, V, D and E variants. They were used for long internal routes (Prague to Bratislava, Košice and Poprad), African and Middle East routes, as well as the longest ČSA route at that time, to Havana (with two stopovers in Ireland and Canada). The last Czechoslovak Il-18 was retired only in 1990.
Although the Il-18 was usually considered a reliable aircraft, the Czechoslovak ones had a high accident ratio. Five out of twelve aeroplanes were either damaged or lost in crashes, collisions or even a probable terrorist act.
The pictured Il-18B was the first aircraft of that type delivered to Czechoslovakia. It was also the only one not purchased as a new one, as was previously operated by Aeroflot (CCCP-75703). In ČSA service, the airliner was registered as OK-NAA and named ´Ostrava´ (later re-named to ´Piešťany´).
In January of 1977, that Il-18 collided on the ground with Tu-134A at Prague airport and was withdrawn from active service. In 1979 it was handed over to aviation museum in Kbely and stored there, at the area of military airfield, for years. Only in 2017, the airliner was moved to the main exhibition area, available for all regular visitors of the museum.