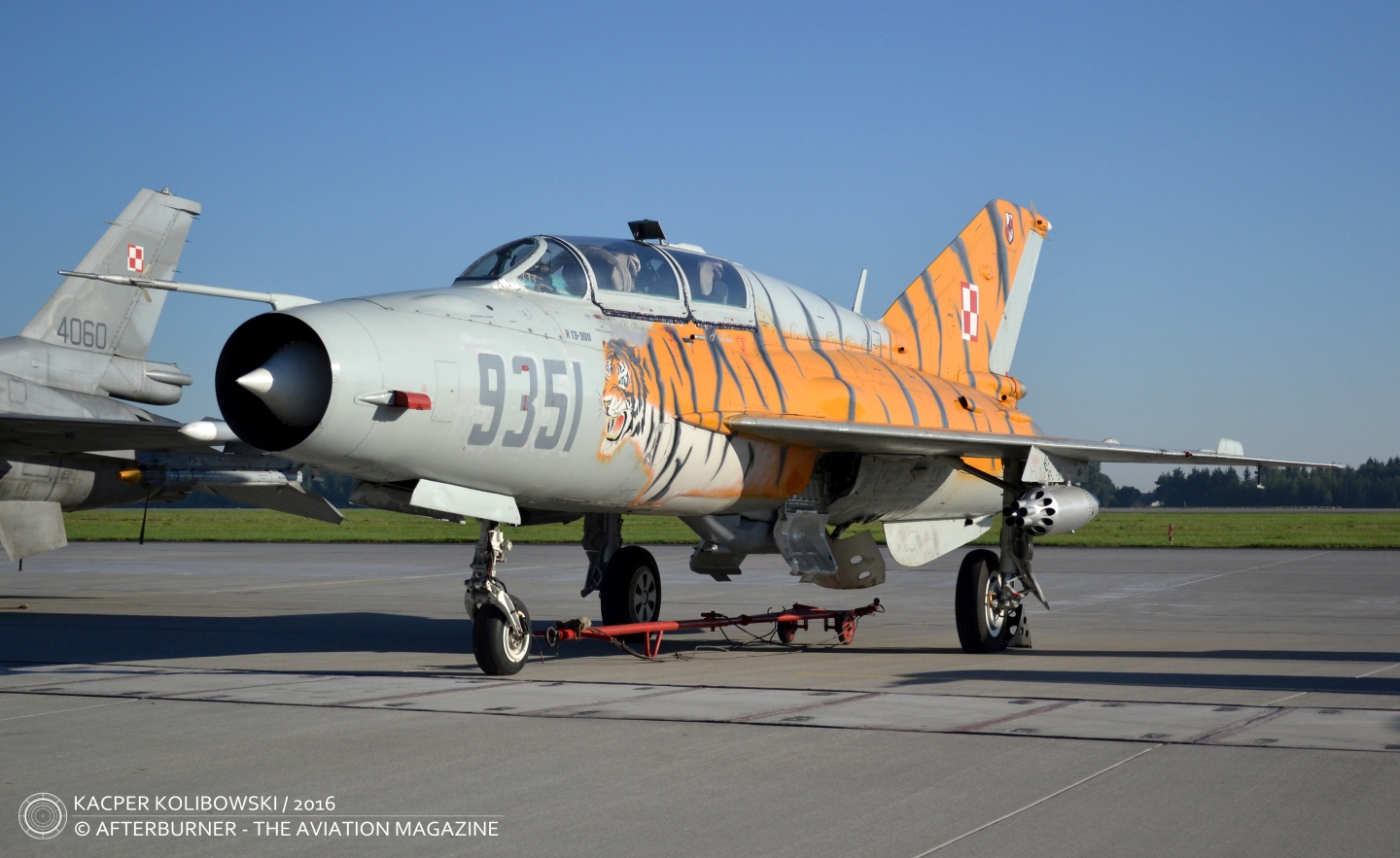 Mikoyan Gurevich MiG-21UM (´Mongol-B´) ´9351´, Polish Air Force, exhibited at the static display during a joint event of the 10th anniversary of F-16 service in the Polish Air Force and the Polish Air Force Day, Krzesiny Air Base, 2016.
MiG-21 (NATO reporting name Fishbed or Mongol – for training, two seat variants of the aeroplane) is definitely one of the most famous supersonic jet fighters/interceptors designed by Mikoyan and Gurevich Design Bureau. The aircraft was created in the mid-1950, in the team led by deputy chief constructor Anatoly Grigorievich Brunov (since 1957, chief constructor for fighter aircraft).
Its distinctive shape and characteristic resulted in several nicknames, among them the most popular were балалайка (balalaika, music instrument) or весёлый (merry/cheerful) in Russian, ´ Ołówek´ (pencil) or ´Szybki´ (fast) in Polish or ´Én Bạc´ (silver swallow) in Vietnamese.
´Fishbed´ has performed its maiden flight on 16th June 1956 and three years later entered into serial production, which lasted until 1987. Besides of being manufactured in the USSR, MiG-21s were also being produced under license in Czechoslovakia and India. China in turn, yet until 2017 has been producing a copy of MiG aeroplane designated J-7 (F-7 for export variant). Likewise MiG-15 (Lim-2) or MiG-17 (Lim-5 / Lim-6), also MiG-21 was planned to be manufactured in Poland as Lim-7, but finally it didn't happen. In total about 18,000 examples of MiG-21 have been produced. This jet fighter was in the inventory of over 50 air forces all over the world, including not only the former Eastern Bloc but also several countries in Africa and Asia.
Between 1961 and 1980, Poland has bought 583 MiG-21s in ten variants – MiG-21F-13, MiG-21PF, MiG-21PFM, MiG-21M, MiG-21R, MiG-21MF, MiG-21bis, MiG-21U, MiG-21US and MiG-21UM. The first combat unit of the Polish Air Force to be equipped with ´Fishbeds´ was the 62nd Fighter Aviation Regiment (62. Pułk Lotnictwa Myśliwskiego) in Poznań, and the first MiG-21F-13 fighters entered into service there in 1963.
It is worth to mention that the abovementioned aviation unit from Poznań, despite a few organizational changes it underwent within the next years, was all the time operating MiG-21s until the final withdrawing of this type from the Polish Air Force.
On 31st December 2003, at 8.00 in the morning, the 3rd Tactical Squadron (3. Eskadra Lotnictwa Taktycznego) – as that unit was then called – finalized its last combat duty task flying with MiG-21bis as a part of the NATO Aerial Defence system. The next day, 1st January 2004, officially marked the end of active service of MiG-21 fighters in Poland, closing a significant 40 years of their duty in the Polish Air Force.
The MiG-21UM '9351' (serial number 516999351) pictured above was delivered to Poland in 1981 and then served in Poznań-Krzesiny air base. In 2003, for the flying display at Radom Air Show, the aircraft received an attractive ´tiger livery´ created by Marcin Rogoziński (who, in recent years, already created or cooperated during making a few other special liveries for Polish military aircraft).
After being withdrawn from active service ´9351´ was preserved at Krzesiny Air Base and can be seen there from time to time during open-doors days or other events organized there. Regrettably, most of them are usually not available for general public.