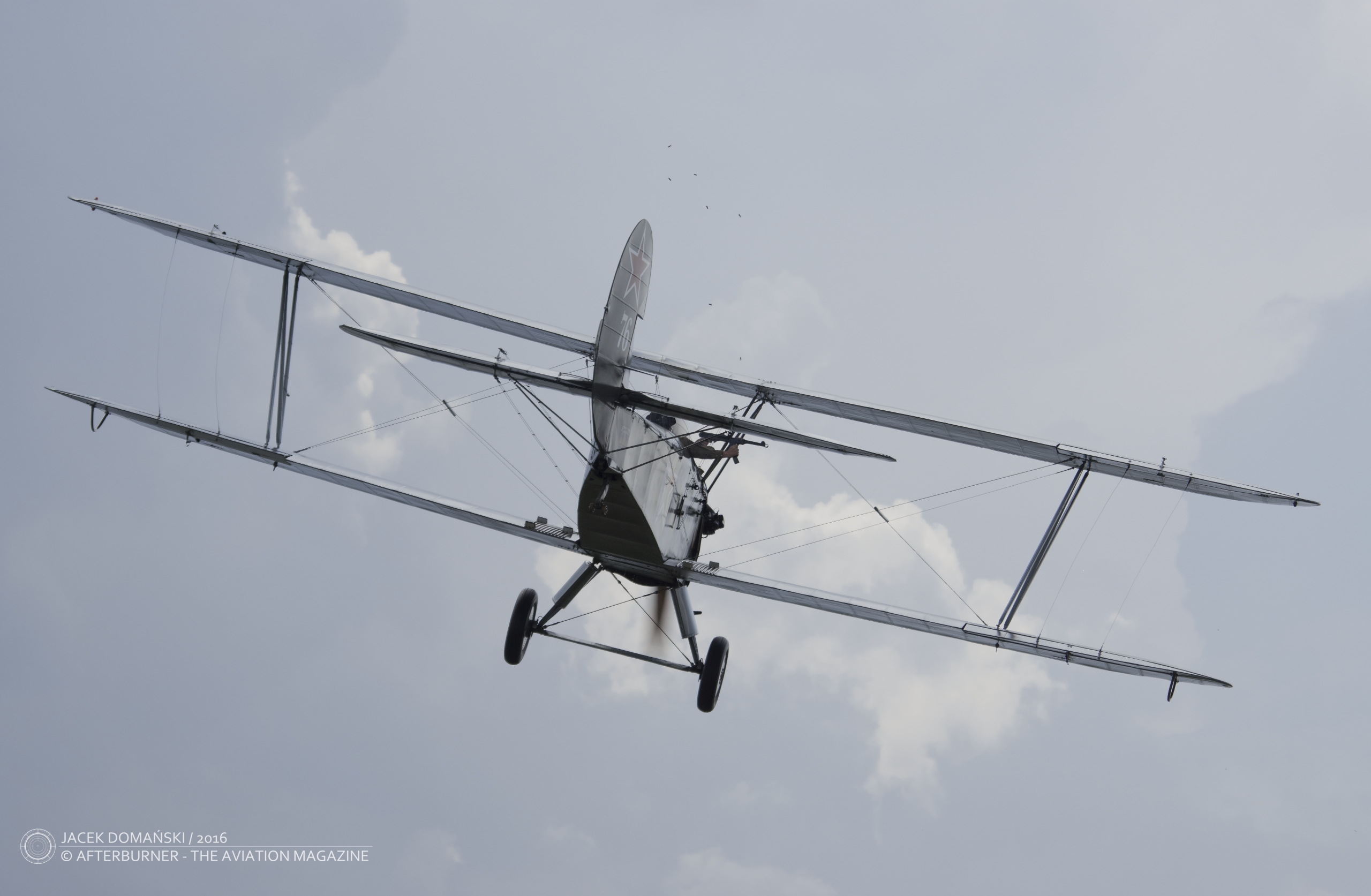 Polikarpov Po-2 (c/n 0076), while performing a flying display during the 2016 edition of Aviatická Pout´ air show, Pardubice, May 2016.
U-2 / Po-2 is one of the most known aircraft ever made. Introduced in 1929, under the designation U-2 (´U´ stands for учебный – training) it shortly became an icon of Soviet training and liaison aviation. Manufactured until 1959, including the license production in Poland as CSS-13, it finally became one of the most produced aircraft in history with more than 40,000 aeroplanes built. Most probably, it is also the most produced biplane ever made.
The idea behind the creation of U-2 was to design a simple, reliable and versatile aircraft, that could be used in the initial pilot training, aeroclubs, agricultural aviation and as a military liaison aviation. Nikolai Polikarpov, a Soviet aircraft constructor and engineer, managed to create the aircraft that soon turned into a legend of aviation.
With the outbreak of the World War II, the Po-2s were also widely used as ground-attack aircraft, night bombers, aerial reconnaissance and psychological warfare aeroplanes. One of the most advantages of Polikarpov´s biplane was the exceptional STOL capability, allowing the aircraft to be operating from ad hoc arranged airfields behind the enemy lines.
When Po-2s started to be operated by the 588th Night Bomber Regiment, they were rapidly catapulting into fame as a night bombers. The regiment, composed entirely of woman pilots and nicknamed ´the Night Witches´ (Ночные Ведьмы), completed more than 1,000 missions of low-altitude night raids on German military facilities.
During its extensive service, the aircraft received several nicknames, referring to its flying characteristics, engine sound and performed tasks: ´кукурузник´ (dust cropper) in Russia / Soviet Union, ´pociak´ in Poland, ´hermosaha´ (nerve saw) in Finland, ´Nähmaschine´ (sewing machine) or ´Kaffeemuhle´ (coffee grinder) in German – just mentioning the most famous ones.
The pictured Po-2 was manufactured in the Soviet Union in 1937 and was used in combat during the World War II. After the war, in 1947, this biplane was transferred to the Yugoslav Air Force, together with other eighty Po-2s. In Yugoslavia, this aircraft was operated until 1975, firstly by the air force and then by aeroclubs. The original Shvetsov engine was replaced by more powered, inline and Czech-manufactured Walter 6-III.
Between 2004 and 2005, the aircraft was restored to the airworthy condition by Koroški Aeroklub, including assembly of the original engine and Yugoslav military painting. For the first time it flew again in 2005 and then participated in several air shows and other military and aviation events until 2014.
In 2014 this Po-2 was bought by Letecké Muzeum Metoděje Vlacha (Metoděj Vlach Aviation Museum) in Mladá Boleslav. The aircraft livery was then changed to the original Soviet markings from the World War II era and a few other adjustments – making its look yet more original – were made. Since that time, the Po-2 is again a frequent participant of air shows in Central Europe. In 2018, this veteran biplane accompanied the Caudron G.3 replica in its remarkable journey to France and back.