On Saturday, 30th April 2022, the Serbian Ministry of Defence held a public show at ´Colonel Pilot Milenko Pavlović´ air force base in Batajnica. According to the official releases, the demonstration was organized to show the capabilities of the Serbian armed forces to general public, as well as allow Serbian citizens to get acquainted with lately purchased military equipment.
The show at Batajnica included both static and dynamic displays. The latter was performed by the Serbian Air Force and Air Defence, together with the 72nd Special Operations Brigade and the 63rd Parachute Brigade.
The dynamic display began with combat reconnaissance, done by BOV KIV and Zastava NTV armoured vehicles. Then Mi-35 attack helicopters were called in to provide close air support for main ground forces.
During the entire display, the army units were supported by Serbian helicopters, including – apart from the abovementioned Mi-35 – H-145, ´Gama´ and Mi-17. They allowed the special forces to arrive at the scene, supported their operations and finally provided medical evacuation of injured personnel.
A formation of G-4 Super Galeb and J-22 Orao aircraft performed an assault display, attacking ground targets of the mock enemy. They were supported by MiG-29 aircraft that also made a separate demonstration during the SHIELD 2022 show.
The dynamic display was concluded with a parachute jump performed by members of the 63rd Parachute Brigade. They jumped out of Gazelle helicopter at altitude of 1,200 metres, with flags of the Republic of Serbia and the Serbian Armed Forces.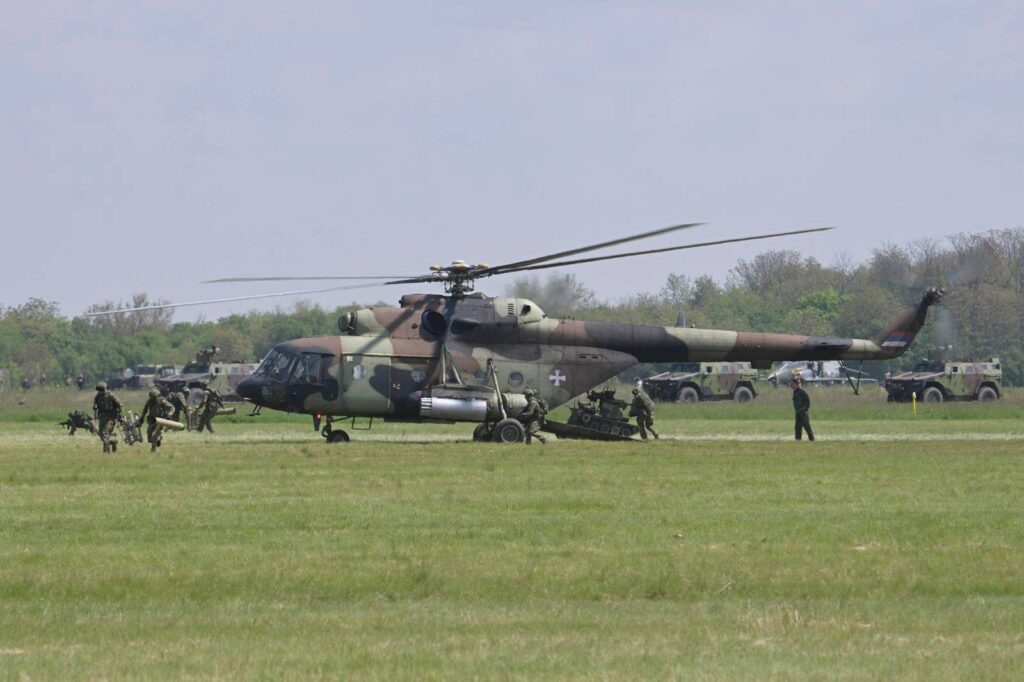 The static displays were available for public between 8:30 and 15:00 hours (local time). Visitors to Batajnica were able to see up close all kinds of military equipment used by the Serbian Armed Forces, including, among others, M-84AB1 and T-72MS tanks, self-propelled howitzers B-52 Nora, as well as Lazar-3 and Milos armoured vehicles.
Curiosity was also aroused by FK-3 air defence missile system that was just recently acquired from China. It is the export variant of the newest Chinese medium- to long-range missile system, known domestically as HQ-22 and manufactured by China Aerospace Science and Industry Corporation.
Missiles used within the HQ-22 system can achieve speed of Mach 6 and range up to 150 kilometres. Serbia is the first, and so far the only, European country that acquired the Chinese air defence system.
Aviation part of the static display included recently acquired, and modernized, MiG-29 fighter aircraft, Mi-35, H-145 and Mi-17 helicopters; as well as UAVs – both Chinese-made CH-92A and domestically-developed ´Pegasus´.
Show at Batajnica was attended by highest representatives of the armed forces and government, including the President of the Republic and Supreme Commander of the Serbian Army Aleksandar Vučić, Deputy Prime Minister and Minister of Defence Nebojša Stefanović and Chief of Staff of the Serbian Army General Milan Mojsilović.
According to official information from the Serbian MoD, more than 1,000 of military personnel was involved in the SHIELD 2022 armed forces display. They have presented approximately 60 aircraft and 300 examples of various vehicles and personal equipment.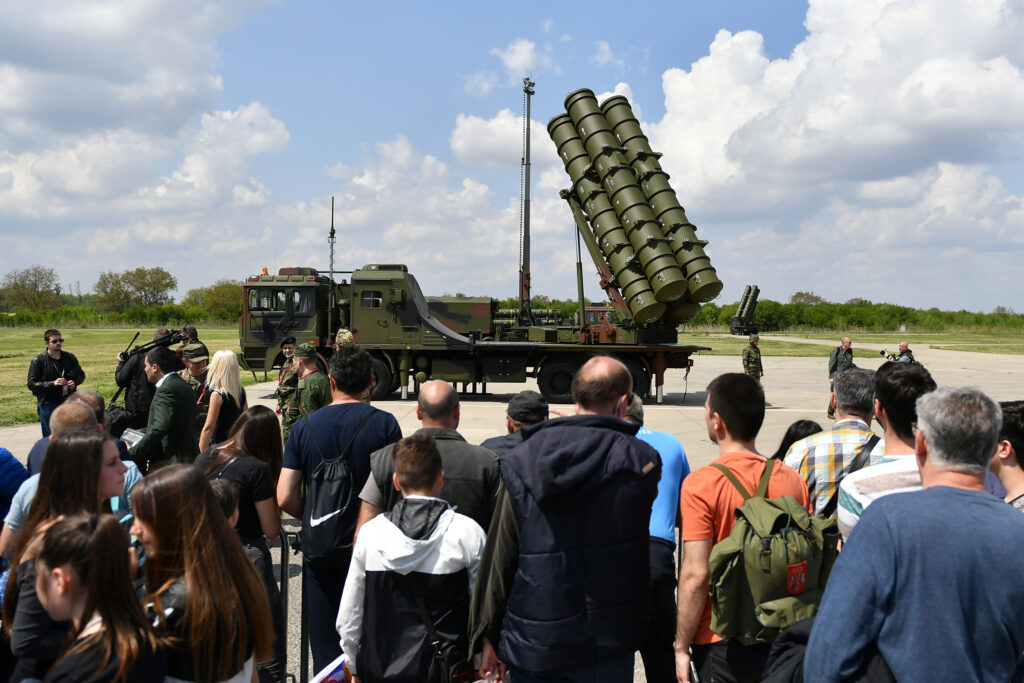 All photos © Министарство одбране Републике Србије / MoD Republic of Serbia. MoD press releases were used.