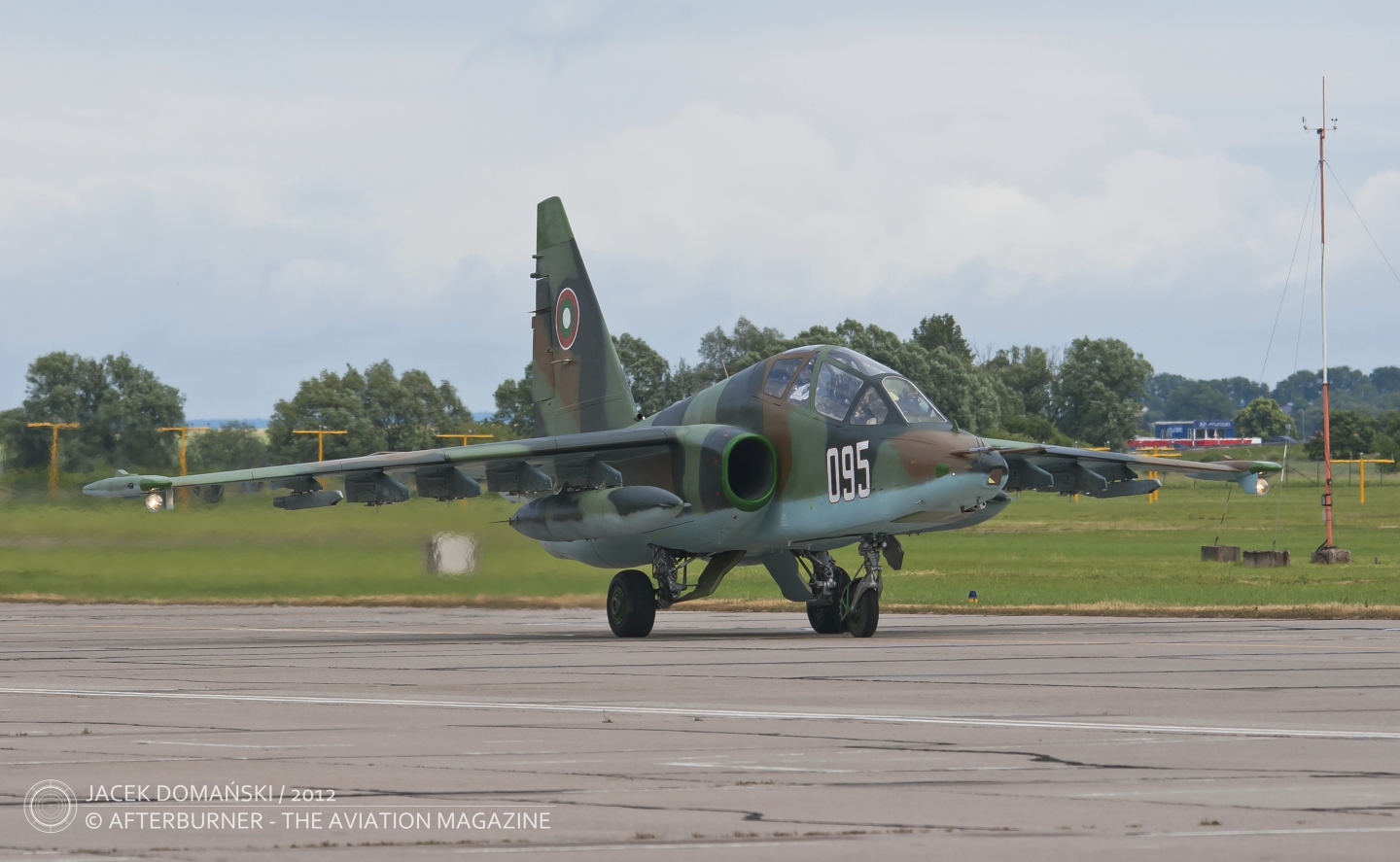 A rare view at the European airshows – the Bulgarian Su-25 UBK – has just arrived at Pardubice, for the static display during the 2012 edition of the Aviation Fair air show
The visit of ´095´ aircraft in Pardubice was considered symbolic, as the Su-25s of the Czechoslovak Air Force were stationed at Pardubice air base from 1985 to 1994. It was, most probably, the first visit of this aircraft in Czech Republic since 2000, when all Czech Su-25s were retired.
The Bulgarian Air Force bought the Su-25 close air support aircraft in the 1980s, at the end of the Cold War era. The deliveries started in 1985 and Su-25s replaced the already obsolete MiG-17Fs.
Since 2004, the year Bulgaria joined NATO, the maintenance and repairs of the Sukhoi aircrafts were still more and more complicated, especially that the Su-25 fleet reached the overhaul limit stated by the manufacturer in 2009. The number of airworthy aeroplanes was constantly decreasing and in 2013 ten Su-25s were sold to Georgia as they reached the end of the operational life. The aircrafts were sold as the source of the spare parts; however, the rumours were that they would be refurbished and re-sell to Africa. Especially, that this was exactly Georgia, where the Su-25K production plant was located during the existence of the Soviet Union.
In 2017, the remaining Bulgarian Su-25 were grounded, because of their technical conditions. The several following attempts to make them airworthy again were accompanied by some scandals. Finally, it seems that the general overhaul would be made by the Belarusian 558 Aircraft Repair Plant, for the price of 82.5 million BGN. The repairs are planned to be finished in 2022 and 12 of single-seat Su-25K and 2 two-seat Su-25UBK lifespan would be extended up to another 800 hours. Currently, Bulgaria is the only operator of Su-25 aircraft among the NATO countries.
(AFTERBURNER Photo of the Week – 17/2019)