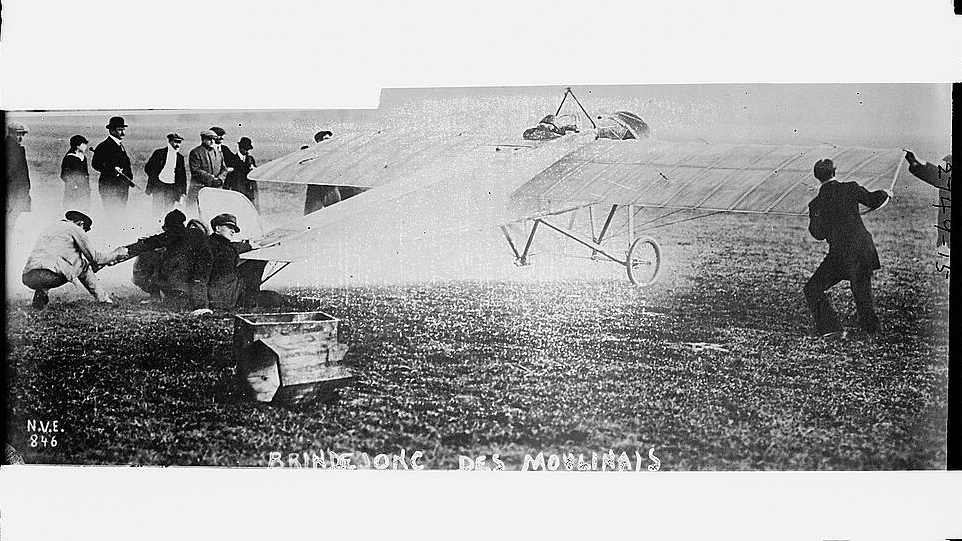 On 10th June 1913, Marcel Brindejonc des Moulinais performed a flight from Paris Villacoublay to Warsaw, in a Morane-Saulnier H monoplane. He covered 1,382 kilometres, winning the Pommery Cup for the longest flight made in one day.
The Pommery Cup (la Coupe Pommery) was an aviation competition held in France between 1910 and 1913, sponsored and organized by the Champagne Pommery company. The price was awarded two times each year, on 30th April and 31st October, for the longest direct flight between two points completed during one day (stopovers allowed).
In 1910, during the first edition of the cup, there were six competitors but none of them completed the flight due to technical reasons. As a consequence, the Pommery Cup was not awarded. The first cup was won, in April of 1911, by Jules Védrines for the flight from Paris to Poitiers, covering 293 km.
The Pommery Cup winning distance from the following years is a perfect evidence of rapid development of aviation. During the second edition of 1911, Védrines improved his initial score by flying a route of 400 km, from Paris to Angoulême. Subsequently, during next editions of the competition, the record distances were 656, 853 and 1,253 kilometres, respectively. The latter was scored in 1912 by Maurice Guillaux on a route from Biarritz to Kollum in the Netherlands.
Marcel Brindejonc des Moulinais bought his first aeroplane in 1909, from the famous aviation pioneer, Alberto Santos-Dumont. Shortly after receiving the pilot´s license, Brindejonc des Moulinais started to participate in aviation competitions, although with varying results.
Until his flight in June of 1913, he already made several attempts to win the Pommery Cup, but none of them was successful. In August of 1912 he was going to fly from Paris to Berlin but failed due to technical issues. Then, in October of the same year, he made another try on route from Berlin to Villacoublay, but this was not enough for a winning score.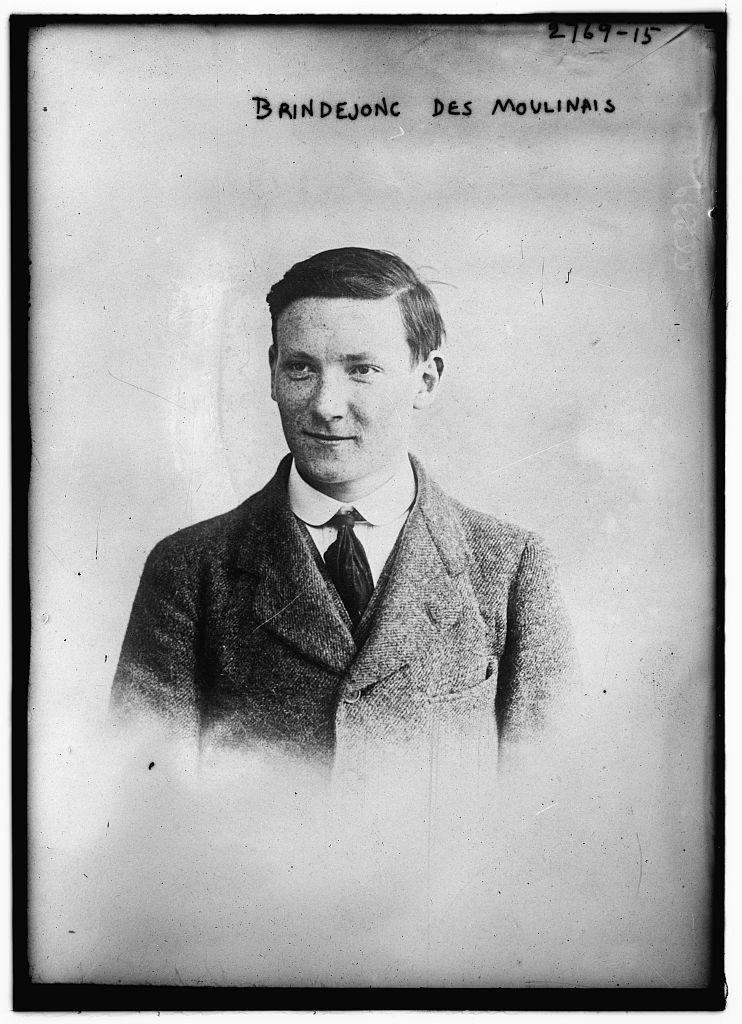 At the spring of 1913, Marcel Brindejonc des Moulinais made three more attempts, flying from Paris to Münster on 29th April and from Bremen to Brussels and then to London on 9th and 11th May, respectively.
Although still not successful enough to win the Pommery Cup, the last flight to London made Brindejonc des Moulinais famous with a records in history in aviation. While approaching Hendon airfield, he flew over the prohibited area of London and then became the first person in history being prosecuted pursuant to the Aerial Navigation Act of 1913.
On 10th June 1913, at 3:37 hours in the morning, Marcel Brindejonc des Moulinais took-off from Paris Villacoublay and 14 hours and 18 minutes later landed in Warsaw, covering 1,382 kilometres. The officially approved distance was calculated by the average speed of 170 kph with stopovers. It is worth to note that Warsaw was not his final destination as next Brindejonc des Moulinais made a circuit trip of the North European cities – including St. Petersburg, Stockholm and Copenhagen – returning to Paris on 2nd July and covering 4,800 kilometres. A pretty good score for a small monoplane, powered by single Gnome engine of 80 hp.
Nevertheless, there was still a chance the record distance set by Brindejonc des Moulinais on 10th June would be broken until October. It almost happened on 23rd August (or 16th September, according to some sources), when Maurice Guillaux completed another flight from Biarritz, this time to a small city of Brackel, in Germany.
This meant a route of 1,386 kilometres, just a few more but certainly enough to beat Brindejonc des Moulinais and win the cup. Nevertheless, something seemed wrong with the route calculations made by Guillaux and an appeal was made by both Marcel Brindejonc des Moulinais and another famous French aviation pioneer, Roland Garros.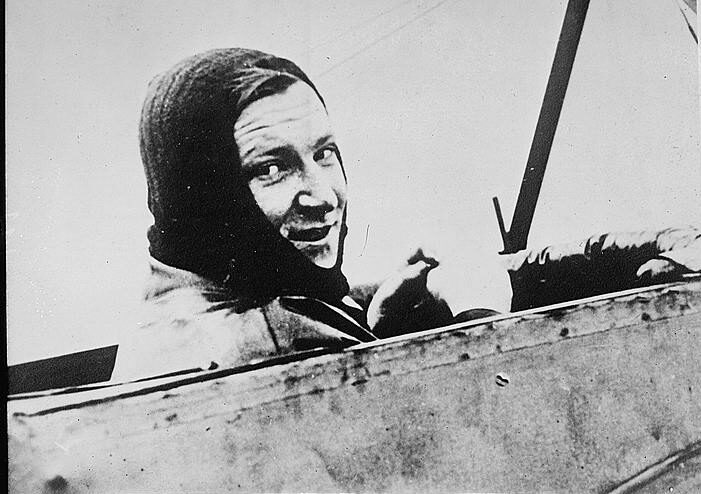 A military-led commission was established and flight record of Maurice Guillaux was carefully examined. It was found that the city he reached was named Brockel, not Brackel – and that meant approximately sixty kilometres shorter route. Guillaux was claiming it was a mere honest mistake, nevertheless he was accused of cheating and excluded from the Pommery Cup for next ten years.
Regrettably, the 2nd edition of the Pommery Cup 1913 was also the final one. Due to increasing political tensions, threat of war and therefore decreasing interest in aviation competition, the 1914 edition was not held.
On 28th July 1914, the Great War broke out. Marcel Brindejonc des Moulinais spent initial month of the war flying the reconnaissance flights. His reports were of high military value. Brindejonc des Moulinais was promoted several times, finally achieving the rank of lieutenant, as well as awarded Croix de Guerre (the War Cross). He died on 18th August 1916 when his aircraft was shot down in the Verdun area.
After the Pommery Cup case, Maurice Guillaux (actually Ernest François Guillaux) left France and moved to Australia. There, he became famous pioneer of post flights, was the first person to fly a seaplane, as well as used to perform flying displays.
Then, he enlisted the Australian armed forces and returned to France with the 1st Australian Division. Regrettably, not much is known about his military service, nevertheless at some point in 1915 Guillaux became a test pilot for the Morane company. On 21st May 1917, new Morane-Saulnier aeroplane he was testing at Villacoublay crashed to the ground and Maurice Guillaux was reported dead on spot.
Cover photo: Brindejonc des Moulinais, shortly before taking-off (Library of Congress, LC-B2- 2749-15)