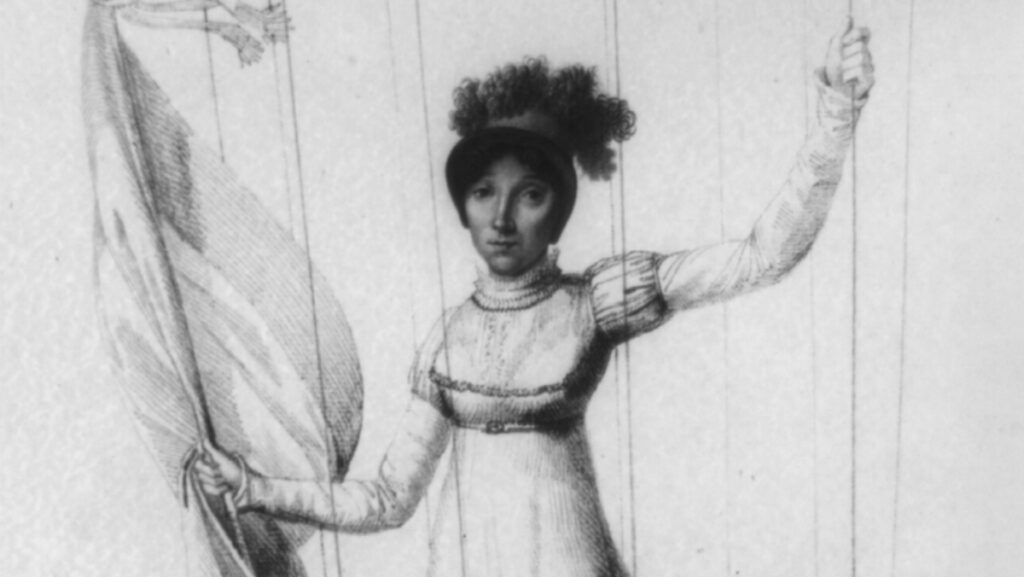 On 18th August 1805, Sophie Blanchard successfully completed her solo balloon flight, therefore becoming the first woman in aviation history to perform a solo flight in an aircraft.
Marie Madeleine Sophie Blanchard (née Armandt) was born on 25th March 1778 in Trois-Canons, in the vicinity of La Rochelle, France. There is no information about her life prior the day she married Jean-Pierre Blanchard, the first professional balloon pilot in the world. What´s more, even the exact date of their marriage is not confirmed – depending on the source, it occurred in 1794, 1797 or 1804.
Sophie was the second wife of Jean-Pierre, who reportedly preferred ballooning over taking care of his first wife Victorie and their four children. Eventually, Blanchard abandoned Victorie – who is known to later die in poverty – and went for a tour across Europe.
In 1784, Jean-Pierre Blanchard performed several balloon demonstration flights in England. On 7th January 1785, he performed the first ever crossing of the English Channel by air (together with John Jeffries). Then, Blanchard visited Belgium, Bohemia, Germany, the Netherlands and Poland. In 1793, he performed the first balloon flight in the Americas, flying from Pennsylvania to New Jersey.
It must be noted that Sophie Blanchard never had a good reputation. According to Mike Walter, an author of ´Powder Puff Derby: Petticoat Pilots and Flying Flappers´ book (Wiley, 2003), she was small, ugly and nervous. Moreover, Sophie was constantly startled, suffering from loud noises and carriages. And maybe that was the reason, she was feeling secure in the air, surrounded by silence.
On 27th December 1804, Sophie Blanchard performed her first balloon flight, together with her husband. The reason Jean-Pierre took her onboard was very mundane – the couple was close to bankruptcy and they thought that woman aviator would attract either spectators or investors, allowing them to get back on their feet again.
As it seemed that mere presence of Sophie in the balloon was not enough, the couple decided she would perform a solo flight. It occurred on 18th August 1805 in Toulouse, and it was the third balloon ascend of Sophie Blanchard. She became the first woman to solo pilot a balloon (and also an aircraft, in general), however not the first woman to fly in one. On 20th May 1784, three French ladies ascended in a tethered balloon in Paris, then, on 4th June 1784, Élisabeth Thible became the first woman to take a flight in an untethered balloon.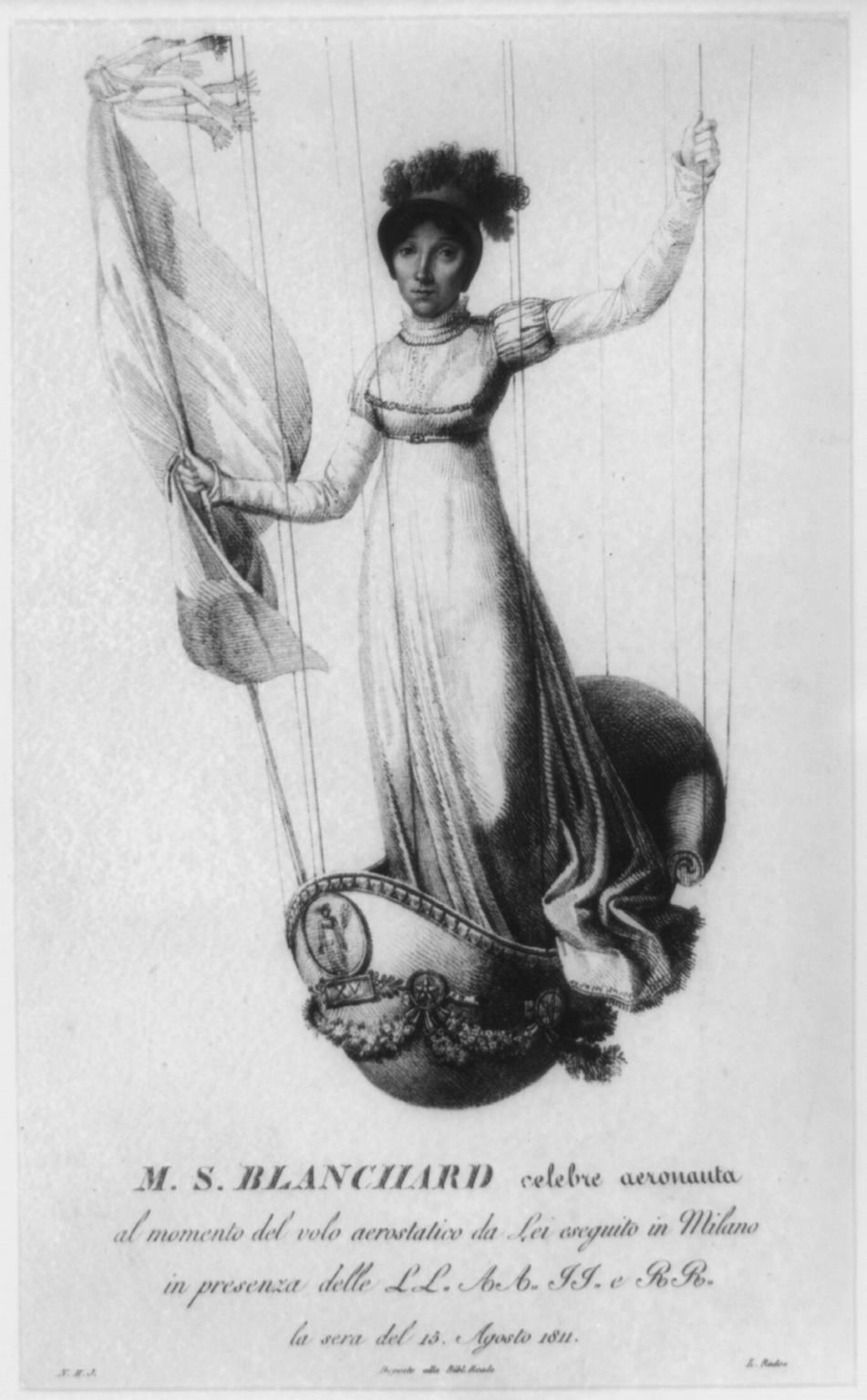 Nevertheless, the Sophie Blanchard´s flight from August 1805 was just a beginning of her flying career. On 20th February 1808, during a flight performed in the Hague, Jean-Pierre Blanchard fell out from his balloon and a few days later died due to the sustained injures. After his death, Sophie decided to continue her ballooning career and became the first woman to be a professional balloon pilot.
At the beginning, Sophie Blanchard used to fly in a hot-air balloon but soon, due to limited resources, she was forced to sell it and use a hydrogen-filled one that was either cheaper and easier to operate. Thanks to her small size, Blanchard used to ascend in a very small basket – reportedly with a size of a chair – that, together with her light weight, allowed her to reduce the amount of gas needed for successful ascend.
Over the course of time, Sophie Blanchard started to prefer night flights that finally made her famous. Soon, she used to stay in the air all night, enjoying the silence and loneliness.
During her night flights, Sophie Blanchard often used fireworks to entertain spectators on the ground, usually attracting large crowds. There is a rumour that she was the reason of poor reception of Carl Maria von Weber´s opera opening night on 16th September 1810 in Frankfurt. Citizens of the city reportedly preferred to enjoy her fireworks balloon show rather than attend the premiere of the opera.
Regrettably, that kind of entertainment finally became deadly. On 6th July 1819, while performing a show in Tivoli Gardens in Paris, Blanchard´s balloon caught fire from the fireworks. Sophie was trapped in its net and fell down together with remains of her aerostat – at first hitting the roof of a nearby building, then falling onto a street and breaking her neck.
In consequence, Sophie Blanchard became both the first woman to pilot an aircraft and the first woman to be killed in an aviation accident.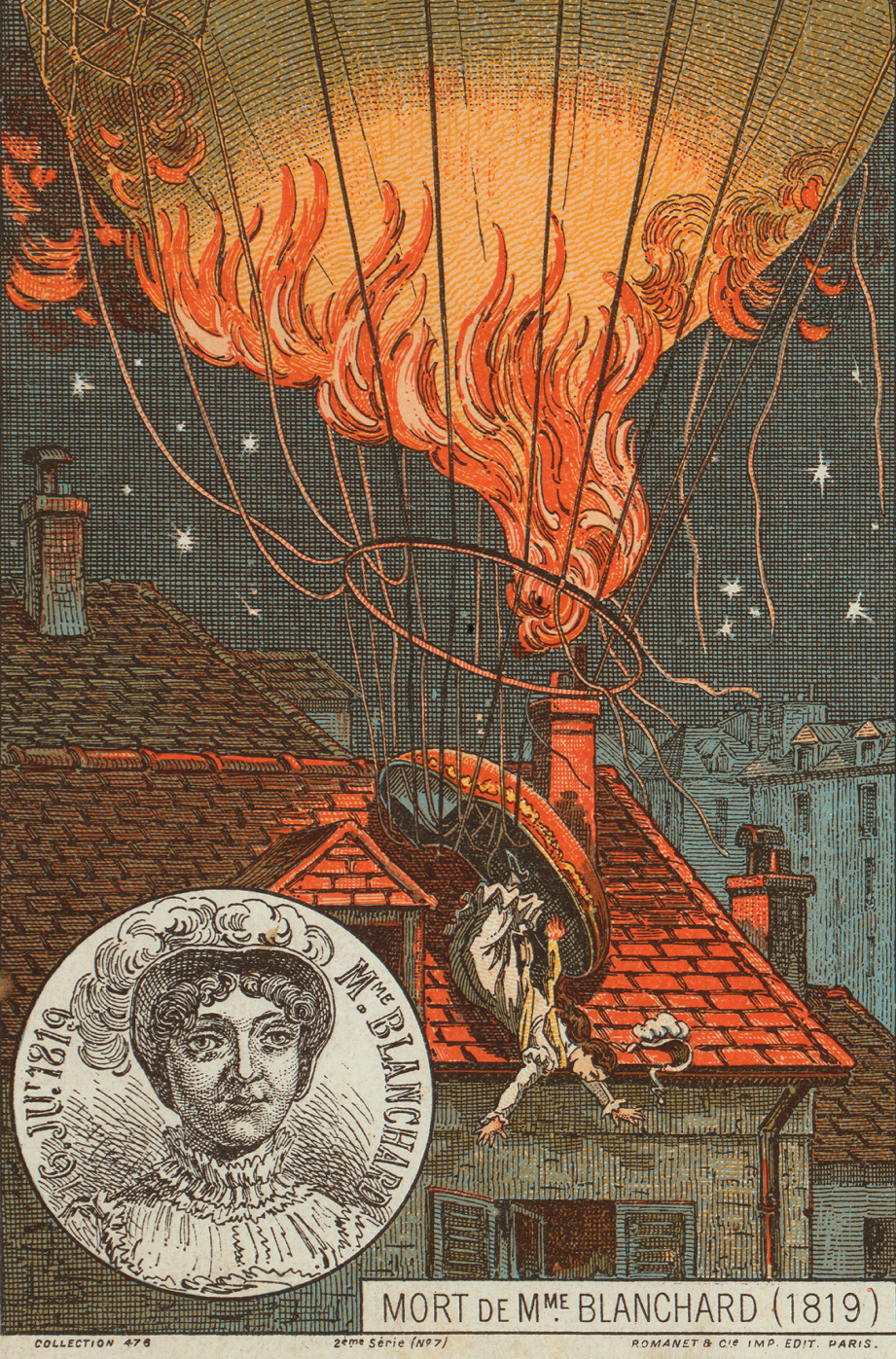 Cover photo: Sophie Blanchard standing in the decorated basket of her balloon during her flight in Milan, Italy, in 1811 (photo: Library of Congress, LC-DIG-ppmsca-02180, cropped)