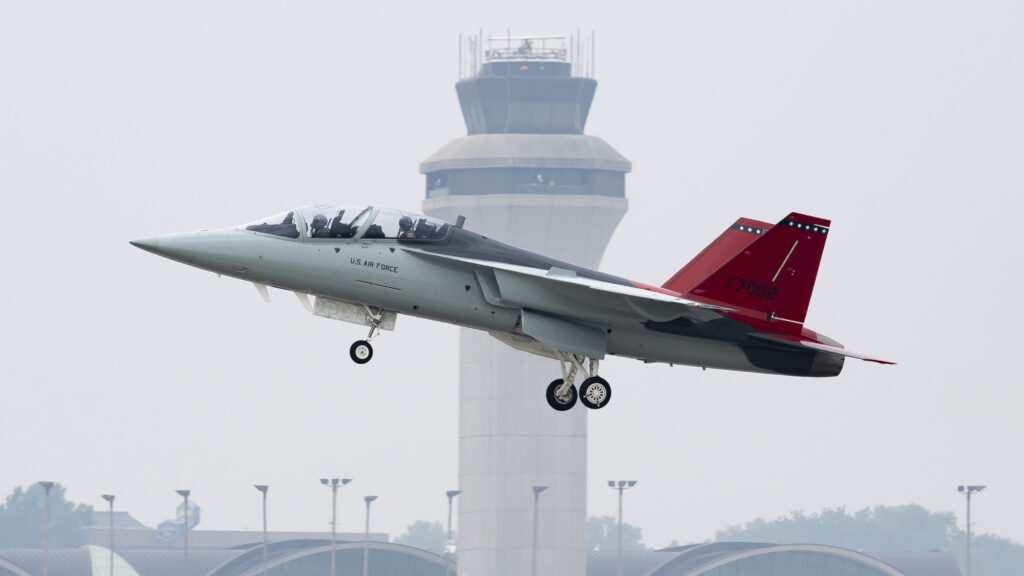 On 28th June 2023, the first Boeing T-7A training aircraft delivered to the United States Air Force performed its maiden flight, marking the start of engineering and manufacturing (EMD) stage of the Red Hawk development programme.
The first flight of the T-7A with the USAF lasted one hour and three minutes. The aeroplane was flown by Maj. Bryce Turner, 416th Test Squadron USAF and Steve Schmidt, the Boeing T-7 chief test pilot. That inaugural flight was preceded by a series of taxiing tests that took place a week ago.
According to Boeing, the T-7A moved from firm concept to flight testing in only thirty-six months. A combination of model-based engineering, 3D design and advanced manufacturing increased first-time quality by 75% and reduced assembly hours by 80%. The Red Hawk is the first trainer jet with the USAF to be digitally designed, built and tested.
The T-7A Red Hawk advanced jet trainer was jointly developed by Boeing and Saab. The aeroplane performed its maiden flight on 20th December 2016. In 2018, the T-7A was chosen by the USAF to replace its aging fleet of T-38 Talon trainers. As a result, the Boeing company was awarded a 9.2 billion USD contract to deliver 351 aircraft of that type and 46 flight simulators, as well as provide after sale support.
The aeroplane that performed the aforementioned inaugural flight is the first of the five Red Hawk jets that will be delivered to the Air Force Air Education and Training Command for further testing before the T-7A enters serial production.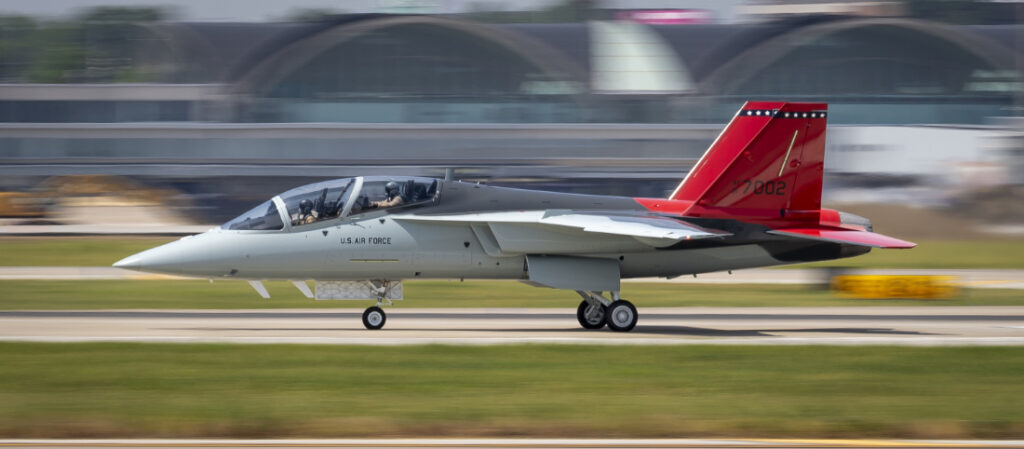 According to the manufacturer, the T-7A will enhance war fighter training through:
Improved pilot readiness – the all-new advanced pilot training system uses high resolution ground-based training systems and simulators to deliver robust and realistic integrated live, virtual and constructive training capabilities.
Safety – model-based engineering enabled testing throughout the aircraft design and build to help ensure safety before the first flight. The T-7A's cockpit egress system is the safest of any trainer.
Flexibility for any mission – with open architecture software and digital fly-by-wire controls, the T-7A supports training for a wide variety of fighter and bomber pilots and can evolve as technologies, threats and training needs change.
An interesting fact is the name of the aircraft, as well as its vibrant red tail are a tribute to the Tuskegee Airmen – the first African American US military aviators, who flew red-tailed fighters during World War II.
Cover photo: T-7A Red Hawk during the first EMD flight at St. Louis. All photos © Boeing. Information from the Boeing Company press releases were used.